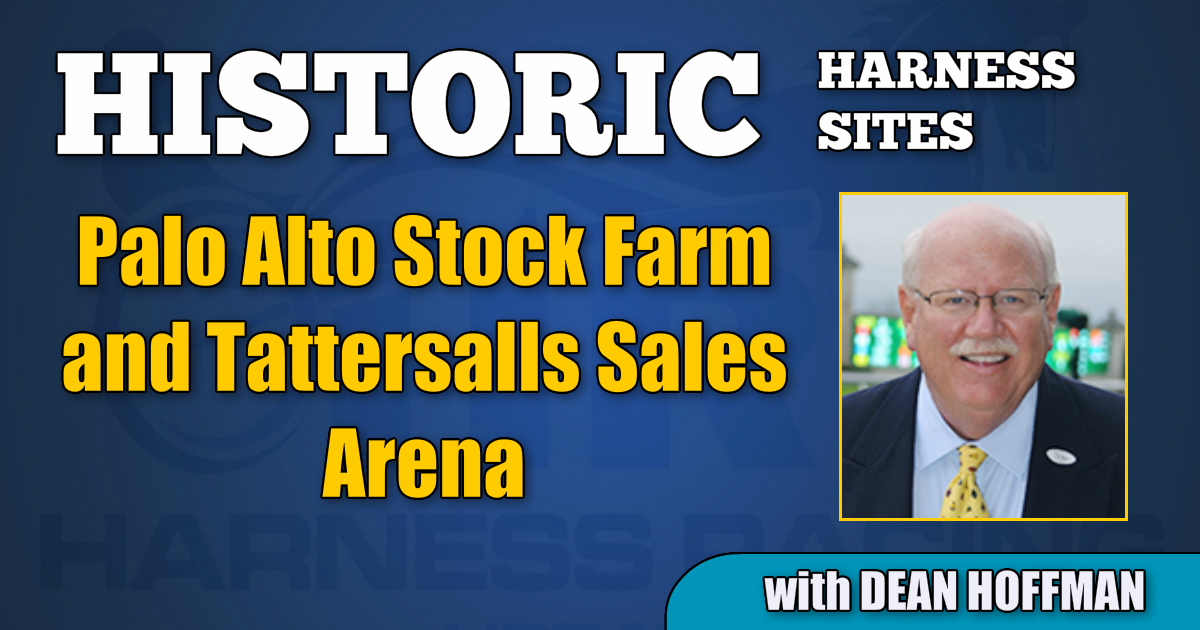 Palo Alto Stock Farm and Tattersalls Sales Arena
by Dean A. Hoffman
Palo Alto Stock Farm, Palo Alto, CA
Almost 35,000 students matriculate at the famous Stanford University in Palo Alto, CA, and they are served by a staff exceeding 12,000 people.
While the university is among the most respected in the world, it's doubtful if many students, faculty or administrators realize that they tread daily on hallowed harness racing soil.
Before Stanford University became famous, this was the site of Palo Alto Stock Farm, the darling of railroad tycoon and California governor Leland Stanford. One of his passions was trotting horses and his long-vanished trotting empire just a few miles from the Pacific Ocean produced some of the foundation stock of the standardbred.
Stanford was an enormously wealthy and powerful businessman and, apart from serving as governor, he also represented the Golden State in the United States Senate.
Most noteworthy of the Palo Alto Stock Farm stallions was Electioneer. Since the offspring of Hambletonian 10 were all the rage introtting in the post-Civil War era, Stanford sent a team of horsemen to the East in quest of the best son of Hambletonian available. They selected Electioneer, an 1868 foal that that came to the American West from New York in 1877.
He sired the star stallion Chimes from the foundation mare Beautiful Bells and thus established a remarkably strong and enduring male line. Ironically, it began as a trotting male line and in the next century became the dominant male pacing line.
Stanford hated pacers the way that Captain Ahab hated the white whale Moby Dick. It was said that Stanford issued a standing order to his farm staff: if one of his horses displayed any proclivity for pacing, that horse had to be banished from the farm by sundown.
It is therefore the height of irony that the male line of Electioneer is quite vibrant today as a male line of many great pacers, mostly notably the lines of Hal Dale, his son Adios, and Hal Dale's grandson Meadow Skipper.
Chimes sired a son named The Abbe, foaled in 1903, and The Abbe's son Abbedale was born in 1917.
Then came Hal Dale, the most influential pacing stallion of the last century. Hal Dale was foaled in 1926 and his son Adios, who needs no introduction, was a foal of 1940.
The lion-hearted pacing star Good Time was a son of Hal Dale from the foal crop of 1946. Another son of Hal Dale was Dale Frost who sired Meadow Skipper, a 1960 foal whose descendants dominated pacing in the 1970s and 1980s.
Stanford, of course, never lived to endure the ignominy of having established a powerful pacing line. The lasting innovation at Palo Alto was the emphasis Stanford and his trainers placed on early speed in their trotters. The typical standardbred of that era was large-boned, coarse, and slow to find its gait and speed. They required very patient mechanics to make them trot. Heavy shoes and slow miles — as well as patience — were the keystones of making trotters in that era.
Trainer Charles Marvin, however, used innovative training techniques to make early speed with among the offspring of Electioneer and soon the stallion's sons and daughters held numerous trotting records. Foals began to get lessons in harness as young as five months. Yes, Five months. They weren't raced then, of course, but Marvin's trotting kindergarten resulted in a blitzkrieg of early speed in trotting horses had previously been deemed possible. Leland Stanford and Charles Marvin were the men most responsible for the emphasis on early speed in harness racing today.
Trotters such as Sunol, Arion, and Palo Alto mean little today but they were living legends during their lives.
Arion started slowly in training but at the end of his two-year-old season, he'd taken a trotting mark of 2:10-3/4. Even the fastest 3-year-old trotter had only gone a half-second faster.
Arion's dramatic early speed caused J. Malcolm Forbes to pay $125,000 for him before his three-year-old season. The colt was used for breeding service before racing and it seemed to drain some of the vigor from the precocious colt.
Stanford and his wife had one son, who died as a teenager from typhoid fever and his grief-stricken parents decided to establish a university in their son's memory. The first student to enroll at Leland Stanford, Jr. University in 1891 was a young man from Iowa named Herbert Hoover, who later became a U.S. president.
Stanford himself died in 1893 of heart failure and Palo Alto Stock Farm was closed a decade later.
All that remains of Palo Alto Stock Farm are the "red barn" which is located at 100 Electioneer Road in Stanford. It has been listed on the National Register of Historic Places since 1985. Nearby is a statue of the great stallion Electioneer.
Tattersalls Sale Arena, Lexington, KY
It was a fixture on South Broadway in Lexington, just east of the famous Red Mile racetrack, for countless decades. The proximity of the track and the sales arena worked wonderfully for trainers and owners. They could race horses in the afternoon, then adjourn to Tattersalls.
(To be candid, they would often make a warm-up stop at nearby watering holes such as The Coach House or Rogers Restaurant across Broadway. Buyers somehow seemed to get a lot gamer during the bidding after they'd been lubricated with Kentucky bourbon).
Tattersalls was the site of many remarkable moments in standardbred sales history.
It was where a young horseman named Delvin Miller bought an unproven stallion named Adios for $21,000, and the horse's offspring dominated pacing events for the next two decades.
Walnut Hall Farm was the dominant force among Bluegrass breeders in the first half of the 20thcentury, but for decades it sold yearlings at the "big barn" on the farm property. (The "big barn" is now part of the Kentucky Horse Park).
In the post-war era, Kentucky breeders joined to sell at Tattersalls next to the trotting track.
The Tattersalls Sale was dominated by the major Bluegrass breeders: Castleton Farm, and Walnut Hall Farm, and later augmented by consignments from Almahurst and Stoner Creek Stud.
It's hard to imagine the excitement the preceded Castleton Farm night at Tattersalls in the booming 1960s, 70s, and 80s. The Castleton yearlings were always prepped perfectly and they carried the most distinguished pedigrees in the breed. On Castleton night, a spectator was sure to see fireworks when some prize yearlings entered the ring.
In 1965, Castleton Farm sent a handsome bay yearling named Speedy Streak — a brother to Triple Crown winner Speedy Scot — into the Tattersalls ring and he fetched a price of $113,000, highest ever for a standardbred.
Many auctioneers rapped and rattled their gavels on the auctioneer's stand at Tattersalls, but surely none was as memorable as George Swinebroad. He had a commanding and even intimidating presence on the auction stand and he'd mastered the wily ways of a country boy determined to pick the pockets of bidders.
He wasn't afraid of confront and cajole a reluctant bidder in search of more money for the sellers.
Swinebroad was on the stand in 1971 when Good Humor Man shattered all records as the highest-priced yearling ever in standardbred history.
When Swinebroad accepted a bid of $200,000, the crowd roared in disbelief and appreciation. But the master salesman still had his mind set on business.
"Wait a minute! Wait a minute!" he bellowed to the audience. "I haven't sold the damn colt yet!! I've got 200… now do I hear 205?"
He hammered Good Humor Man down for $210,000.
Swinebroad's longtime sidekick Tom Caldwell was on the stand a dozen years later when Castleton Farms sent the stunning filly Laugh A Day into the sales ring and the bidding on her didn't stop until Lloyd Arnold had the final nod at $625,000.
The times were a changing' in the late 1970s, however, and some new guard of Bluegrass breeders felt shunned and shut out by the old guard at Tattersalls. They decided to form the Kentucky Standardbred Horse Sale Co. to compete with Tattersalls. Some of the initial consignors were Kentuckiana Farms, and Clermont Farm. Then Armstrong Bros., Yankeeland and other national breeders joined the rebellion.
Tattersalls seemed yesterday's news to many buyers who patronized the new sale. When Castleton dispersed its stock in 2000 and The Red Mile was sold to new owners, the end was near.
Tattersalls was subsequently leveled and now the property is occupied by hotel and other businesses. But the memories linger on.