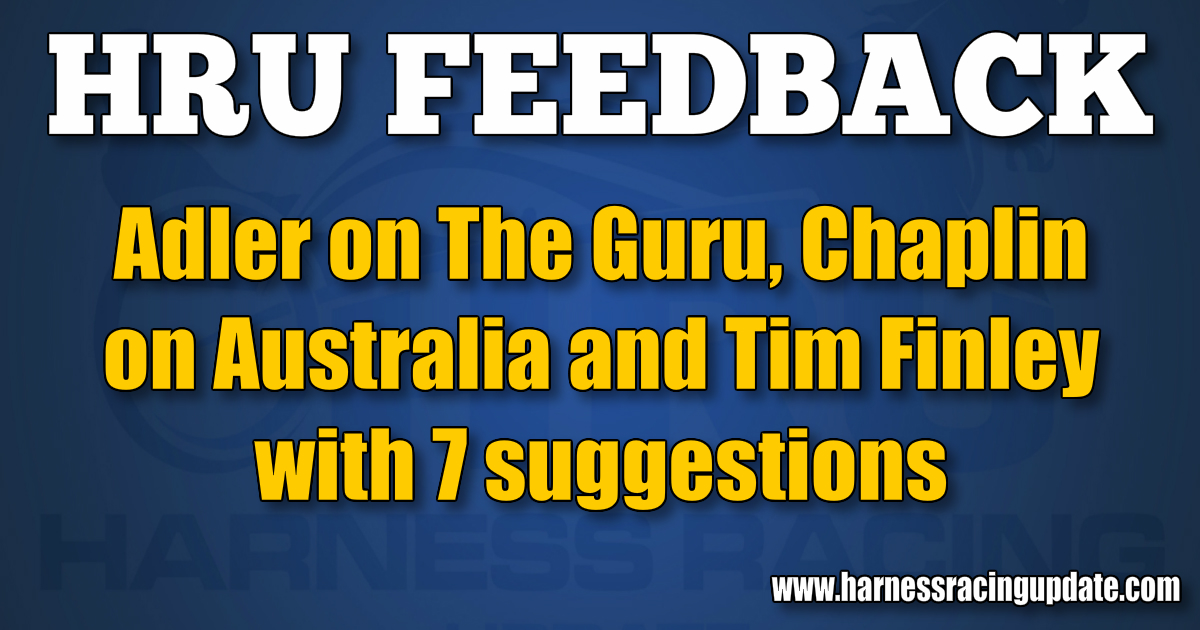 HRU Feedback (2020-02-16)
View from Australia on product availability
RE: Brett Sturman's last column (full story here).
Monmouth Park has entered into an agreement with the Australian firm BetMakers to offer fixed odds wagering on their 2020 meet. Will it help? Who knows? But fixed odds wagering is a huge hit in Australia and is seen as one of the main reasons why purses have doubled there over the past seven to 10 years. Harness racing needs to try this.
Wagering is a very important issue as you have stated. But of course wagering is dependent upon product availability.
Over the past 10 years in Australia, whilst purse money has increased for various reasons, the number of mares served per season has declined every year from 7,941 to 4,624 or – 3,317 (42 per cent).
Race fields of 5 and 6 are now not uncommon and these do not attract viable wagering – fixed odds or pari-mutuel and this weakness can only grow into the future.
There is little hope that fixed odds betting in Australia will save the sport when there is not enough product to generate sufficient wagering demand (very little income is forthcoming from the few tracks that have slots).
As I have said for many years, the sport's future is totally reliant upon on track attendance which converts to loyal fans who become the owners and breeders that pay for the product – it's that simple.
Adler responds to The Guru
RE: Ron Gurfein's latest column (full story here).
A typical response from the Guru, representing the fat cats in the industry, by saying if you don't have anything nice to say… and then saying something not nice about jealousy in the industry.
Not all horse people can win the Hambo, or a stakes race, or even an open.
Without saying it, Gurfein shoves his arrogance down our throats telling horsemen in Pennsylvania not to worry.
History says, you better do something, or you will lose six years out of your life, or maybe more, like we did in Ontario.
The fact of the matter is, harness racing has allowed the rest of the world to pass it by.
Today, racing is boring, and I have yet to see any creative solutions. It's not just about "take-out". Yes, that is a negative, but I say that hoping, if asked, I be allowed to offer answers people will hear.
In the meantime, fat cats in the sport will continue to get richer, and the rest will get kids.
Marty Adler / Amherstburg, ON
Detailed suggestions for improving harness racing
In response to your article written by Bill Finley (full story here), I am sharing suggestions I recently sent to five prominent Florida residents to help harness racing here. Perhaps it is too early, but nobody has responded. My suggestions can be used as a model anywhere in the U.S. My letter was, as follows:
Fellow harness racing participants,
As an investment broker for 50 years, I did a lot of research, including surveys to the public regarding the various forms of gambling. I have been involved in harness racing for 45 years. However, in the early '80s, as in investor in U.S. industries, I began to acquire shares in slot machine manufacturers, and in casinos. As a futurist, I saw what would be taking place. Also, I wrote articles in Hoof Beats warning of the demise of racing because of forthcoming changes in gambling legislation. I was spot on. My conclusions are based on years of research and not merely on my opinion. The general public thinks harness racing is boring and that races are fixed. Fact.
Of interest to the FSBOA, a few years ago, the Minnesota Harness Racing Association flew us (all expense) to the track where we spent several days with the officials who invited my wife Loveda to become manager of their organization. Because of Minnesota's cold winters, Loveda declined.
As permanent, 12 months a year Florida residents since 2001, we would be an asset to a program to preserve and expand the sport of harness racing in Florida. We both have held executive positions in the business world and have raced horses for 45 years. We are currently retired, so have ample time.
Projects/reforms will include, but not be limited to the following:
1. A think tank group should be organized with the intention of working with Pompano Park, trainers, drivers, the FSBOA, legislators, etc. to save, change, and expand the Standardbred industry in South Florida. Our ultimate mission will be to create a model for the other racetracks and harness racing entities throughout the country to follow.
This group will consist of only a handful (too many people and sometimes a conflict of egos can cause confusion) of interested people who can exchange ideas, and then implement the agreed upon changes in a diplomatic, yet forceful manner. There are enough South Florida Standardbred influential and intelligent owners that, for the time being, I see no reason to search outside our region. Of course, we would not omit those interested outside of Florida.
2. A vocational school for high school age individuals who need to be in an educational environment advantageous to their personalities. A new vocation. This will take place at Pompano Parke, Sunshine Meadows, or the Trotting Center.
3. An equine therapy for veterans and emergency response individuals suffering with PTSD. Loveda and I researched this extensively and were prepared to launch a program at the Trotting Center, but Sam Stathis, the owner, seemed to lose his enthusiasm. A year ago, Sam was in favor, but in the meantime, he seemed to lose interest in either the program or us. This program will be unique because we will use only retired standardbreds which will create an opportunity for those with PTSD to gain an interest in our sport, but it will also create an opportunity for South Florida individuals to financially support it. A new vocation for the horses, and perhaps the ones suffering with PTSD.
4. Because Pompano Park is planning to oust harness racing, I believe they would be willing to experiment with select elements. Although Pompano Park may want us to fail, and to fail quickly, we will be able to make harness racing more exciting. We begin by making a video with questions for racetrack and casino customers as they enter and exit the track. This approach will give us a roadmap based on WHAT THE CUSTOMER wants, rather than rhetoric from horsemen who express only their viewpoints. We will give a new face to harness racing.
Racing needs many changes made. Some of my ideas, which I will discuss with you at a later date, may seem radical to some, but we need radical.
5. I have the following in one of my Facebook groups: :THIS IS WHAT THE INDUSTRY NEEDS: Recruit new owners worldwide, via fractional partnerships, who will become big fans as they watch the races via the Internet on their big-screen TV's, who will recruit new owners via fractional partnerships, who will become big fans, who recruit new owners, etc., etc., etc."
South Florida is an excellent geographical area in which to regenerate interest in harness racing. There is an abundance of retired folks living here with disposable income and plenty of time. Many are bored. We will buy and-or claim a few horses and give them to a worthwhile trainer, while teaching the new owners how to watch and wager on the races from the comfort of their homes.
This venture will be an experimental seed.
6. We will do human interest stories on those not as fortunate as Ron Burke, Tony Alagna, etc. The general public is not interested in how the elite with the $100,000 yearlings are doing but they are interested in those of us with dirt under our fingernails and even some success stories from people with dirt under their fingernails.
7. Harness racing has all of the ingredients to be an interesting and exciting movie or reality type show. We have rich folks, poor people, sweat, tears, competition, and best of all – horses. With a lot of thought, we will make plans for something that will take our story to the homes of people currently bored with the garbage on TV. At one time, cowboy movies had the attention of almost every American. We will bring back entertainment that will be enjoyed by the young and the old. The ultimate goal will be to go into home nationally, but it can begin in Florida.
We have many more ideas, but those listed above will give you an idea of our thoughts.
Also, we believe that a team of enthusiasts could make a tremendous national impact — one that would influence others in the racing zones to become involved.
Tim Finley / Lake Worth, FL