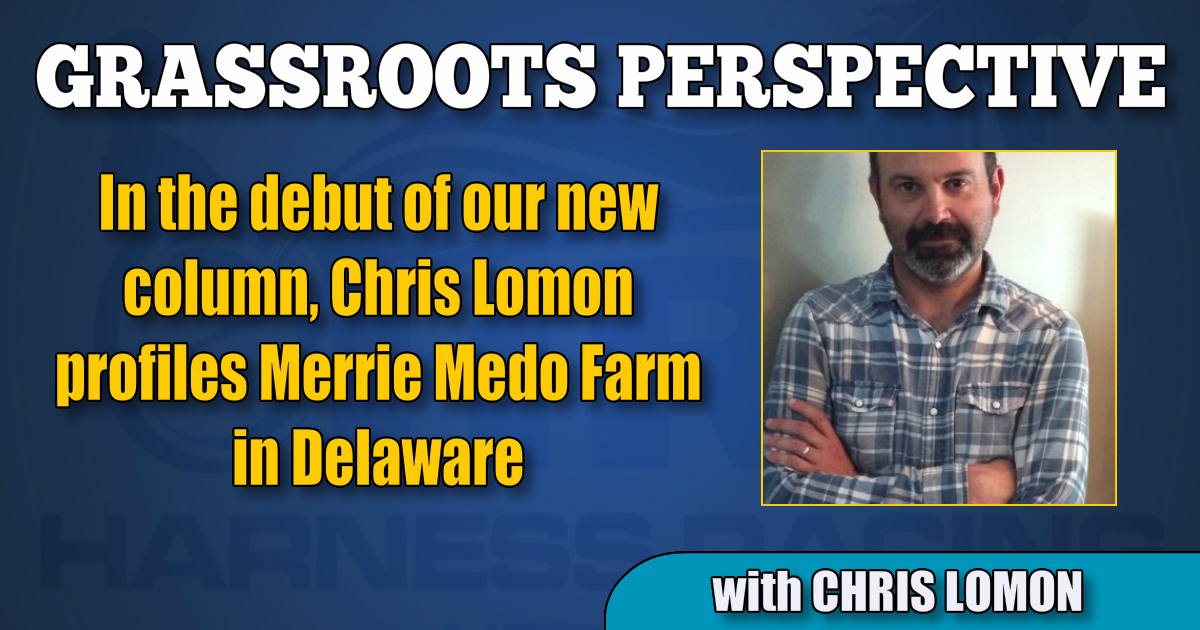 Merrie Medo Farm a labor of love for Davis-Durham and MacDonalds
The bustling breeding and training center in Delaware features three stallions, 108 stalls and 12 paddocks.
by Chris Lomon
(Editor's Note: This is the debut of a regular HRU column written by industry veteran Chris Lomon which strives to highlight the challenges facing smaller standardbred operations across North America, while also profiling their contribution to the industry.)
For Susan Davis-Durham, Merrie Medo Farm is as much about embracing the future as it is about preserving the past.
It has long been a staple of the Smyrna, DE landscape, a 113-acre property that transformed from a dairy cattle operation – with a small horse component – into a bustling breeding and training center, featuring three stallions, 108 stalls (rented out to others), 12 paddocks, and a half-mile standardbred track.
"My grandfather (J. Medford Davis), who passed away in 1966, was big in the standardbred horse business," said Davis-Durham. "My father (Med Davis) had a passion for it as well. The horses my dad had were trained at the track, and he wanted to bring them home, so he sold his cows and built a horse farm. The half-mile track was built in either 1968 or 1969 by Bill Davis, who was track manager for Brandywine."
When her father retired in 2006, Davis-Durham, along with her ex-husband/friend, Ron Durham, and Joe and Linda MacDonald, formed a partnership to purchase the farm one year later.
Davis-Durham takes immense pride in Merrie Medo's contributions to the Delaware's standardbred scene.
"There's a lot of love for horse racing here and a lot of support, legislatively, which is a big help," she said. "It brings a lot of jobs to the state of Delaware. Through a lot of education and studies done, that realization is out there, so the politicians support it for the most part. We're lucky that way.
"There are so many families that go so deep in terms of their attachment to racing here. There are so many good people in this sport. That's true in a lot of the states, but it certainly is in Delaware. That makes it exciting."
Everyone involved in Merrie Medo, past and present, has worked diligently to create a small, but impactful operation in "The First State."
"There are still challenges for the smaller operations, but you find ways to adapt," said Davis-Durham, who along with MacDonald, bred and owned Crosby, a trotting son of Keystone Activator, who took the$100,000 Delaware Standardbred Breeders Fund final for 2-year-old male trotters in 2016."For us, we always want to have stallions here. It's not about competing with the bigger operations – it's about wanting to be in a sport we dearly love."
It's a thought that prompts a moment of reflection.
"We're just a little small piece of the pie, but we work hard and support our people," she said. "I think we're proud of how we support the sport, how we support Delaware and how we support the breeding industry. We play a very active role in that.There is a lot of history here and despite any challenges, you don't ever want to let go of your history."
Linda MacDonald agrees. She worked for Davis-Durham's father, who passed away in 2009, beginning her connection with the farm in her early teenage years.
"I've always loved the farm," she said. "We've made a lot of improvements to it and it's really a wonderful place. We've seen several of the offspring do well on the racetrack, and make money in the Sires Stakes. Delaware horsepeople are just a nice group of people to work with. To see them do well, it makes you feel really good. And to be part of the long history of Merrie Medo… it's always been an operation that is real family atmosphere. We might be on the smaller side, but we always strive to help people dream big."
Davis-Durham said MacDonald, who handles training duties for Merrie Medo, loves horses and started working at the farm when she was 14.
"Linda would come up there in the summers," Davis-Durham said. "She's been like my sister. My dad loved her dearly. He was very loyal to her and she was very loyal to him. Linda and I formed quite a bond."
"My husband I have our own horses, but we also train a few horses – anywhere from two to five – that Susan and I own together," said MacDonald,who became the first female driver to win a stakes race at the Meadowlands when she guided Medford Davis Jr.'s Go Nancy Isle to victory in a 1985 New Jersey Sires Stakes event."We help run the training center, help with the breeding, and foaling of mares. Susan does the foal watching at night. We foal anywhere from 15 to 40 a year. It gets busy here between February and August, but we love it."
Over the years, several stallions – as many as six or seven at a time – have called the farm home.
Currently, there are two on the property, Anders Bluestone and E L Platinum, both trotters. The pair will soon be joined by Emeritus Maximus, an accomplished son of Rocknroll Hanover.
Claiming victory in both the Dexter Cup and Maxie Lee Memorial, Anders Bluestone, a son of Yankee Glide, was one of the sport's top older trotters at five and six, with average earnings better than $10,000 a start throughout his 96-race career.
Owned by Ken Wood and William Dittmar Jr., the $60,000 Harrisburg purchase (in 2007) posted a 39-17-12 mark and took his record of 1:52 over Harrah's Philadelphia's five-eighths-mile oval at the age of six.
"Anders Bluestone is a sweetheart," said Davis-Durham of the $1 million earner who was bred by Bluestone Farms LLC, NJ. "He's just a nice horse, with a great personality and very smart. He's great to be around. He gets very excited to go out into the paddock, so when you get to the gate, you better be careful because he's going to take off. But he's a perfect gentleman to breed with. We do a lot of live breeding and he's really good, very well-mannered – just a really nice guy."
The verdict is out, at least for now, when it comes to E L Platinum's breeding skills.
Bred by Erkki Laakkonen, of Helsinki, Finland,the son of Muscle Hill was 2-1-5 over his modest 14-race career.
At 3, he was second in leg Kentucky Sires Stakes at Lexington, and third in a leg of the Pennsylvania Stallion Series at Harrah's Philadelphia.
"We just got this guy, so this is our first year with him," said Davis-Durham. "We don't know what he's like yet. He's still at that stage where he's just learning, so they're usually pretty nice then. We'll see how he makes out as he has more dates."
Davis-Durham'sinterest in the breeding side of the business doesn't end the day the youngsters leave the farm.
She takes great satisfaction in seeing Anders Bluestone's offspring make their mark on the racetrack.
"I'm always excited. I sit there and watch the races – especially when you're talking about the local tracks like Dover and Harrington – and even if I'm with my friends, I'll open the program and say, 'I birthed that baby or we bred that baby.' You certainly wish well for everybody because it's a wonderful sport. Everyone works hard and you know that. I love to see the Anders Bluestone horses doing well. He's been our best stallion. Not all good racehorses make good daddies, but he has. You get a lot of joy from seeing his babies do well."