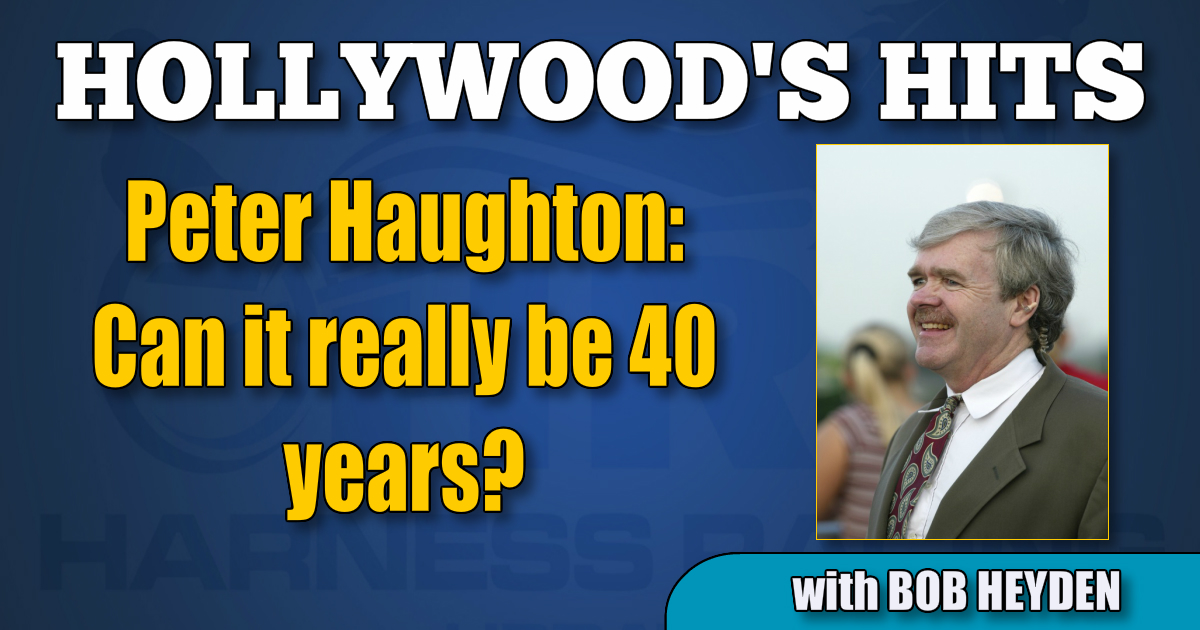 Peter Haughton —Can it really be 40 years?
by Bob Heyden
The sport of harness racing suffered immeasurable loss when Peter Haughton was killed in an auto accident on Jan. 25, 1980 — 40 years ago.
He was just 25.
Haughton had just won the Roosevelt International in with 1978 with Cold Comfort and in 1979 with Doublemint. No other U.S.-born driver has ever won the International in back-to-back years.
Haughton earned $6,438,837 in his young career and, remember, this was the pre-million-dollar race era.
He was eight months older and about $800,000 lifetime ahead of fellow driver/friend, 24-year-old John Campbell.
Haughton was described as charismatic, dynamic, captivating, and oh-so-good with a horse — especially a trotter. After all, his father was Hall of Famer Billy Haughton, who eclipsed $30 million lifetime that very year.
Yes, Peter had regal bloodlines. But the horses didn't know that. He posted some big time impressive stats in his quarter century on earth. Here's a look at some of the highlight numbers:
Three Meadowlands track records at age 22: Aged mare trotter Keystone Pioneer — 1:58.3 (4/29/77); Aged Mare Pacer Meadow Blue Chip — 1:55.2 (6/11/77); 4-year-old Trotting Horse Speedy Romeo — 1:59.2 (5/24/77).
Peter posted history's fastest ever female race mile on Nov. 22, 1974 at Hollywood Park — 1:54.4 — beating the boys, including defending Horse of the Year Sir Dalrae and Yonkers Track record holder Armbro Nesbit. This mile came a month after she set the world record for a female time trial of 1:54.2. How unheard of today is a 3-year-old pacing filly beating older more stablished males?
Peter won the 1976 Kentucky Futurity with Quick Pay and repeated in 1978 with Doublemint. The first was done at age 22 and no one younger has won a Triple Crown race since.
Peter first tasted stakes action in 1974, when at the urging of Del Miller and his own godfather Stanley Dancer, Billy Haughton relented and put 19-year-old Peter up on such standouts as Handle With Care, Armbro Omaha and Keystone Gabriel — the latter winning the $117,095 Colonial.
The list of major stakes races won by Peter include:
1974 — Colonial with Keystone Gabriel and the Tattersalls with Keystone Presto.
1975 — The Hanover Filly Stake with Keystone Model and The U.S. Pacing Championship with Handle With Care.
1976 — The Gaines with Windshield Wiper, the Currier & Ives with Steve Lobell, the Reynolds with both Quick Pay and Steve Lobell, and the Kentucky Futurity with Quick Pay spoiling the Triple Crown bid for Steve Lobell.
1977 — The Dexter Cup with Cold Comfort, the Florida Breeders with Jargon as well as the Betsy Ross with Future Fame.
1978 — The prestigious Fox Stake ($113,681) with Crackers, The Currier & Ives and Hanover Stake with Cold Comfort, and his final Triple Crown race, at 24, with Doublemint in the oldest of all Triple Crown events, the Kentucky Futurity.
1979 — The Debutante with Cool Heel, The American Classic with Jurgy Hanover at Hollywood Park and the Dickerson Cup with Gin Tonic. Peter also won the first ever $100,000 Hambletonian Oaks that year with Pagan Princess.
Here are some of Peter's year-by-year numbers:
1975 — $629,059
1976 — $727,090
1977 — 139 wins and $1,377,265 which was #14 in the country. Billy was #10 with $1,617,949
1978 — 130 wins and $1,672,798 which cracked the top 10 (#9) for the first time. Dad was #8 with $1,718,105
1979 — $1.5 million
Peter last drove at the Meadowlands the weekend before his death. He drove Battling Brad, a horse he had success with on and off for four years.
Other horses driven by Peter to the winner's circle include Taurus Chip, the great trotting mare Keystone Pioneer who was the 1976 HOY runner-up, Luannes Jewel and Chapaquiddick.
He once paid nearly $400 to place in the Jug with League Leader.
A flair for the dramatic — one that only grew in legend the year of his passing. The horse he was aiming for the 1980 Hambletonian,
his colt Burgomeister, did make it to the trotting classic and had his stablemate Final Score — the first heat winner — was his major obstacle. They finish 1-2 with his dad Billy and Peter's brother Tommy. In a year that featured the sport's first $1 Million and $2 Million race, this was probably the moment most recall as THE most memorable of 1980.
Holley, Tommy, Cammie, Billy, Jr. are all still here. We lost Dotty in 2019. The Haughtons. The name and the records live on. Despite the two monumental losses too early, the Haughton family of today are caretakers to the legacy — a world-wide one.
If you think that the word "legend" might be a stretch for just a 25-year-old kid driving, remember the best trotting horsemen in the world found themselves chasing Peter twice in one of the most prestigious races of all — the International.
Sometimes you have the world as both your playground and your workplace, right in front of you. Peter sure did. The industry survives, but we would have been so much better with him than we are without him.