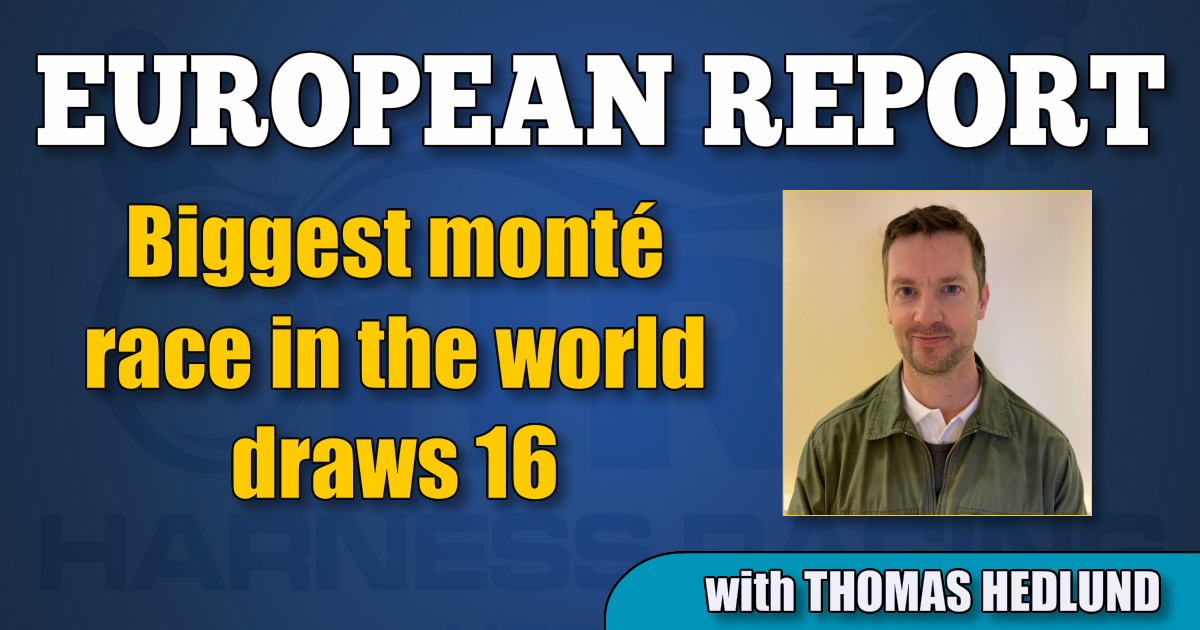 Biggest monté race in the world draws 16
by Thomas Hedlund
Sixteen trotters will gather around the black track of Vincennes in Paris on Sunday (Jan. 19) for the $723,000 Prix de Cornulier, the premier monté race (trotting under saddle) in the world.
Title defender Bilibili (Niky) recently won the $144,000 Prix du Calvados in impressive style and the Laurent Claude Abrivard trained 9-year-old will most likely be the first choice in the race that's held over 2,700 meters, approximately 1.6 miles.
Prix de Cornulier 2020
Horse – Jockey
Evening Star – Anthony Barrier
Dynasty Pierji – Damien Bonne
Breeders' Cup – Floria Desmigneux
Daelia de Vandel – David Thomain
Etonnant – Franck Nivard
Carla du Chatelet – Francois Lagadeuc
Eros du Chene – Benjamin Rochard
Etoile de Bruyere – Adrien Lamy
Evangelina Blue – Mathieu Mottier
Fleche Bourbon – Yoann Lebourgeois
Exotica de Retz – Delphine Beaufils Ernault
Bilooka du Boscail – Matthieu Abrivard
Feeling Cash – Eric Raffin
Fado du Chene – Paul-Philippe Ploquin
Traders – Guillaume Martin
Bilibili – Alexandre Abrivard
Belina back as a winner
Jean-Michel Bazire has hit the bull's eye one more time when it comes to finding the right shape for his horses ahead of the Grand Prix d'Amérique. Last year's winner, Belina Josselyn (Love You), hadn't showed great condition before last Sunday's $121,800 Prix de Belgique, but just in time, Bazire had the 9-year-old mare at the right spot. Despite quite a tough trip three wide during the race's last 5/8 of a mile, Belina Josselyn sprinted to safe victory in mile rate 1:56.4 over 1.7 miles.
Sylvain Roger trained Enino du Pommereux saved his spot in PdA as runner up while Bazire trained Davidson du Pont (who won the first B-race this winter) finished extraordinary as third.
With one week to go, these trotters are ready for the $1,002,800 Prix d'Amérique:
Excellent (Real de Lou)
Chica de Joudes (Jag de Bellouet)
Looking Superb (Orlando Vici)
Vivid Wise As (Yankee Glide)
Delia du Pommereux (Niky)
Davidson du Pont (Pacha du Pont)
Bahia Quesnot (Scipion du Goutier)
Face Time Bourbon (Ready Cash)
Billie de Montfort (Jasmin de Flore)
Bold Eagle (Ready Cash)
Belina Josselyn (Love You)
Enino du Pommereux (Coktail Jet)
Behind the 12 qualified trotters, six more can claim their place in the race and the most logical outcome is that Propulsion (Muscle Hill), Ringostarr Treb (Classic Photo) and Uza Josselyn (Love You) will grab three of the spots.
Vitruvio (Adrian Chip), Erminig d'Oliverie (Scipion du Goutier), Carat Williams (Prodigious), Milligan's School (Yankee Glide), Dijon (Ganymede) and Tony Gio (Varenne) are the following horses on the list right now.
On Thursday, Jan. 23, the field will be set for Prix d'Amérique 2020.