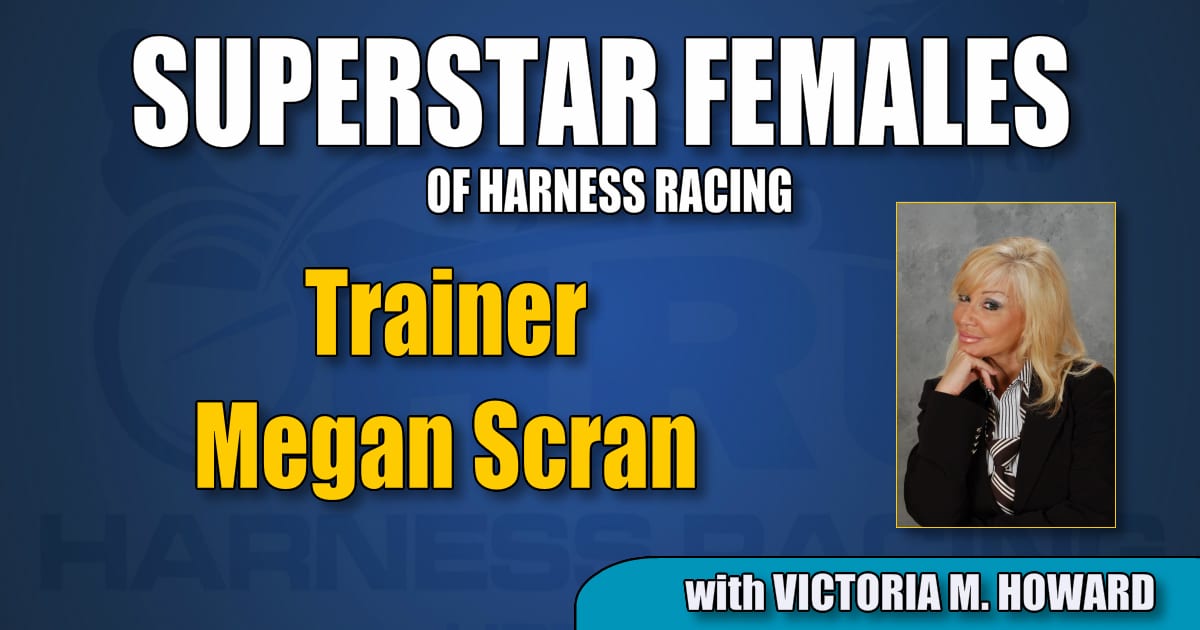 Megan Scran — horse trainer
by Victoria M. Howard
Megan Scran wasn't brought up in the business like many other young women; in fact, she didn't even start working with standardbreds until she was 21. Today, the trainer is one of the first people on the track at Sunshine Meadows in Florida and one of the last to leave.
Growing up in Toms River, NJ, Scran, the girlfriend of top driver Scott Zeron, was always in love with horses.
"I have been horse crazy my entire life. I rode and competed in 4-H, The Pony Club, and local horse shows," Megan said.
"Although my family was never involved in the racehorse business, I was running a small riding horse farm when a friend of mine told me about a job that opened working with racehorses.
I was looking for a change and decided to give the job a shot. My boss just happened to be Norway native, Trond Smedshammer, a well-known name in the harness racing industry, who has trained many superstars, including Triple Crown winner Windsong Legacy.
"I was blessed to have gotten my start under Trond for it was a great place to learn the ropes of harness racing. I worked for Trond about two years. After the first six months I was fortunate to take care of a horse called Royal Ice who raced in the Hambletonian. He was a brother to the great(s) Ice Attraction and Ice Dutchess.
"Trond gave me a lot of great opportunities that many trainers would not have — allowing me to jog and train the horses, besides just grooming. I think that is really when my love for harness racing blossomed.
"At that time, Trond also purchased several thoroughbreds for his owner, Wanda Polisseni (Purple Haze Stable). With my experience in riding I took care of the thoroughbreds — breaking and riding them every day."
That brought Scran to the Meadowlands in 2013 where she met Zeron.
"I started working for Scott's father, Rick, who is a renowned name in the sport. I groomed and helped ride horses for Mr. Zeron. In fact, the world champion trotting mare, Atlanta, was in the Zeron Stable during that time.
"I didn't take care of Atlanta for I was caring for another 3- year-old trotting filly named Courtney Hanover. Atlanta was a super quiet filly when she was in the barn. In fact, you would have to make sure she was alright for she didn't make a peep."
Scran was also lucky enough to work with the great horse Marion Marauder during his 3 year-old-year. In 2016, the trotting son of Muscle Hill won the Triple Crown with Scott Zeron, in the bike. He became the eighth reinsman to take the Hambletonian on his first try.
The Wellwood family, the owners of Marion Marauder, finally tasted Hambletonian glory as their trotter crossed the finish line first. This was Paula Wellwood's 10th try for the trophy—joining Linda Toscano as the only women to train a Hambletonian champion. Paula is a living testimony to "try, try again and never give up and your dream will come true."
"Paula Wellwood and Linda Toscano are my idols with many major wins under their belt. They have been very supportive of my young career and are always there to offer their knowledge to me."
Having a strong foundation under the guidance of trainers Smedshammer and Zeron, Scran decided to break away and spread her wings and start her own stable.
"I took one year hiatus and drove Scott from track to track in the busy season during stake races. After a while I realized this was not for me — not being with Scott, but being away from working one-on-one with the horses.
"Scott bought me what was supposed to be a temporary claiming horse, but one turned into another and a few more when an owner asked me if I would be interested in taking three of his horses to train. It was unexpected, but a blessing."
In the winter months, you can find Scran at Sunshine Meadows in South Florida, and in the summer she stables at Mark Ford's Training Center in Middletown, NY.
"Currently I have three standardbreds in training (Two 3 Year-Old-Pacing Colts and one 2-Year-Old Pacing Colt). I also own a broodmare, an aged racehorse and one riding horse I've owned for 18 years.
I had my stable up to 10 head this past summer, but I prefer to be completely hands on: grooming, riding, etc., and with a stable of three racehorses, I can really concentrate on my horses."
Having a boyfriend who is one of the best drivers, does this mean Zeron drives for her?
"As long as he is at the track I am racing at he does, but when he's somewhere else, of course he can't," she said.
Like many other horse trainers and owners, Scran's dream is to have "that once in a lifetime horse."
Here's wishing Scran the very best in her racing career, but I'm sure this hardworking, gritty, and ambitious young woman won't need it.