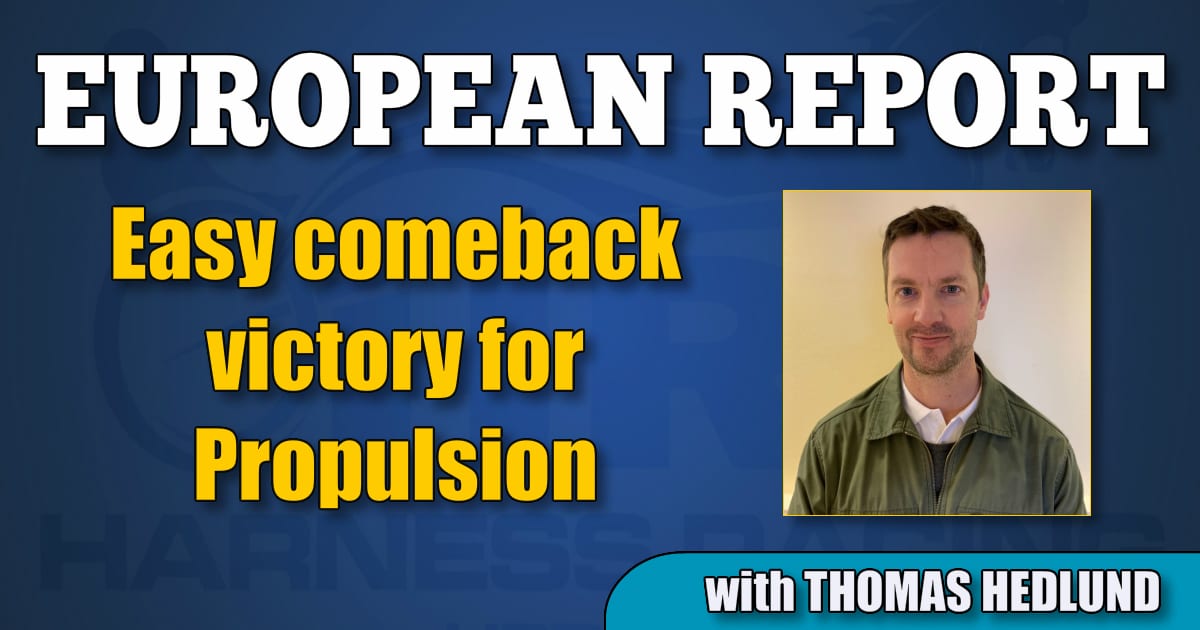 Easy comeback victory for Propulsion
by Thomas Hedlund
On Saturday at Romme racetrack in Sweden, 8-year-old Propulsion (Muscle Hill—Danae) had his first start since winning the Trotting Masters Final at Vincennes in September.
Saturday's race was contested over 1.6 miles in snowy weather and Propulsion hit the lead after 500 meters, which meant that the race was more or less over.
The opponents in the $42,700 Super Light's Race, a part of the V75 gamble in Sweden, were not as sharp as the ones Propulsion is used to facing and, in front, the Muscle Hill son never were threatened in a mile rate 1:59.3.
If Propulsion is healthy in the days that follow, he might take a fourth try at the Prix d'Amérique in Paris at the end of January.
And speaking about Prix d'Amérique, today (Dec. 29), the third "B-race" ahead of the PdA is scheduled at Vincennes and the $121,800 Prix de Bourgogne over 1.3 miles will be interesting to watch. Many top trotters chase a spot in Prix d'Amérique and as in all B-races, the top three receive their tickets for the Prix d'Amérique.
Jean-Michel Bazire is hot as usual when it comes to these kind of races and five of the 17 participants come from his stable.
1st Tier
Horse – Driver
1. Uza Josselyn – Pierre Vercruysse
2. Carat Williams – David Thomain
3. Billie de Montfort – Gabriele Gelormini
4. Traders – Yoann Lebourgeois
5. Davidson du Pont – Franck Ouvrie (Bazire)
6. Ringostarr Treb – Damien Bonne
7. Belina Josselyn – Jean-Michel Bazire (Bazire)
8. Bold Eagle – Eric Raffin
9. Erminig d'Oliverie – Franck Nivard
2nd Tier
Horse – Driver
10. Tessy d'Ete – Jean-Philippe Monclin
11. Vivid Wise As – Björn Goop
12. Activated – Carl Johan Jepson
13. Looking Superb – Alexandre Abrivard (Bazire)
14. Detroit Castelets – Mathieu Abrivard
15. Valokaja Hindö – Christophe Martens (Bazire)
16. Bahia Quesnot – Junior Guelpa
17. Calaska de Guez – Nicolas Bazire (Bazire)