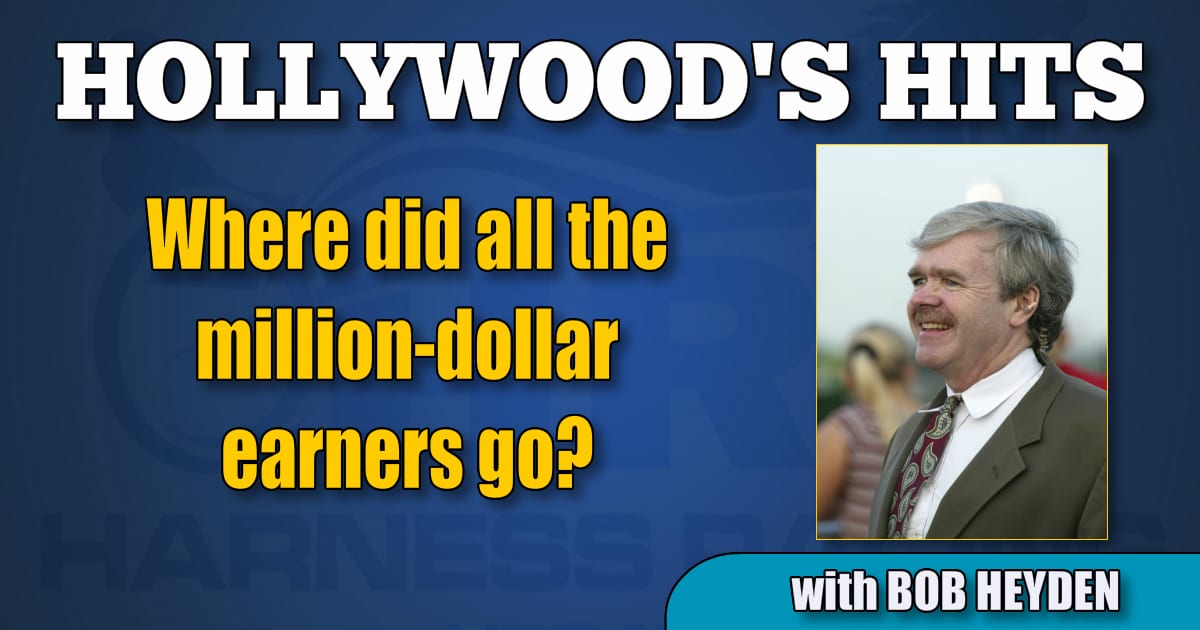 Where did all the million-dollar earners go?
by Bob Heyden
Where did all the million-dollar earners go?
In 2019, just four horses earned $1 million or more — Bettors Wish ($1,643,745), Greenshoe ($1,277,049), Gimpanzee ($1,128,753) and McWicked ($1,034,091).
In 2018, seven horses earned a million dollars. In 2017, there were six. In 2016, there were 11. In 2015, there were six.
You don't see this often…
… where the horses that finished second and third in the Hambletonian surpassed $1 million, but the winner, did not.
1-Forbidden Trade $968,922
2-Greenshoe $1,277,044
3-Gimpanzee $1,128,753
Speaking of the Hambletonian…
The above money stat refers to 28-year-old driver Bob McClure (Forbidden Trade) and a 27-year-old trainer Melander (Greenshoe and Gimpanzee).
The 94th edition of the Hambletonian, for only the fifth time in history, saw a driver in his 20s win the Classic. And for the first time ever, it happened back to back.
In 1953, Helicopter won with 29-year-old Harry Harvey.
In 1982, Speed Bowl won with 25-year-old Tommy Haughton.
In 2016, Marion Marauder won with 27-year-old Scott Zeron.
In 2018, Atlanta won with 29-year-old Zeron.
In 2019, Forbidden Trade won with 28-year-old Bob McClure.
Note that it did not happen from 1926-1952, nor from 1954-1981 or from 1983-2015 — three separate gaps of better than a quarter century each.
Shartin N's greatest feat
What is Shartin N's greatest achievement?
In 2019, her 15 wins was the most of any horse in the top 50 in earnings in North America.
In 2018, her 19 wins tied with Always A Prince for the most wins in North America among every earner in the Top 50.
Even Cam Fella in 1982-1983 with 28 and then 30 wins did not lead both years (he did so in 1982 only).
Lucky 13
For the first time in harness history, two drivers will share 13 straight money titles in North America. Yannick Gingras (four times) and Tim Tetrick (nine). Tetrick reeled off seven straight until 2013 and then Gingras posted four in a row. Tetrick has captured the past two, and this is a new standard for only two drivers in the year-end tally. Prior, it was 12 straight years, 1979-1990, when John Campbell won it eight times and Bill O'Donnell four.
Going without
2019 saw harness racing go without:
1. A pacing Triple Crown winner for the 16th straight year. Never has the sport gone this long without one. The last one was No Pan Intended in 2003.
2. A repeat winning sire. A quarter century has gone by without any sire having two different Horses of the Year. Cam Fella did it last in 1991 and 1994 with Precious Bunny and Cams Card Shark.
3. Twenty years without a Horse of the Year repeater. The first time ever two decades have gone by without one.
4. Twenty-nine years since a 30-something was elected into the Hall Of Fame. Tim Tetrick got the call at 37, and has since turned 38. The last time this happened was when John Campbell in 1990 went in as the youngest ever at 35.
5. Fourteen years since anyone has touched Eternal Camnation's $3.7 million total for a female pacer ($3,748,574) and 19 years since Moni Maker's trotting female mark has held firm at $5,589,256.
6. Thirty-one years since a driver has won the Hambletonian back-to-back — 1987-1988 John Campbell with Mack Lobell and Armbro Goal.
7. Next year will mark 20 years since Jacqueline Ingrassia won a Triple Crown race. The 2000 Yonkers Trot, held on Aug. 26 for a $345,403 pot, went to "Lady J" and it has not happened since for the ladies in the bike.
8. Twelve years since anyone not named Ron Burke has appeared on top of the trainer standings at year's end.
Tight for second
In the sophomore pacing fillies' division, look how close the 2nd-5th place earners are that are all chasing Warrawee Ubeaut — $950,610
#2 Treacherous Reign — $504,719
#3 Tall Drink Hanover — $499,142
#4 Stonebridge Soul — $498,830
#5 Zero Tolerance — $494,923
Less than $10,000 separates that foursome.
Freshman pacing colts
Papi Rob Hanover wound up with the most money even being set back to second in the Breeders Crown. He earned $754,774 and Crown winner Tall Dark Stranger made $717,514.
Older pacers
Will Lather Up (1:46) win the division title over McWicked, the defending HOY? If not, Lather Up would be the fastest ever horse to not win a division title. (He didn't race after Aug. 31 making it something of an uphill climb) Lather Up actually averaged more money per start ($64,000) than McWicked did ($61,000).
Toughest division
The sophomore trotting filly class was, by far, the toughest division to decide who was best. This is likely to be one of those votes where four fillies all will get 20 plus votes: Ramona Hill, Senorita Rita, Sister Sledge and Hypnotic AM.
Sophomore trotting colts
Marcus Melander's trio of Greenshoe, Gimpanzee and Green Manalishi banked $3,052,640 collectively. All were race timed or won in sub-1:51.