by Victoria M. Howard
Winning a Breeders Crown, one of the most prodigious races in harness racing, is every trainer and owner's dream.
In 2019, Tahnee Camilleri, a female trainer from Down Under, was among those who realized that dream.
Born in Sydney, Australia, the Camilleri family moved to the town of Noosa when Tahnee was a child. Although there hadn't been any previous family involvement with horses, that didn't deter the young girl from dreaming of one day owning a horse.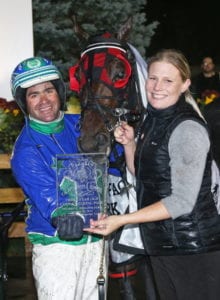 "I was interested in horse racing ever since I can remember. I used to watch the Melbourne Cup (thoroughbred race) every year on television, since, ironically, each year I just 'happened' to be ill on that day and had to stay home from school," Camilleri said, laughing.
"Although my immediate family was not involved with horses, my maternal grandfather always loved the thoroughbreds and for a while he worked as the clerk of the scales at Port Macquarie Racecourse."
It wasn't until 2009 that Camilleri was first licensed in the United States as a trainer.
"When I headed back to Australia, I got my trainers license there, also, but didn't have time to train due to my studies; but I did paddock horses on weekends. I graduated from university with a degree in law and practiced in Brisbane for five years. I practiced in the area of costs, so indirectly I was a lawyer for lawyers.
"A costing lawyer is an independent third party lawyer who comes in, goes through a lawyer's file and assigns charges according to either legislation or the firm's billing protocol. The charges must also be in the line with the law. On face value it doesn't sound overly exciting, but I really loved my line of work for I got to see a dispute from start to finish, and as they say, in some cases, the truth is stranger than fiction."
Although the Aussie enjoyed her job as an attorney, she discovered her heart belonged to the four-legged species. In 2018, Camilleri came to the United States with two horses to sell and establish trade, which allowed her to obtain a long-term visa.
Camilleri had a great start on U.S. soil whereas her stable accumulated 15 wins and 5 seconds in 30 starts, and a UTRS of 578.
"After the mare I brought over was sold, I headed back to Australia, got my visa, and relocated to the States. I was lucky to hit the ground running with the team I brought over. When the owners were looking for a U.S.-based trainer to take on their colt, I was fortunate that they chose me. It was totally unexpected, but greatly appreciated."
And that colt was a horse named Dancin Lou.
In 2019 he won The Tattersalls, which was run a few weeks prior to the Breeders Crown. That was Camilleri's first big win in the sport.
"I really thought I was racing for second in the Tattersalls, for the favorite Southwind Ozzi is a super horse. For Louie to knock him off was such an unexpected and great surprise."
But that race was just a teaser, as Dancin Lou won the Breeders Crown several weeks after the Tattersalls.
"Winning the Breeders Crown really took things to the next level. I remember watching the elimination and counting the horses around the last turn, just hoping to finish in the first five to qualify for the final. I couldn't believe how quick the little bugger sprinted, and after all that counting, he won by open lengths.
"I felt a lot of pressure going into the final because I felt Lou had a chance. Luckily, he had a really good week and was very sharp the day of the final. He was bucking his brand off in the pen they set up for him in the detention barn."
And then it was time. All those years of dreaming, wishing, and hoping had arrived.
"I managed to stay pretty calm before the race until I came back from warming Lou up. He had lost a shoe, which was a special made one. The trackman couldn't find it, so the paddock blacksmith had to tack on a rusty old shoe that was roughly the right size. Thankfully, it worked!"
"While I was watching the race, my heart sank when I saw Lou come first over. I thought, 'How can he win coming first over against the great Bettor's Wish who was in the lead?' I started screaming, and the louder I screamed, the faster Lou went. I was praying for a second or third. It was surreal when he crossed the finish line first. To have all the owners and friends there to share this was the best. They broadcasted the race live in Australia and I'm sure all the country was watching and cheering Lou on. It was a night and experience that I will never forget as long as I live."
What are the plans for Dancin Lou?
"Lou will be turned out at his breeders' farm, Anvil and Lace, in Kentucky. I'm hoping to have him ready for the 4-year-old stakes.
"Lou is by far my best horse ever, but I am now training his older brother Dancin Doug. I'd say he is more of a challenge and project, for although he was pretty handy as a 2 year-old, he lost a bit of form. Nonetheless, I hope Doug likes my training regime as much as his little brother."
Camilleri said she had a lot of people to thank for helping her achieve a life-long dream.
"First and foremost, I can't express how much gratitude I have to Dancin Lou's owners for giving me a shot and having faith in me. Secondly, I learned a lot about conditioning from a fantastic (now retired) trainer named Stuart Hunter. He definitely shaped me into the trainer I am today and I am so grateful for the knowledge he imparted on me. Last, but not least, my parents, for supporting my move to the United States. I could never have gotten where I am today without their financial and emotional support. And of course to Dancin Lou. You have made my dream come true and I'm forever grateful, buddy."