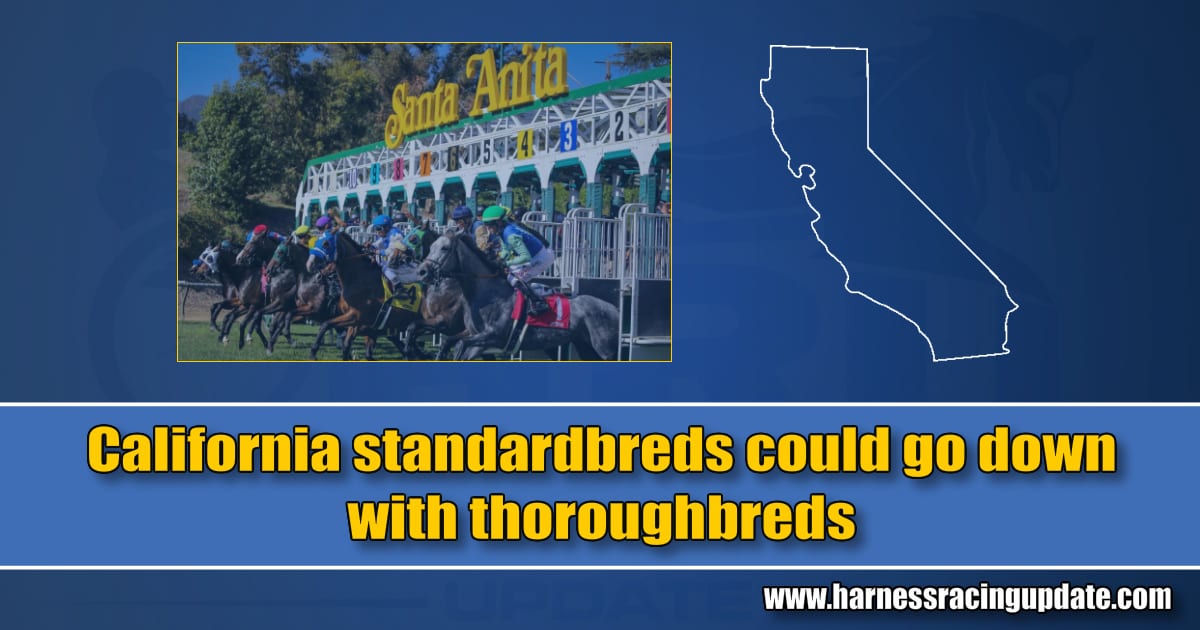 California's harness racing industry could be sucked under by thoroughbred problems
by Bill Finley
Though no standardbreds have died on the track at Cal Expo in more than 13 years, the fact 37 thoroughbreds have died at Santa Anita in just the past year alone could pull down the state's harness industry if horse racing were to be banned altogether in California.
When it comes to equine fatalities, harness and thoroughbred racing are two very different sports. Breakdowns are a constant problem for the thoroughbreds, so much so that a rash of catastrophic injuries earlier this year at Santa Anita and the death of Mongolian Groom in the Breeders' Cup Classic has created a crisis that some fear could lead to the end of the sport in the California. In harness racing, fatalities occurring during races are almost non-existent. While there have been 37 horses to die this year alone at Santa Anita as a result of training or racing accidents, no horse has suffered a fatal breakdown at Cal Expo, the state's lone harness track, since 2006.
But is that enough for harness racing to escape the animal rights activists or to be treated differently by politicians who are calling for an end to racing? Those are uncomfortable questions that have some in the California harness racing industry on edge.
"My sense is, at this point, no one is distinguishing between thoroughbreds and the other breeds, which includes us and the Quarter Horses," said Cal Expo general manager Chris Schick. "I've been to pretty much every meeting that has transpired since the Santa Anita situation began last winter. I've been to meetings regarding medications, whipping rules, all sorts of things. Very rarely is there a distinction in the rules that would cover thoroughbreds and not harness racing."
The California thoroughbred tracks have worked diligently to put in reforms that will make the racing safer and cut down on the fatalities. Those efforts seem to be paying off as the breakdown rate, which soared earlier this year at Santa Anita, has returned to more normal numbers and such key politicians as California governor Gavin Newsom seem willing to give the sport a chance to right its ship before making any moves that could lead to a statewide ban. Still, Schick is worried.
"I'm fearful of a potential proposition that could possibly outlaw horse racing," he said. "Beyond that, I'm fearful that at some point if break downs and euthanizations continue at Santa Anita that one day we could wake up and the governor has suspended racing in the state. I have a lot of passion for trying to turn around racing in California. I look at those guys at the thoroughbred tracks, and they are my colleagues, and I know they love racing. I can't even put myself in their position, which is to go to work every day just thinking about all the what will happen if another horse breaks down."
California Harness Horsemen's Association president David Neumeister is more optimistic than Schick is about the future. He can't fathom California not having horse racing.
"I think when the rubber hits the road, they will not ban horse racing in the state," he said. "It's too hard for me to picture that. There are too many jobs and too much money involved. If they ever get enough signatures to come up with a ballot initiative to ban the sport, I think we can persuade people there is just too much to lose by doing that and that the precautions the thoroughbreds have been taking are sufficient to ward off most of their problems."
Newsom has ushered in many changes at the California Horse Racing Board, including the hiring of a new chairman, the former racetrack vet Dr. Greg Ferraro. Before his hiring, the CHRB had already enacted several changes and more are sure to come as Ferraro has said, "the days of permissive medication are over in California." Eventually, a full ban of all race-day medications is expected to be enacted.
The harness racing industry often argues that medication rules that cover thoroughbred racing should not apply to standardbreds because of the many differences in the breeds. Schick doesn't disagree, but he has had no choice but to go along with the changes. The maximum allowable dose of Lasix that can be given to a horse at Cal Expo has been cut in half, from 10 ccs to 5. Should Lasix be banned all together in the state it does not appear that harness racing will get an exemption. Horses can no longer have any trace of Non-Steroidal Anti-inflammatory Drugs (NSAIDS) in their systems when racing. On its own, Cal Expo has toughened up the rules regarding what drivers can and cannot do with the whip.
"You go out in public here in California and tell people you are involved in racing and the first thing they say is, 'What's going with all those horses dying?'" he said. "It's a very scary time."
Neumeister agreed with Schick that the public, by and large, has not been able to differentiate between harness and thoroughbred racing.
"We have to make them aware of the differences," he said. "Nobody knows. It is this nugget we have that we are waiting to use when we need it. The pummeling the racetracks are getting from the PETA (People for the Ethical Treatment of Animals) people, none of that applies to us, unless they are just opposed to horse racing in general, that they think it's cruel to any horse to do what they are bred to do. Very few people realize that our horses don't die on the track."
Schick added that California harness racing has to be careful when it comes to trying to get its message across, that it may not be good politics to pit itself against the thoroughbred industry.
"We have been trying to figure out how to differentiate ourselves from that breed without alienating ourselves from that breed," he said. "We have done that a little bit, but we haven't been broadcasting it. We don't want it to look like we are piling on when it comes to the thoroughbreds and their problems. We don't want to be in a position where we're constantly telling people this shouldn't apply to us. That's not a winning strategy."
But what is? Caught up in a storm that was not of its making, the California harness racing industry is still trying to figure that out.