by Garnet Barnsdale
If you have been betting Woodbine Mohawk Park and haven't been cashing on horses driven by Scott Young in the past month, you just haven't been paying close enough attention.
Young has been on a tear and has created a buzz, and by winning the first 1 3/8 mile race carded on Oct. 31 as part of the current pilot project at the track, Young might even be part of a trivia answer. He guided the 4-year-old Andover Hall mare Venus Duharas to a 10-1 upset that night despite being parked the entire way, one of many longshots he has driven to victory. The mare was making her first start for his dad Bob and with that win things just seemed to take off for Scott. As of the end of action Friday night, Young had notched eight wins at Mohawk in November, with three of those coming as a hat trick on Nov. 15 and he has delivered a high win percentage.
"It's really been a dream come true," the personable catch-driver, who turns 28 today, said, beaming. "I was always doing a little Mohawk here and there wherever I could, and with Trevor (Henry) and Doug (McNair) being away, it kind of created a little more opportunity for me."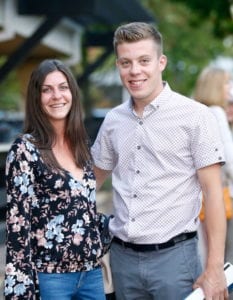 Young says all it took was a little push from a friend for him to try out Mohawk Park on more of a full-time basis.
"I was doing Thursdays for a while because Flamboro Downs wasn't that busy," he said. "I kind of got talking to Bobby McClure about it and he said to me: why don't you try to come here? I already kind of had ideas about it, but, you can go there all you want but you have to be able to get some work once you're there."
Young, who should take his 1,000th driving win early in 2020, said that racing more at the big track has been a case of so far, so good.
"It's been great," said Young.. "I got some drives right off the hop, I got a little horsepower, and it's been a run that I sure didn't expect that's for sure."
Young's success has even created a bit of demand for his driving services. "I laughed there two Thursdays ago," he said. "I came out with six drives but two of them were two races where two different guys put me down on their horses. I was laughing with my dad, saying: look at me getting doubles downtown at Mohawk. I certainly never thought I'd see the day where I would have to pick and choose who I was driving at Mohawk. Some of the trainers that I've driven for all along at the B tracks are putting me on their Mohawk stock too, now and that's always well appreciated, too."
Young has gained Internet fame — some may call it infamy — due to a paddock camera catching him in action falling off the bike as he was leaving his stall to head out for a post parade in a race several years ago. At least a couple of times a year, the video gets shared by someone in the industry — usually drivers — and Young is always a good sport about it, as he was when I asked him about it.
"It was my second year driving, I was 19 and it was a Saturday afternoon at Flamboro," the Guelph resident said of the incident that sparked the popular video. "I remember it like it was yesterday. I was on the bike and I knew I was going to hit the wall because the bike was too far over. It was my own fault because when you are on the racetrack on dirt and you shift your butt over your wheels will move. So that's what I did, but being where I was, it doesn't work with rubber on rubber.
Young remembered that he shifted when he made contact with the wall and "that's when I ended up falling out because all my weight was going the one way." He said he knew that camera was there but he hoped he got lucky and they had already moved on to the post parade because the #1 horse was already on the track. No such luck.
"When I got out on the track, I told Billy Davis Jr. what had happened and he was killing himself laughing," Young said. "I said imagine if it got on film? When I came in that day, James Macdonald, who was still driving at Flamboro comes over and he starts laughing to me and I said: no way they didn't get that on film."
Macdonald's brother Curtis was working at Flamboro at the time and he captured all the action. "Curtis texted me and said, don't worry, I caught it all — Twelve minutes from start to finish and I already posted it on YouTube," Young said, laughing.
Now Young — who lists Pieceoftherock, Nickle Bag and Whiskey Tax as some of the best he has driven to date — is making winning videos regularly "downtown" at Mohawk as they call it, and at least in the month of November, he was the bettors' best friend.