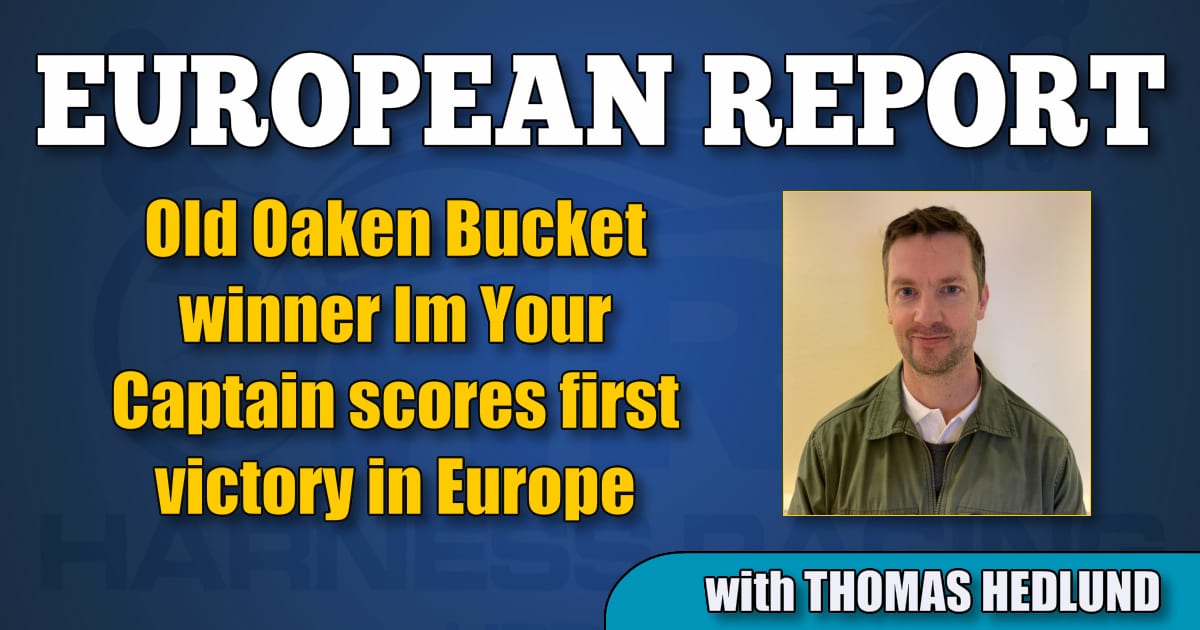 Old Oaken Bucket winner Im Your Captain scores first victory in Europe
by Thomas Hedlund
Last year, Im Your Captain (Muscle Hill—Frisky Strike) won the Old Oaken Bucket for 3-year-olds in Delaware, OH, then trained by Julie Miller and driven by Andy Miller.
Swedish trainer Stefan Melander brought the horse to Sweden ahead of this season and on Wednesday night, the 4-year-old captured his first win on Swedish ground.
In the $62,000 Solvalla Grand Prix over 1.3 miles, Jorma Kontio served Im Your Captain a pocket trip trying to stay with ambitious leader Evaluate, who got a bit too excited in front for driver Björn Goop.
Im Your Captain easily disarmed the leader and came home in a mile rate of 1:55.3.
Stefan Melander had four trotters in the race (out of six) and the outcome couldn't be better. Melander's Evaluate finished second ahead of stablemates Flight Dynamics and Canadian-bred Tito C.A.
Beautiful Colibri tops in Paris for Allaire
In Paris, the $66,000 Prix Vourasie for 2-year-olds were held on Friday night. Philippe Allaire dominates much of the group-race circuit at Vincennes at the moment. Allaire is hard to beat when it comes to races where younger trotters gather around the black track in Paris and on Friday night he showed 2-year-old Ready Cash mare Beautiful Colibri (out of Supergill mare Gilly Lb) to be in perfect shape.
David Thomain drove the Italian-bred mare to victory in a stakes record 2:00 over 1.3 miles and Beautiful Colibri will most certainly be an attraction in several races for the 3-year-olds when 2019 is over.
Allaire's dominance continued on the Saturday's race card at Vincennes when 2-year-old Charly du Noyer son Helgaffel, driven by Eric Raffin, easily controlled the field from the lead in $66,000 Prix Ourasie.
Allaire could once again note that his adepts took all medals in a group race since his Holzarte Vedaquais and Heart of Gold followed behind the winner. The mile rate was 2:02 over 1.3 miles.
Andover Hall progeny win in Finland
Two divisions of $71,000 Breeders Crown for 4-year-olds in Finland were held last weekend and Andover Hall progeny triumphed in both races since Tuomas Korvenoja's Lewis Ale took a safe wire-to-wire victory for driver Mika Forss in mile rate 1:58.4 and Peanuts (out of From Heaven Above) was outstanding from first over paired with Jukka Torvinen. Peanuts came home in 2:01 and the mare can look back at November with a smile. In the beginning of the month, she won $108,000 St Leger in Finland.
100 for Emilia
Swedish driver and racing under saddle jockey Emilia Leo reach a great milestone on Friday night. At Romme racetrack, the 27-year-old noted her 100th victory during 2019, an achievement that is hard to reach by anyone in the game, but, traditionally — and unfortunately — has been especially difficult for a female driver to accomplish.
Leo is in many ways a role model for all the female drivers and jockeys all around in Europe and she has developed her strengths in the bike remarkably the last few seasons. Leo is often seen in the Swedish V75-game and she has also participated in several group races this year.
Generally speaking, her victories in 2019 are divided equally between harness races and racing under saddle races and at Romme on Friday night, Emilia Leo took three victories. Harness Racing Update will soon publish a longer interview with the girl on fire.