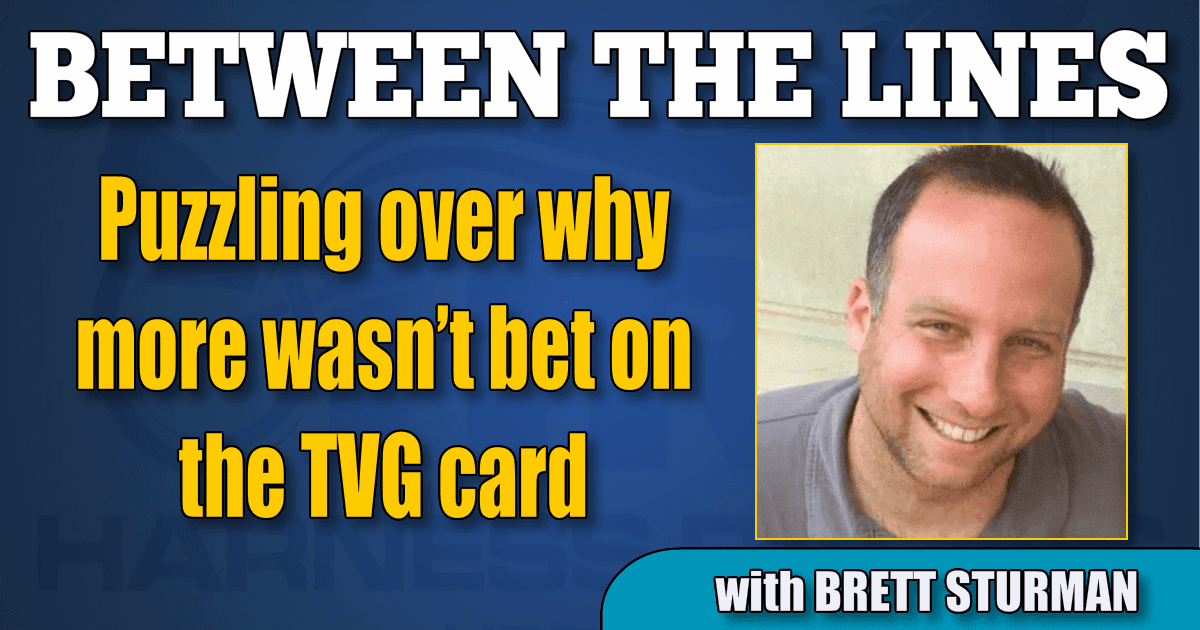 Puzzling over why more wasn't bet on the TVG card
by Brett Sturman
One of the things that's hard to figure is why doesn't the Fall Final 4 and TVG Finals card at the Meadowlands handle more than it does? Last Saturday's blockbuster card handled a few dollars short of $2.7 million, which is still great compared to any other industry standard, but it should be doing an additional $1 million based on what's being offered.
Sure, two of the bigger races weren't the least bit desirable from a betting standpoint, where Atlanta and Papi Rob Hanover were 1-9 favorites in their respective races, but handle for the 13-race card was consistent with what's been bet into the same card over the past two years. In 2018, the same card handled a tick higher at $2.7 million and in 2017 handle was $2.4 million.
Handle is up on the big cards compared to other racing nights throughout November, which are typically in the low $2 million range, but by contrast, Saturday nights throughout the winter routinely top $3 million. Aside from the TVG Mares Pace and the Governor's Cup, as referenced above, last Saturday's card was widely bet-able with nearly every other race running deep and competitive. If a bunch of lower level overnight horses in the dead of winter can draw $3+ million, why can't the sports very best horses come close that?
If anything, I'd think that the TVG races would help handle. By the end of the year, handicapping the same horses against each other can become stale, but that gets changed up a bit in the TVG. There were multiple races that included top 3-year-olds taking on older horses, and a female taking on open trotters in the case of Manchego versus Six Pack. Adding some variety is something that fans and bettors should embrace from a handicapping standpoint, but for whatever the reason it's not being reflected, yet, in what's actually being bet.
Total purses offered for the Saturday night card were slightly higher than the total amount bet, which is something you don't often see at the Meadowlands. It's puzzling for a card of that quality that deserves to be seen and bet.
On the racing side, Six Pack won the TVG Open on a fairly crafty drive by Svanstedt to beat the hottest horse in training, Manchego. With the win, Six Pack ends his 4-year-old season and retires with earnings just shy of $2 million. I don't get the impression he'll go down in history as one of the all-time bests, but for a horse that hasn't been hyped up as some others, he's put together an awfully impressive resume these past couple seasons. There's only been seven trotting miles at 1:49:2 or faster, and last year's 3-year-old champion has two of them (1:49:1 in last year's Futurity and 1:49:2 this year). We'll be left wondering what could have been in last year's Hambletonian, but, overall, he's been an incredibly fast and honest horse that showed up to race in nearly every start.
Shartin is almost certain to be Horse of the Year, but it's interesting to note that Caviart Ally has now beaten her three out of the last five times they've raced. Looks like a rivalry to watch for next year.
In the category of bad disqualifications, race 12 from the same card was one that I thought was genuinely bad. Like previous things I've said on the topic, the subjective nature at which horses can be disqualified is really something that should be looked at. In the race, Griffon Hanover (Zeron) sat second into the stretch behind race leader Mcthriller. Once in the straightaway, Zeron was looking for room to the inside with Griffon Hanover but didn't have clearance at first. In the process, head-on replays show that he did go inside one pylon. However, he never actually advanced forward to pass until he did have clearance, and from that point onwards he never went inside any pylons. Losing by a neck, he was disqualified to fourth where it was determined that the advantage he gained equated to being moved behind the third place finishing horse. There's some races where a horse goes inside three pylons on a turn and judges say that an advantage was not gained, but then there's a race like this one where a horse goes inside a pylon on a straightaway, waits, and then it's said that an advantage was gained. Some consistency would be welcomed.
At Yonkers, it's presumed that an all-time speed mark was broken earlier this week. On Monday night's conditioned race for N/W-4 or $50k lifetime, 47-1 longshot Odds On Columbus blasted from post 8 and rolled through the half mile marker in a time of :52.1. Trained by Scott DiDomenico, the 3-year-old gelding with a career mark of 1:52.4 from a qualifying mile, was up by eight lengths through a :25.4 first quarter and then expanded the lead to 12 lengths when he went to the half in :52.1 (only two-fifths off a second of what Somebeachsomewhere went in the Meadowlands Pace final and four-fifths off a second from a pumped up Devonshire Hanover's half at the Meadowlands in 2006). Predictably, he stopped shortly thereafter, but nothing comes to mind as there ever being a faster half-mile paced on a half-mile track.
The races that have the potential to produce a half-mile time this fast, such as the Little Brown Jug or the Battle of Lake Erie – none of them ever had a horse go that fast to the half. Odds On Columbus isn't a world champion, but his race will go down as an oddity on an otherwise typical Monday night.
The other big number from the week was the $305,556 that Northfield Park handled in the mandatory payout Wednesday for its jackpot pick 6 wager. The $305,556 was new money bet on top of the $154,311 carryover heading into the mandatory payout sequence. The amount bet on the wager at Northfield was unprecedented for the track, and it continues to show that while rare, when bettors see advantageous situations they won't hesitate to put a lot of money into the races.