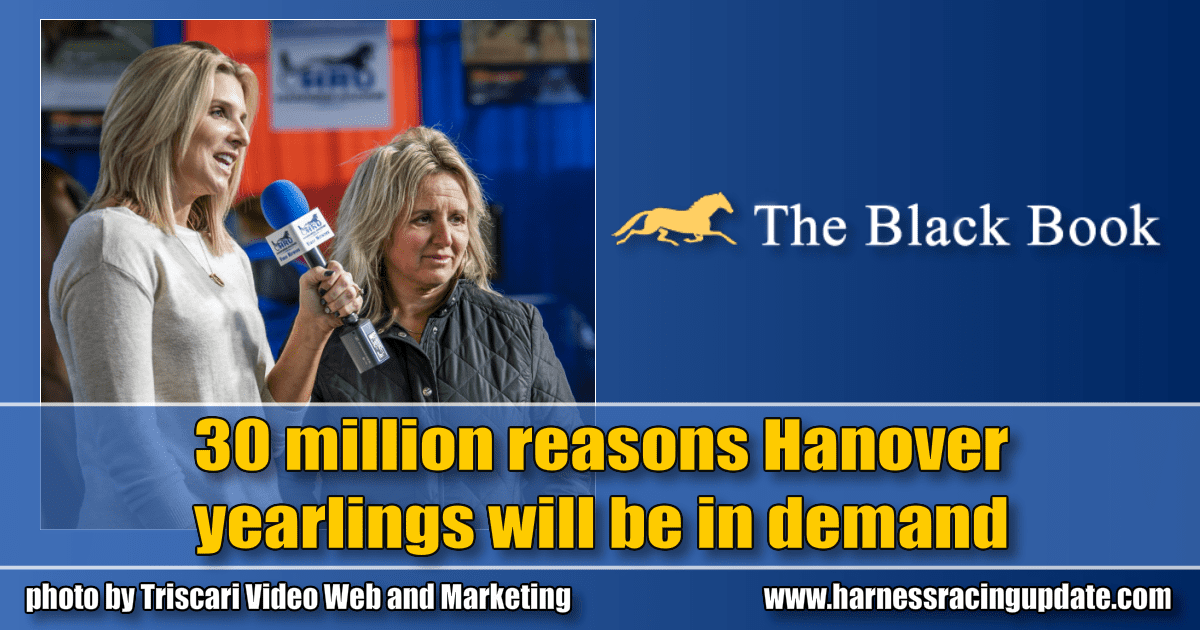 30 million reasons Hanover yearlings will be in demand
Standardbred Horse Sales Company's 81st annual sale kicks off today at noon at the Pennsylvania State Farm Show Complex in Harrisburg, PA and Hanover Shoe Farms will be a major focus of attention as the farm is, again, on a record-setting pace.
by Dave Briggs
As far as timing goes, it doesn't get much better for Hanover Shoe Farms than to exceed $30 million in progeny earnings this year two days before it's due to sell 234 yearlings at Standardbred Horse Sales Company's mega sale that kicks off today at noon at the Pennsylvania Farm Show Complex in Harrisburg, PA.
It was the third time, and third straight year Hanover Shoe Farms — the sport's leading breeder every single year since breeder records have been kept — have surpassed $30 million and it puts the farm in striking position of beating its all-time record of $31,559,289 set in 2018.
"With two months left we got past 30 million last night," Dr. Bridgette Jablonsky said Sunday at the farm's consignment. "It looks like we're going to smash (our all-time record).
"I think when you're setting earnings records… that's probably going to be the best barometer of your sale."
Jablonsky, Hanover's executive vice-president and syndicate manager, said it's nice to have so many nice siblings to sell from this year's $30 million+ crew.
"It's been a very good year for Hanover-breds. I'm very proud of them. We have to thank the people that buy them and do such a great job with them. It's nice to be able to sell siblings to them. This year, it seems like we followed up with the right stallions for those mares," she said.
Jablonsky said it's difficult to pick out highlights from a consignment that large, but mentioned several in each category that she has high hopes will sell well.
"I'm very excited about (pacing colts) #163 [Full Of It Hanover] and #149 [Dean B Hanover]. That's a Betting Line out of Deli Beach [149] and a Somebeach out of Francessa," she said.
"Pacing fillies, we have a lot of nice ones. We have a full sister to Papi Rob [Hip 47 – Panda Hanover] that's really great looking. We have a Somebeachsomewhere sister to Tall Drink [Hip 85, Takeway Hanover] that's great looking, a Somebeachsomewhere sister to Capt Midnight [Hip 14 – Imonabeach Hanover] that's very nice, a full sister to Filibuster that's very nice [Hip 158 – Farady Hanover] and, also, a Captain sister to Easy Lover Hanover [153 – Easyrunner Hanover] that's very nice. So five top pacing fillies – and then a very good supporting cast of pacing fillies.
"For trotting colts, we have a Muscle Hill out of Girlie Tough [Hip 170 – Get Touch Hanover], that's fabulous looking. We have a full brother to Gangster Hanover, that's very nice, out of Father Patrick [Hip 171 – Glacier Hanover]. And we have a full brother to When Dovescry [Hip 135 – Chappy Hanover]. So we're good there."
"For trotting fillies, we have a Father Patrick out of Passionate Glide [Hip 49 – Polis Hanover] that's by far the best-looking foal she's ever had. Looks just like her. She's very, very nice. We have a Father Patrick sister to Lifetime Pursuit that's very nice. [Hip 57 – Quickest Hanover]. We have a Father Patrick sister to Hey Blondie [Hip 103 – Wanheda Hanover]. We have a Father Patrick out of Winterberry, first foal. She's a sister to Creatine and she's just beautiful. [Hip 104 – Whimbel Hanover].
"So, I think, we're very top heavy in a lot of these categories, then great supporting cast, too. We've got Ontario-breds. We've got a beautiful Bettors Delight brother to my filly that won last night, Marloe Hanover. [Hip 245 – Marksman Hanover]… I think, at Hanover, there's truly something for everyone."
On Friday, Hanover announced it has purchased 2017 U.S. and Canadian Horse of the Year Hannelore Hanover to add to its broodmare band after she competes in the TVG on Nov. 23 at the Meadowlands for her current connections.
"She's coming home. That's very exciting. We're very happy to have her back," Jablonsky said. "I think Hannelore just has everything. She was fast, tough, great-gaited… she's a great-looking mare and she has a great pedigree. She not a freak, she's got a good pedigree. We're very excited to breed her to Greenshoe. I mean, that's a headliner.
"Greenshoe kind of pushes it over the edge. You want to get as many great mares are you can for him. We certainly want to go to the sale with one of the best-bred ones. There's not too many trotting mares like her, that have done what she's done for years."
As for whether there is a $1 million yearling in this year's Hanover consignment, Jabalonsky wasn't sure. But she does know the farm has plenty of ones that should fetch top dollar.
"If you have three for $300,000 that's almost a million dollars, right? And I think we have a lot on the high end. We have a very good middle market and we don't have too many lower-end horses. I think we did a very good job of separating them by sale this year. These are 234 quality yearlings."
In the bunch is also a sentimental choice, the three-quarter brother to Ron Burke trainee Elver Hanover, a 1:48.3 world record holder who is owned, in part, by Jablonsky (full story here).
Elver Hanover's younger brother, Ernie Hanover, will sell as hip 154.
"(Ernie) kind of reminds me of (Elver Hanover). He's a really pleasant, pleasant horse, not quite as charismatic — Elver was special — but he's a really kind, pleasant yearling also. I couldn't put him with those top colts that I mentioned, but he is the three-quarter brother to the co-fastest 2-year-old ever."