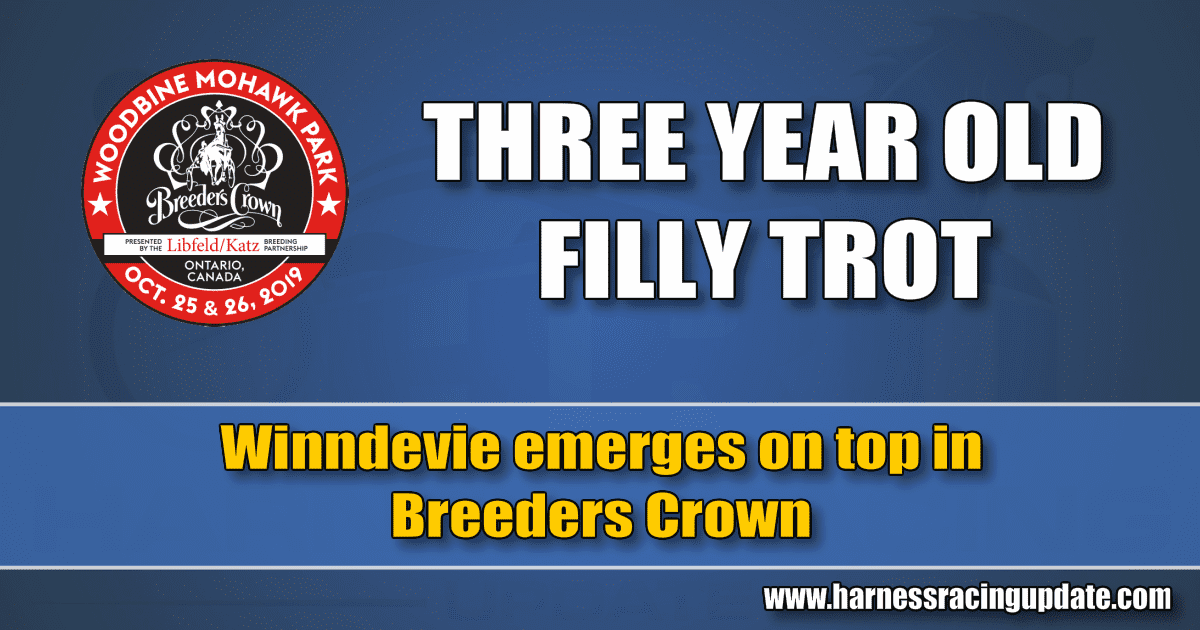 Winndevie emerges on top in Breeders Crown
by Ray Cotolo
Spending her whole career on the New York Sires Stakes circuit, Winndevie had little problem acclimating to the Grand Circuit.
The once-common Breeders Crown pairing of Brian Sears and Trond Smedshammer teamed to land Winndevie in the winner's circle for the C$657,895 Breeders Crown Three-Year-Old Filly Trot at Woodbine Mohawk Park on Saturday. The filly just recently exited state-bred competition and even skipped the Hambletonian Oaks.
"She was eligible to the Oaks, but it was right in New York season and I would've missed a couple of legs," Smedshammer said. "Right around that time, she was racing for $90,000 a leg, so we would give up a lot of money for a check in the Oaks, but right now it's a different story because the other ones are worn out."
With the early-week scratch of Millies Possesion due to her breaking a coffin bone, Winndevie went to the gate the 3-2 favorite despite only finishing third in her elimination. Sears positioned the Joie De Vie Farms-bred Credit Winner filly seventh as Only Take Cash cleared control to a :26.2 first quarter. Hambletonian Oaks winner When Dovescry soon popped pocket to take command but soon yielded to elimination winner The Ice Dutchess before a :56.3 half.
Sears meanwhile floated Winndevie first over nearing the far turn and crept towards the front approaching three-quarters in 1:25.3. From there she dashed with the wind on her back to a three-quarter length score over When Dovescry slipping past The Ice Dutchess as she drifted through the stretch.
"I thought the way she raced last week… it's just usually not nice weather up here at this time of the year," Smedshammer said on having the wind on Winndevie's back. "There's a lot of tired fillies, it seems like. She's fresh and still brave."
When Dovescry meanwhile missed becoming the 10th filly to win the Hambletonian Oaks and the Breeders Crown the same year by less than a length.
"It set up similar to what I thought," said Simon Allard, who drove When Dovescry. "I wish it would have taken a little less out of my mare, the first turn. If I saved a little bit there maybe I could have won. I wasn't put in the spot I wanted to be, I wanted to cut it. She is so much better on the front end than in the two hole. It just didn't work the way I really wanted. Second is still good, I guess. I'm happy, but we always want to win."
Collecting her 12th win from 21 starts, Winndevie — cared for by groom Katie Graham — has now banked $867,529 for Wanda Polisseni's Purple Haze Stable LLC, for which Smedshammer has trained for over a decade.
"I'm so sorry she wasn't here," Smedshammer said. "There's no better owner."
From here Winndevie will compete once more against Grand Circuit company when she ships to Dover Downs from the Matron Stakes. After that, Smedshammer said he'll either send her to the breeding shed or ready her for a 4-year-old campaign.