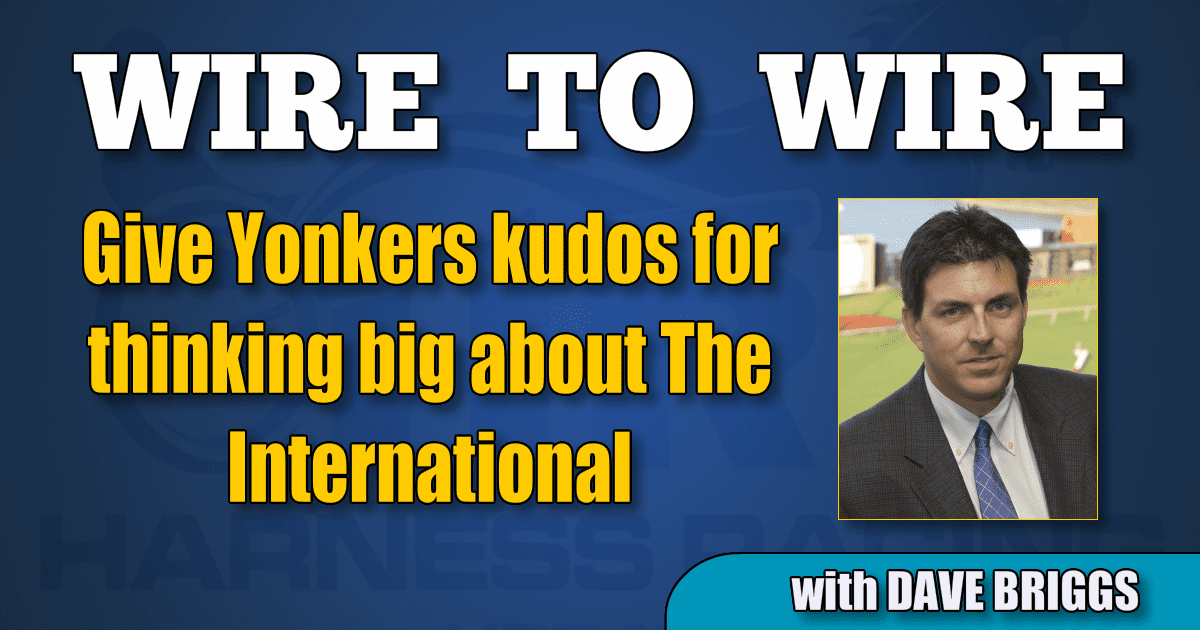 The importance of The International
Kudos to much-maligned Yonkers Raceway for thinking big in its revival of The International Trot. Let's hope we haven't seen the end of the $1 million event.
by Dave Briggs
Let's hope we haven't seen the last of The International Trot, but if we have, it's important to take a moment to give major kudos to much-maligned Yonkers Raceway for the effort.
Five years ago, Tim Rooney and company revived one of harness racing's greatest events and poured considerable money into making it the world class event it has always been.
For all those that suggest the money would have been better spent on overnights, you're missing the point, especially since overnight money is plentiful at Yonkers.
A lot of the griping, it seems, is based on the fact much of the sizeable purse money has left these shores, which also misses the point.
This was always about opening new markets, particularly for betting, in the hope of growing handle. As we know, the more money there is in the pools, the more people will want to bet on your product. In an age of purses fattened with proceeds from casino gaming — an arrangement surely doomed to a short future one politicians start meddling — the only way the sport can reach true independence and a sustainable future is to grow its own handle.
The International certainly took a good stab at tapping into the rich betting systems in France and Scandinavia.
Beyond betting, The International was also an attempt to shrink the harness racing world, learn as much as possible from each other and strengthen both harness racing alliances and the Yonkers brand.
Was any of it as successful as organizers hoped? Probably not, but that's half-mile track racing for you. The configuration will always be Yonkers' biggest albatross.
I speak of The International in the past tense here on purpose because far too often casino companies are far too predictable. Will Yonkers' corporate master MGM Resorts — which courts share price, not horsepeople — decide it's worth investing serious coin in a race non-harness racing people know and care little about? Doubtful, especially since I imagine the business case isn't strong.
But that doesn't mean harness racing as an enterprise shouldn't rally behind The International concept.
In a perfect world, if Yonkers can't keep The International it would be wonderful to see it on a big track at the Meadowlands or Woodbine Mohawk Park. The Meadowlands, in particular, would be a great fit seeing as the race has always been in the New York area and opening up international markets was always a passion and great labor of the Big M's late Sam McKee. To continue his work would be fitting to his legacy and would surely benefit the Meadowlands long-term.
Yes, the Meadowlands' own stakes program and purse structure isn't what it once was and needs attention first. Yes, there isn't a casino at the Meadowlands. Yes, sports betting alone won't cut it for an event of this scope. Yes, The International is an expensive exercise needing many years of sustained commitment. Yes, a million-dollar purse and generous entertainment budget— both necessary for drawing the Europeans across the ocean — is a big nut. I realize those are serious challenges.
But in a time where small thinking has produced a small industry, isn't it time to back the alternative?