by Brett Sturman
Effective last week, Alex Dadoyan is the new director of racing at Yonkers Raceway. It marks the first time there's been a change in the position since MGM Resorts formally closed its purchase of Empire City Casino and Yonkers Raceway earlier this year.
For the past six years, Dadoyan has served as executive director for the Standardbred Owners Association of New York (SOANY) and for 15 years prior to that he had filled many different capacities at the Meadowlands Racetrack.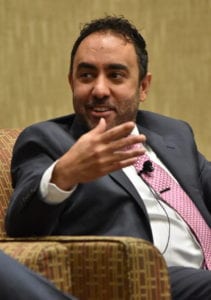 What makes Dadoyan's hire as director of racing at Yonkers most notable — drawing from his personal experience in the past as a bettor — is his understanding of what gamblers and those who take part in the Yonkers product want. It's a mindset that separates him from a lot of other track executives.
With a fresh perspective in mind, Yonkers has taken the dramatic step by today's standards and is making it known that on Tuesday, Oct. 1, the track will be doing away with the industry-dreaded practice of dragging post times. When the clock shows post time at 0 MTP, the starting car will promptly come onto the track, the horses will line up behind it and the races will go off as scheduled.
Until the post drag became common over the past few years, Dadoyan remembers a time when races went off as scheduled without issue.
"I just thought, 'Let's get back to the way it was,'" he said. "If everyone is doing one thing, then it sometimes pays to be a little bit contrarian on that. I could be wrong, but I think a lot of people remember the way it used to be and liked it, and I don't think there's anyone that bets the races or participates in the races that likes it the way it is now where the horses come out at 0 and you look up at the screen and you don't really know how much time is left, and it's just kind of annoying to a lot of people.
"So, even if it's a neutral move, it's better. And look, if it decimates the handle then I guess we have to go back to (dragging), but you have to give it a shot."
While explaining his reasons for what's come to be known in the industry as a necessary evil, Dadoyan acknowledged that it does make sense for some of the smaller tracks to attract more eyes on their signal and realizes that in those instances it has helped those tracks. My inference from Dadoyan is that even if extreme post dragging helps handle, that doesn't necessarily mean that in every circumstance that it's the right thing to do.
Yonkers has become one of the poster children for lengthy post drags, and because of that it may take more time than normal for people to adjust to the change. Is he willing to take an early hit to handle during the adjustment period?
"Absolutely," said Dadoyan. "I told everyone that the handle is going to go down at first because even if you make announcements, it's not going to hit all people immediately and for a little while it's going to take people by surprise and take time for people to react. But, if it's really bad and it's not well received and it has a material impact on the bottom line, then obviously you're not going to be stubborn. But you have to give it a certain time for people to adjust."
In addition to remembering a time when post dragging didn't exist, Dadoyan also recalls a time back in the day when there were wagering options that were well-received by bettors.
"I was at the Meadowlands a long time and I'd like to think that we were innovative in the things we did and tried to do; things that helped the bettors and made a better product," he said. "For example, we had so much success with 15 per cent takeout on the Pick 4. We had guaranteed pools that started at $25,000 and eventually went to $50,000 then $75,000 and to over $100,000 over the years and they were hugely popular. It was a way to draw attention to what were otherwise ordinary cards on a random Tuesday or Wednesday. And so, in a way, Yonkers can fit that bill now. They race five days a week and there's a lot of cards with only overnight racing. It's a little more limited at Yonkers because it's a half mile track with eight-horse fields, but those are the kinds of things that could be revisited sooner than later. But yes, there will be different multi-leg wagers with guaranteed pools, lower takeout and a different wagering format with something that can appeal to all types of bettors."
Of course, the most hotly debated topic of Yonkers over the past couple of years has been the removal of the track's passing lane. It's a topic where Dadoyan recognizes the strong opinions that people have on both sides of the issue, but he said he is fluid on the subject. He cites data that isn't clear one way or the other of the relationship between the existence of a passing lane and handle, particularly because there are too many other factors and there isn't really a clear answer in just looking at the numbers.
With the removal of the passing lane, the thought behind it was that drivers would be forced to move sooner in a race and more action would be created. It's debatable if that has occurred, but Dadoyan did acknowledge that pushes are being made in-house to cut back on the slow middle fractions often seen during racing at Yonkers. However, the challenge remains that drivers have consistently gone on record noting that it's much more difficult to race on the outside at Yonkers more-so than other half-mile tracks.
With the attempt to remove post drag in combination with a bettor-friendly wagering environment and being open to change on other topics, Dadoyan represents a welcome customer-first mindset. That alone should be reason to pay attention to Yonkers.