Win a $2,000 yearling credit from Diamond Creek Farms.
by Trey Nosrac
Some of you love a challenge, a mystery, an enigma, or a problem. You may listen to Will Shortz, the Puzzle Master, on public radio. You may tackle the New York Times Crossword Puzzle each Sunday in ink. You may struggle with cryptograms. Should you be a puzzler, and especially if you are in the market for a nice yearling this fall, here is a contest you may wish to try.
The Lexington Select Sale Catalog lists the hip numbers of 769 yearlings heading for public auction between Oct. 1 and 5. One of these yearlings in this catalog will be the answer to this challenge.
Why try? If you solve the riddle and email your name before midnight Sept, 22, you will be eligible for a $2,000 credit on any Diamond Creek yearling you sign the sales ticket for, not to mention that by sending in your correct answer, you will document that you are pretty "dam" smart.
It is possible that not a single person will solve the puzzle. It is possible that 100 people will solve the puzzle. This will not be easy. In fact, unless you are a pedigree maven or a puzzle master, the over/under of predicted successful answers is three. We shall see.
For a few samples of how the game is played, you can find practice games here.
For those who attempted to solve practice puzzle B, the answers you were looking for are:
1. Furyk (2nd dam)
2. Deadliest Catch (1st dam)
3. HIP number 673, Uncle AJ
Enough warm-ups. Let the real Dam Family game(s) begin!
Contest # 1
1. What is this? Passage 4 remains unsolved.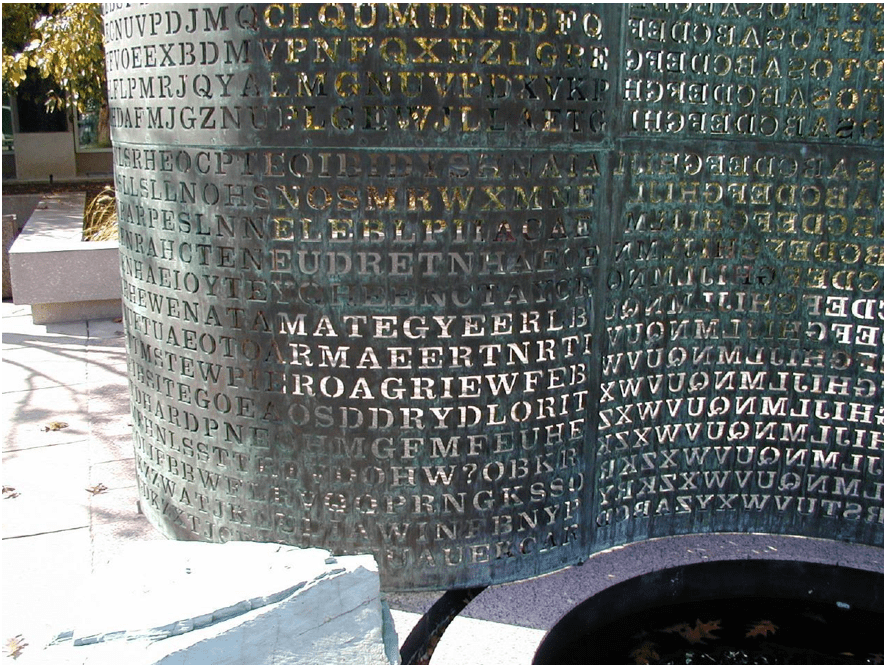 2. All three below share the same title: _____ __ _____
Interactive Mixed Reality TV Show (2017) 
Video Game (1993) 
Movie (2018 Indie Film)
3. What is the HIP __________
What is the name of the yearling in the 2019 Lexington Catalog __________
Should you solve this puzzle, simply email the correct answer and your name to shaun@diamondcreekfarm.com
Answers will be revealed and explained next week.