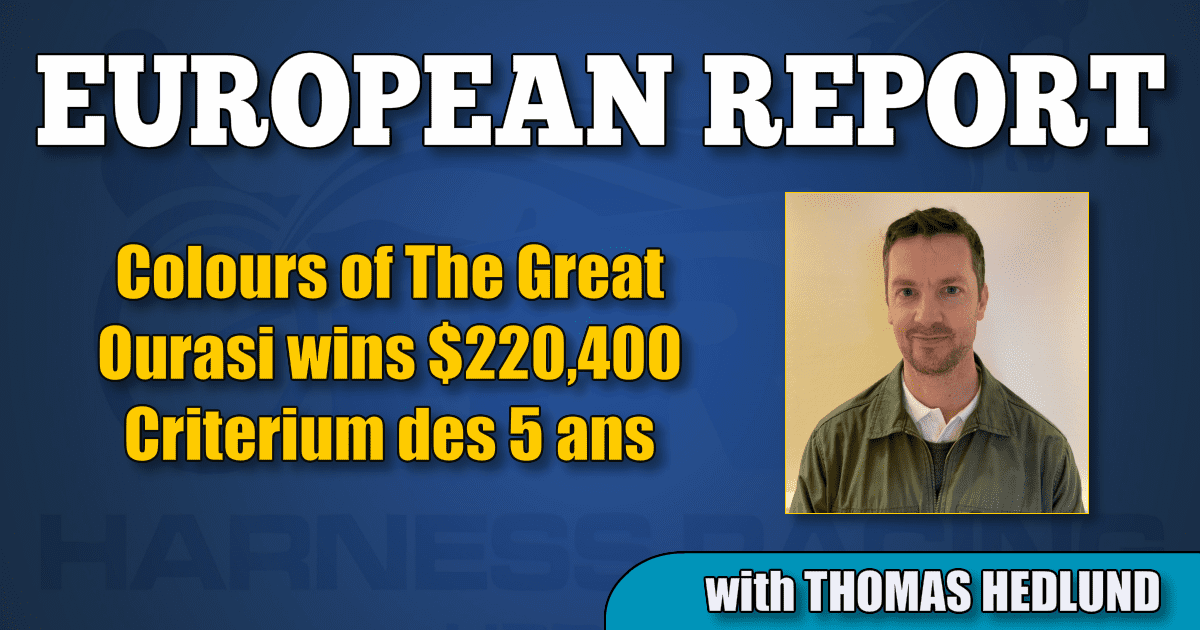 Colours of The Great Ourasi wins $220,400 Criterium des 5 ans
by Thomas Hedlund
Vincennes racetrack in Paris offered a race card with large purses on Saturday afternoon and the $220,400 Criterium des 5 ans attracted 16 trotters around the big track and a hefty 1.9 miles was the distance.
After a perfect cover trip behind leader Earl Simon, Eric Raffin found his space to let Eugenito du Noyer (Saxo de Vandel) sprint home the victory ahead of first choice and quick finisher Enino du Pommereux.
Eric Raffin, dressed in the blue and yellow colours of Ourasi (Ecurie Ostheimer), who won this particular race himself in 1985 for trainer Jean-Rene Gougeon, collected his second victory in Criterium des 5 ans.
In 2014, Raffin won with Vabellino who was the first winner in the race for trainer Sébastien Guarato. Guarato took the trophy in 2016 and 2017 with Bold Eagle and Carat Williams.
Eugenito du Noyer is trained by Jean-Michel Baudouin and the mile rate over 1.9 miles was a splendid 1:56.1. Runner up Enino du Pommereux came home just a head behind the winner in same mile rate and Epic Julry finished very strongly from a bad position for show.
World record by Face Time Bourbon
Sébastien Guarato's 4-year-old Face Time Bourbon (Ready Cash) impressed a lot when he won the $110,200 Prix Jules Thibault for 4-year-old colts at Vincennes. Björn Goop sent the son of Ready Cash to the front and the pace was high since first over trotting Fakir du Lorault made sure that the leader wouldn't make the game too simple. Goop tried to leave his opponents in the last turn and Face Time Bourbon got a couple of lengths ahead at the home stretch. Pretty easily Face Time Bourbon got the victory in a great mile rate of 1:54.3 over 1.6 miles, which is a world record mark over the actual distance.
Guarato also collected the trophy in the $110,200 Prix Guy le Gonidec for 4-year-old mares. Jean Philippe Monclin steered Saxo de Vandel mare Fleche Bourbon to victory in mile rate 1:57.4 over 1.6 miles.
Philippe Allaire trained Gotland was the first choice in the $110,200 Prix Victor Regis for 3-year-old colts and it all looked safe during the race when Gotland was sent to the lead at an early stage. But first over trotter Good Boy Ligneries (Un Mec d'Heripre) and Franck Nivard didn't surrender on the outside and shortly before the wire, the Philippe Billard trained Good Boy Ligneries had his head first. The mile rate was 1:56.3 over 1.3 miles.
Raffin and Guarato would also celebrate together at Vincennes on the afternoon. In $110,400 Prix Uranie for 3-year-old mares, Raffin sat behind Guarato's Gunilla d'Atout (Ready Cash) and after a quick start where Eric Raffin put his horse in front, the duo gave the lead over to Jean-Michel Bazire and Galilea Money midway through the race.
Gunilla d'Atout got space to sprint in the home stretch and she easily disarmed first choice Green Grass, who had traveled on the outside of the leader the last kilometer.
Graceful Swamp in Finnish Derby
The $330,600 Finnish Derby for 4-year-olds were held at Vermo racetrack in Helsinki, Finland on Saturday afternoon and in his 34th start, Erkki Pekka Mäkinen's Graceful Swamp (So Perfect) noted his 28th win when he led most of the Derby for driver Ari Moilanen.
The duo hit the lead in the first turn in the 1.6-mile long race and when the chasers behind tried to challenge Graceful Swamp for real in the stretch, he fought stronger and won in a mile rate of 1:57.4 that equaled the stakes record.
The runner up was Knows Nothing son Knows Best and third was Peanuts (Andover Hall).
In the $66,000 Finnish Championship, quick starter Next Direction (Orlando Vici) led all the way paired with Iikka Nurmonen. First over trotter Atupem, who upset in $154,000 Seinäjoki Race in April, tried to disarm the leader but never got close enough at the stretch and Next Direction came home in stakes record 1:54.1 over 1.3 miles.
Record at Kolgjini sale on Friday night
Swedish top trainer, breeder and harness racing business entrepreneur Lutfi Kolgjini arranged his yearling sale at his farm in Vomb, south of Sweden on Friday night and when the night was over, a European record was broken.
Last year, at the French Arqana Trot sales in Deauville, Hunter Valley was sold for 400,000 euro, approximately $440,800 and during Kolgjini's sale on Friday night, Chapter Seven colt Aristoteles Face (out of Just Not Into You) fetched 4,700,000 Swedish crowns, $479,000, a new European record for a yearling sold at auction.
Just Not Into You was purchased at the Harrisburg mixed sale for $35,000 in 2017.