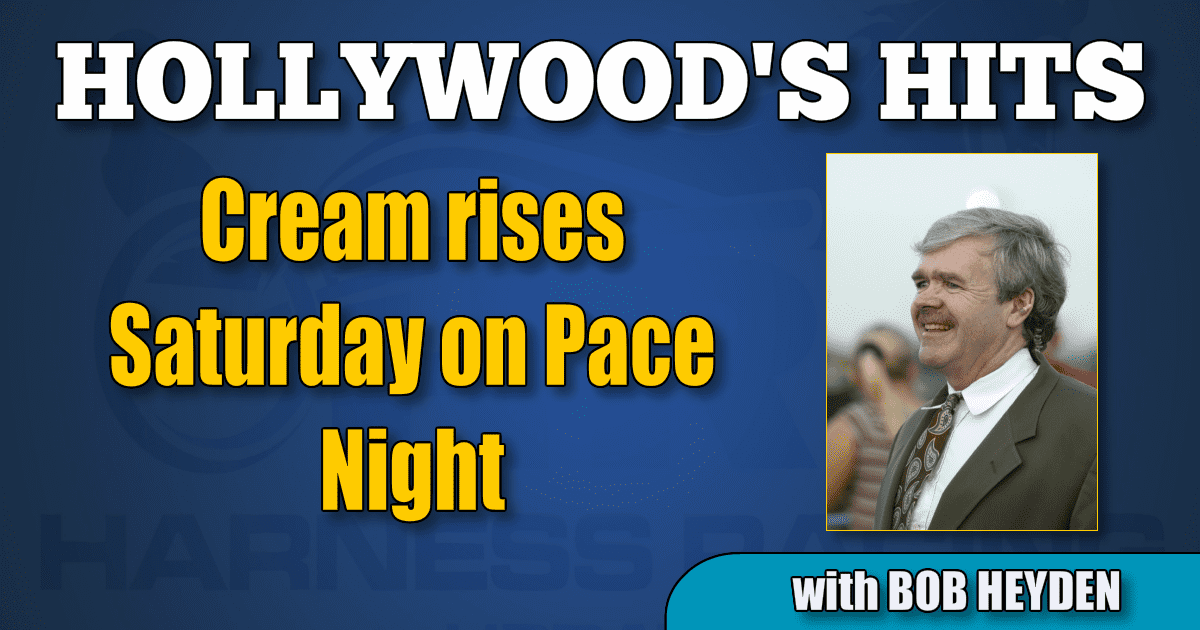 Cream rises on Meadowlands Pace Night
by Bob Heyden
The three richest active drivers in the sport today won seven stakes at the Meadowlands last Saturday (July 13).
David Miller — second on the all-time list behind John Campbell with earnings of more than $235 million — won a Delvin Miller test for $124,000 with Evident Beauty with Tim Tetrick second and Brian Sears third. Miller also won a Dancer division with Swandre The Giant for $153,000 with Tetrick second and Sears fourth.
Tetrick (11,085 wins) is currently fourth on the all-time list ($209,339,769) — behind retired Ron Pierce — and he won three finals — $179,550 Golden Girls with Shartin N; $450,000 Hambletonian Maturity with Crystal Fashion over Atlanta and $207,700 Mistletoe Shalee with Stonebridge Soul.
Sears won the biggest test, the $682,650 Crawford Farms Meadowlands Pace by a head with Best In Show. Tetrick was third with Workin Ona Mystery. Sears also romped (3 3/4 lengths with Greenshoe) in the $153,000 Dancer. Sears sports career earnings of more than $192 million and ranks fifth on the all-time list (10,108 wins).
Sears, likely with Greenshoe, will try and complete the Meadowlands Pace-Hambletonian Double on Aug. 3. He looks to become the sixth driver to do so, and the first in 16 years.
In 1979, George Sholty did it with Sonsam and Legend Hanover (DuQuoin).
In 1985, Bill O'Donnell did it with Nihilator and Prakas.
In 1991, Jack Moiseyev did it with Precious Bunny and Giant Victory.
In 1995, John Campbell did it with Davids Pass and Tagliabue.
In 2003, Mike Lachance did it with All American Theory and Amigo Hall.
Ron Burke inches away from 10,000
Entering Saturday's racing, trainer Ron Burke was just 22 wins away from 10,000 career victories.
Combined margin
The combined margin of victory for the entire 13-race card at the Meadowlands on Saturday might was 9 and a half lengths, with 3 and ¾ lengths of that courtesy of Greenshoe.
Waples at 75
Ron Waples turns 75 next week. He had the unique distinction of winning his first two million-dollar races four days apart in 1983 with the Sweetheart with Shannon Fancy and then the Meadowlands Pace with Ralph Hanover. He was also a part of the 1989 Dead Heat Hambletonian with Park Avenue Joe, driving him for the first time. In 1992 and 1993, he twice subbed for an ailing driver (McNichol and Moiseyev with back issues) and won the Little Brown Jug with Fake Left and the North America Cup the year after with Presidential Ball. Waples won the Triple Crown with Ralph Hanover in 1983, but not the Horse of the year award, despite setting the single-season earnings record. Cam Fella repeated as HOY.
Trivia
Q. Which Horse Of The Year not only did not lead his year in earnings, but had two females ahead of him on the list at year's end and still won the HOY award?
A. Nevele Pride in 1969. The #1 earning trotter over age 3 that year was Fresh Yankee ($255,288). The #2 earning trotter over age 3 that year was Une De Mai ($234,882) and #3 was Nevele Pride ($222,875)
Tough Trivia
Q. In the past 35 years, there have only been a pair of drivers who have each held the all-age world standard in a race for both trotters and pacers.
A. Cat Manzi on July 8, 1994 with Beat The Wheel (1:51.4). Ron Gurfein trained the daughter of Defiant Yankee, and she won out of the pocket going past Pine Chip.
On June 20, 1992, Manzi drove Artsplace to a 1:49.2 score the one and only time he drove the pacer. He won on a less-than-ideal evening in the fastest race time, which was 1/5th better than the Nihilator record of 1:49.3 set seven years earlier.
Bill O'Donnell did it in the same month — August, 1985. On Aug. 3, Nihilator set a 1:49.3 record that would stand seven years. On Aug. 31, Prakas won in 1:53.2 for 24-year-old trainer Per Eriksson. They would go 1-2 in the HOY balloting as the Pacer and Trotter Of The Year for 1985,which was also the first $10 million season for a driver.