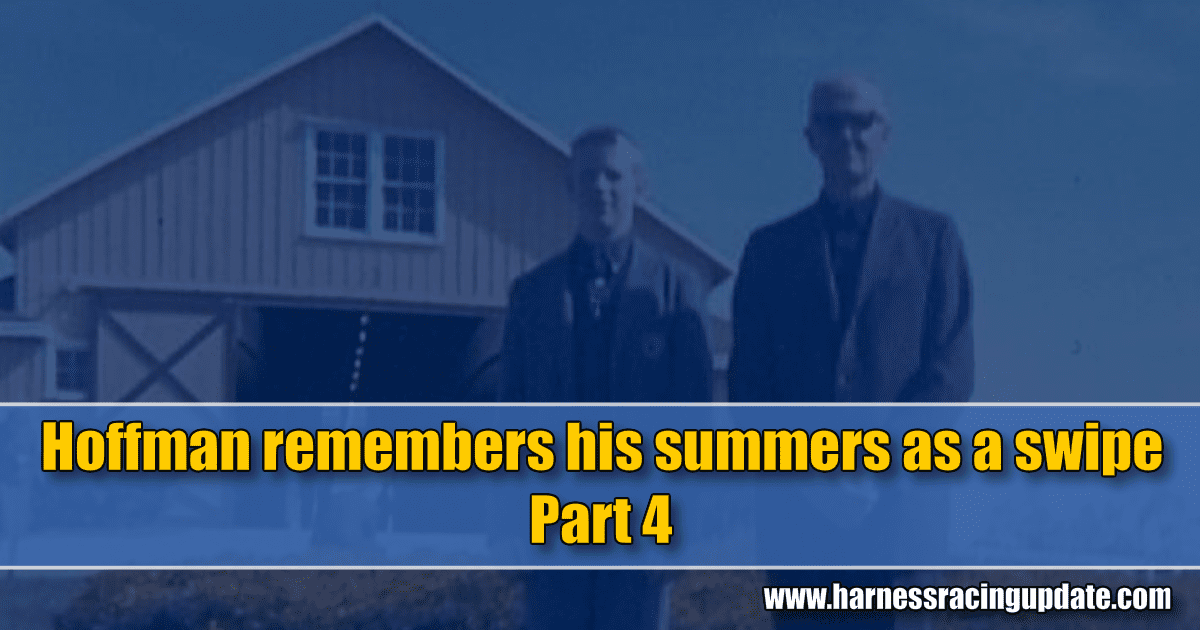 My Summers As A Swipe 1969 – Part 4
by Dean A. Hoffman
After my final two years of high school and my first two years of college, I spent the summers working at the bottom rung of the ladder in the horse business. I took care of horses, first on a breeding farm and then on the track.
What I experienced stays with me even today, although these were years in the late 1960s when America was experiencing racial strife and protests over the war in Vietnam.
In harness racing, however, there was nothing but optimism then. There's no such thing as a sure thing in horse racing, but we knew in the late 1960s that harness racing would get bigger and better every year. It had been that way since the end of World War II in 1945.
In that sense, the late 1960s were a vanished world for harness racing. The scourges of off-track betting, state lotteries, simulcasting, and racinos had yet to give gamblers choices that threatened the basic business model of racetracks.
It was indeed halcyon era.
This is the fourth, and final, part of the series in which I relive my education and experiences as a groom (I prefer the old term "swipe" in the headline) over four summers from the distant past.
I began my second season as a racetrack swipe by joining the Huttenbauer Stable at Scioto Downs or "Skeeter Downs" as some of the grooms then called it.
One groom said, "The skeeters here are so bad that they pull your socks down and bite you."
When I arrived for my summer stint, I was given a pacing colt by Sampson Direct and a gargantuan trotting mare by Blaze Hanover to rub. I was also given the chore of taking the temperatures of the horses in the stable two or three times a day. We had a sickness that swept through the stable, affecting the young horses most severely.
Perhaps I was the only person in the stable able to read a thermometer and make a simple chart for the trainer to see daily. Taking temps was no big deal except when I wrestled with a Bullet Hanover colt named Magnum Hanover. He was the final colt out of the resplendent matron Maggie Counsel, then considered one of the grand dames of pacing pedigrees.
Magnum was built like the proverbial brick outhouse and he could fire with either hind foot before you even sensed danger. Magnum never connected with me, but I learned a few new dance steps while dodging his flying hind feet as I was taking temps.
Best Of All had retired to Hanover Shoe farms the previous fall, so that star of the Huttenbauer Stable in '69 was a Star's Pride lass named Ole Hanover. She was the freshman champion of 1967 and competed in major stakes such as the Dexter Cup and Kentucky Futurity against Nevele Pride in '68 but she was certainly no match for him.
In the summer of '69, Ole started in the open trots at Scioto and more than held her own. Her caretaker was a veteran named Everett McDonald from Urbana, OH. He'd been rubbing horses for close to a half-century and was well along in years. After Ole Hanover raced, "Mac" was all too happy to let me cool her out. He'd probably walked a million miles in his life cooling out horses and I was thrilled to be walking a high-class trotting mare.
"Just keep turning left," Mac told me. "That's how I got my start."
To show you how much things have changed, my Sampson Direct colt was set to compete in a Scioto baby race that was slated for 6:30 p.m., as I recall, before the official races started.
I started to get him ready around 3 p.m. He went his first warm-up trip at 3:30, his second at 4:30, and his third trip at 5:30. Then he raced at 6:30.
Then it was bathing, walking, and doing up bandages on his legs. I don't think I turned him loose in his stall until at least 9 p.m. I'd been working with him for six hours for a race that lasted just over two minutes.
Yes, things have changed dramatically in harness racing.
In July, the stable was set to ship to Pocono Downs. Trainer Jim Hackett had to go to Roosevelt Raceway to drive a trotting colt by Kimberly Kid in the Dexter Cup, so he asked if I would drive his Chrysler Imperial from Columbus, OH to Wilkes-Barre, PA. I agreed.
Then a fellow groom who had been with the stable for years volunteered to assist the college kid with the driving.
"I'll get a case of beer and we can share the driving," he told me. I wasn't very old and I've never been very smart, but I quickly declined his offer. (This groom had rubbed some good horses, including a Jug heat winner. Later in a bar fight, he got hit over the head with a beer bottle. One trainer said, "I think some of the broken glass from the beer bottle sunk into his brain.")
Hackett was insistent that the horses not be shipped in the sweltering heat of the day, so the truck left in early evening. And I headed for Wilkes-Barre on my own about the same time.
I'll never forget that night because it was when my fellow Ohioan Neil Armstrong made history by being the first man to step foot on the moon. I was somewhere in the Pennsylvania mountains when the historic event took place. I could barely hear the news coverage due to a scratchy signal on the car radio.
I also won't forget that night because when I was trying to find Pocono Downs, I went the wrong way on one-way street in Wilkes-Barre. The kindly cop took pity on me and allowed my transgression to pass, and even gave me directions to the track.
It was long before daylight when I reached the track and learned where we would be stabled. I drove to the assigned barn and soon the van with the horses pulled up.
We got the horses unloaded and into their stalls before daylight. We simply flopped our foldaway beds into the barn aisle and collapsed in an attempt to get some much-needed shut-eye.
Just as we were drifting off to sleep at daybreak, trainer Hackett showed up and told us to throw the gear on our horses and jog them.
"What?" we protested. We were tired. The horses were tired. We'd shipped 500 miles. But Hackett believed that you got horses moving after a long ship.
I returned to the stable with the front of my tee shirt covered with coal dust from the surface of the Pocono track.
My pacing colt raced there and then we shipped to The Meadows, where I found grooms accommodations better than I had ever seen. That's because The Meadows, of course, was built by Delvin Miller, a person who took the needs of grooms into consideration.
My colt had one race at The Meadows and then it was time to ship back to Ohio. We connected with the rest of the stable at the fair in Troy, OH. Direct Takeoff had been fighting a bug and had lost some weight.
When the truck arrived at the Miami County Fairgrounds, we were greeted by second trainer Hugh "Bud" Parshall and I told him that I was almost ashamed to lead Direct Takeoff off the truck because a few ribs were showing.
"Don't worry about that," Bud assured me. 'Wait until you see Flower Child."
Flower Child had been a $1,500 yearling from Walnut Hall Farm and was given to the most unreliable groom in the Huttenbauer. This was a guy prone to running afoul of the law and spending weekends in the slammer.
Flower Child was by Florlis and the Huttenbauer Stable had a much better Florlis colt in the summer of '69. His name was Olympian and he was from a sister to Impish. While Flower Child looked emaciated, Olympian lived up to his name and looked like a champion athlete. Alas, he had soundness problems.
Although Olympian showed promise, it was Flower Child who proved better as a 3-year-old. He was second in a heat of the Hambletonian to Timothy T and got third money in the '70 Hambletonian. Olympian raced in the 1970 Kentucky Futurity, but he was on one line badly and never a factor.
Direct Takeoff raced in an Ohio Colt Racing Assn. stake for freshman pacers at Troy and managed to win a heat. His driver was Rick Hackett, Jim's nephew and later a distinguished veterinarian at Cornell.
Rick and I were about the same age and we bummed together a lot, so I was thrilled when he won a heat with my colt. I promised to buy him a steak dinner as his reward, but we went our separate ways for the past half-century and I've never seen him since. (Note to Rick: I still owe you that steak dinner and maybe even dessert by now.)
In late August, we shipped to the Indiana State Fair and Direct Takeoff was entered in the Hoosier Futurity for freshman pacers. I think there were 16 starters crammed into the sweltering paddock at the fairgrounds. Adover Rainbow won a heat in a dazzling 1:57.4 for Stanley Dancer, just four ticks off the world record for freshman pacers. Banner Ranger and Joe Marsh, Jr. won the other heat.
Direct Takeoff was 10-10 in the summaries, as I recall, but we beat a Tennessee colt named Steady Star that would later break all speed records for Standardbreds.
The big event that year at Indianapolis was not Truluck's win in the famed Fox Stake, but the assault on Greyhound's record for trotters by Nevele Pride.
The 1:55-1/4 record had withstood all challenges for more than three decades, but that day Nevele Pride chopped it to 1:54.4.
Dancer was so successful in that era and so resented that I recall one horseman claiming that the electronic timer had been "pre-set" to 1:54.4 to assure Dancer of the world record. (Who would have ever imagined about conspiracy theories in time trials?)
That concluded my four summers as a swipe — two at Walnut Hall Farm and two on the track. There are many other memories, and many other stories from those halcyon days, but I hope this gives readers some concept of what life was like on the bottom rung of the ladder in harness racing. It would be stretching it to say I loved every minute for surely there were hardships and challenges, but I look back on that era with wistful memories.