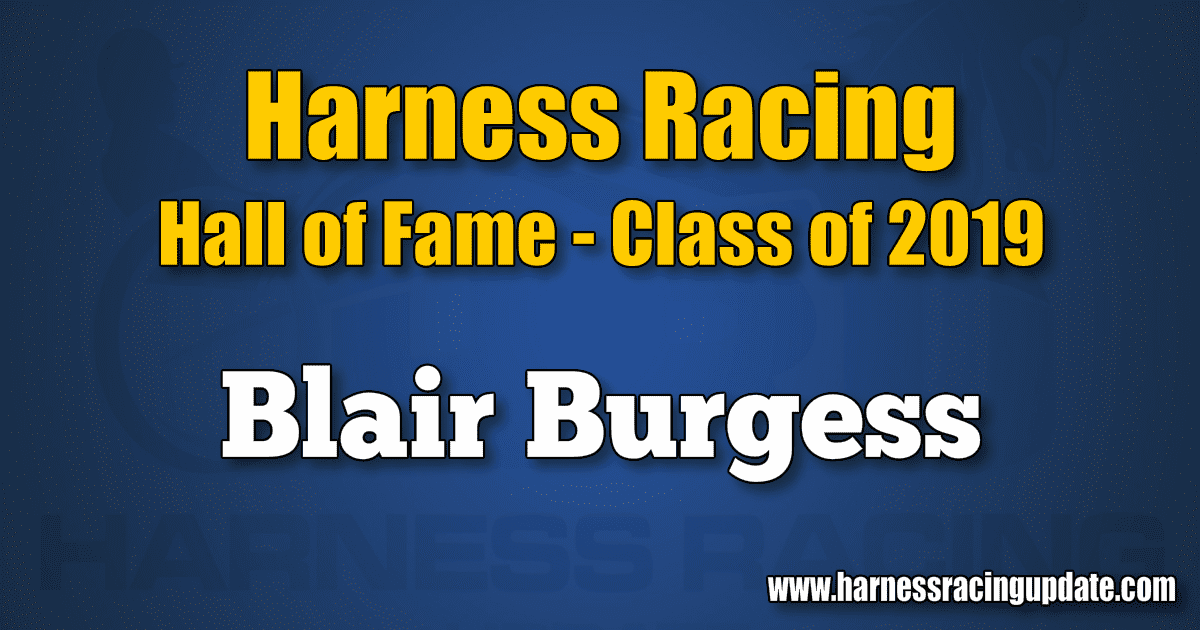 by Ray Cotolo
Inducted into the Canadian Harness Racing Hall of Fame in 2017, Toronto-born Blair Burgess is quick to quip at his own expense. The 57-year-old trainer with over 1,000 wins and $27 million in purses has campaigned multiple million-dollar winners over a 30-year career, but maintains a modest good humor about his few successes while running a dry spell in the golden years of his career.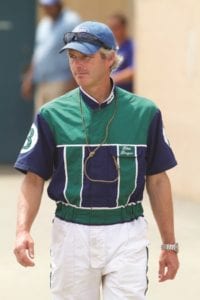 "I don't think I have any other capabilities," Blair said with a laugh. "I have one and I'm somewhat mediocre at that lately; I have one thing I'm good at and I'm not even good at that anymore."
Burgess is the son of Canadian Hall of Fame member Robert Burgess, who played an instrumental role in building Ontario racing and fostering its Sires Stakes program. Blair's track-rat life started with tagging along with his father from Woodbine to Greenwood constantly. The family lived in Toronto before Robert purchased a farm in the city's outskirts for the horses he claimed. While still in high school, Blair began his training career when he and his brother purchased a $2,000 Romeo Hanover gelding at the 1976 Meadowlands Mixed Sale—a horse that earned enough to help pay for Burgess' university tuition where he studied political science and philosophy.
Yet Blair did not open a training operation until after he graduated college. As a teenager, he spent winters working in Florida for Stew Firlotte and talked on occasion with his father's friend and champion trainer Bill Wellwood. When in Florida, he also met his future wife and MVP Karin Olsson-Burgess, who came from Sweden to work for Skip Lewis thinking that the Hambletonian-winning trainer had a large trotting stock instead of a barn with 77 pacers and only three trotters.
"She had to learn to put hopples on in a hurry," Blair said.
By 1985, Blair began training full time and started with nine babies purchased by his father and other clients he could persuade.
"Eight of them were terrible," Blair said, "and one of them was Amity Chef," who earned over $1.3 million dollars. "He was three-year-old of the year and set the Canadian record as a two-year-old with me driving him, which is an accomplishment in itself."
By 1987, Blair became the youngest trainer to win the Meadowlands Pace when Frugal Gourmet rebounded from a loss to Jate Lobell in the North America Cup. Jate Lobell never beat him again, but Blair's careful campaigning of Frugal Gourmet and Amity Chef so early in his career showed the young-but-now-old trainer's innate understanding of the horsepower he managed.
"Maybe that's the only thing I've done right is manage a good horse," Blair said. "I remember Trevor Ritchie made me meet him at a hotel restaurant in New Jersey before we raced (Frugal Gourmet) in the Meadowlands Pace. The genesis of the meeting and the theme was 'Do you know what you have here? You're going to have to plan things out; this is not just another racehorse.' I sort of was just nodding my head because I already knew that; he was preaching to the converted. But it gave me more confidence hearing it from Trevor with his horsemanship."
In the '90s, Blair began training horses for George Segal (of Brittany Farms). Segal would send yearlings he retained to Blair while still owning shares but showed a trust in Blair's horsemanship when he sent Western Ideal to Burgess for rehabilitation in the late '90s. Their racing relationship continued into the 2000s when Blair hit a peak as a trainer—a training era which included millionaires Real Desire and Tell All as well as Hambletonian winners Amigo Hall and Glidemaster.
"Training for Brittany Farms was a big part to any success I had during that run," Blair said. "Either he owned part of the horses or he steered me in the right direction to get horses or I liked buying horses that were raised at Brittany Farms. Real Desire, for instance, was raised at Brittany even though he was bred by Art Zubrod. So that's one reason I came in contact with that horse; I probably wouldn't have even known he'd existed if he hadn't been raised on that farm."
For as many stakes as Blair won over 30 years of training, no wins of his compare to winning the Hambletonian "only because of the throng, the press, the crowd, the buildup and the tension coming into it," he said. "I didn't expect to win my first Hambletonian but I thought I had a damn good chance of winning my second one. So that's even greater pressure, when you have a good horse. That's exhilarating when you have all that pressure leading up to that and you then win. Plus, it's the biggest race on the continent or in the business."
Blair's career has slowed in the last decade. The champion trainer has "had other droughts but this is certainly the longest one. This is getting more worrisome this one.
"Every trainer gets a good run," he said, "just some are shorter than others. When you're on your run, you better enjoy it because a lot of it is luck in the horse business. No matter how smart you are, you have to be lucky too. When you have your run like I did from — Western Ideal through Tell All; Real Desire, Amigo Hall, Glidemaster — that's 10 or 11 years; a lifetime for most trainers. Maybe I used up all my luck in a decade."
Nowadays, Blair maintains a small operation with his wife Karin and his kids helping at the farm on occasion. Blair's run at the top of the sport may have ended, but the now Hall of Fame trainer remains open to potentially campaigning another star.
"I don't want to admit it to myself — I'm still in denial," Blair said with his usual self-aware laugh. "I don't know for sure."