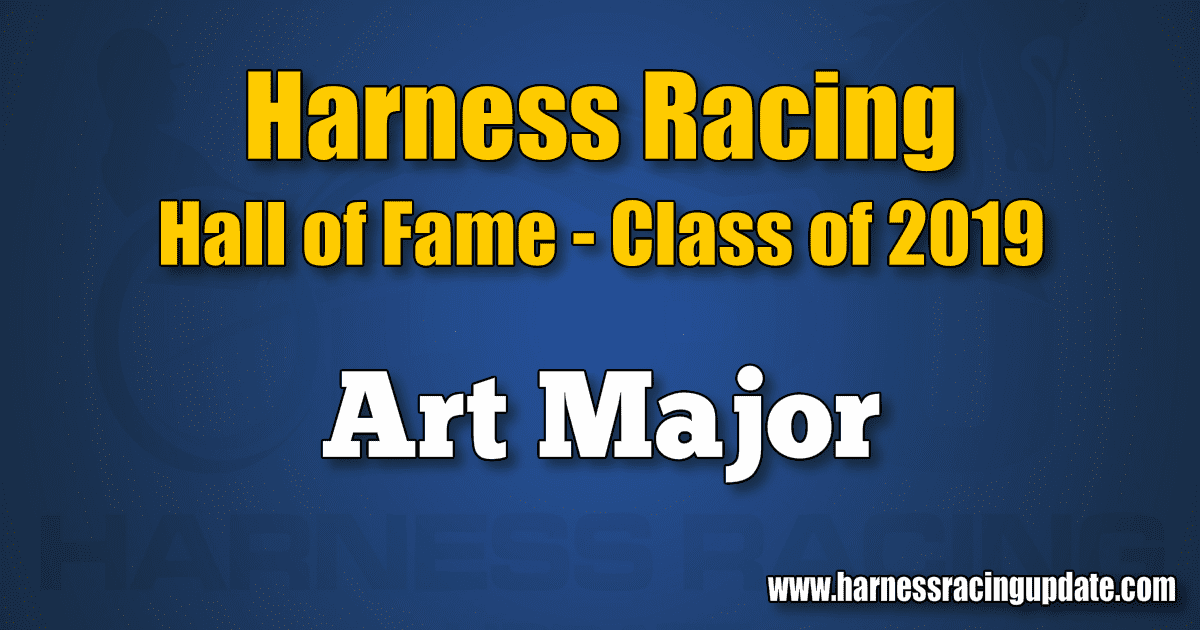 by James Platz
This Sunday the newest class of Harness Racing's Hall of Fame will be enshrined in Goshen, NY. Among the Class of 2019 is Art Major, a horse that has made an indelible mark both on the racetrack and in the breeding shed. Fellow Hall of Famer John Campbell steered the two-time Dan Patch and O'Brien Award winner to some of the pacer's biggest victories, but it was a race in 2003 that is most poignant for the greatest reinsman of all time.
"It's more of a personal note than anything else. After his 3-year-old year, I broke my elbow quite badly in March and I missed a bunch of time. When I came back they had assured me I would be driving Art Major, but I wasn't," Campbell said. "I didn't get put down on him, but I eventually did. He won his first start back for me right then, and I was basically coming back trying to prove myself again to a certain extent after recovering from the injury. I raced him and he won, and that was a huge stepping-stone for me in the recovery process. In the public eye, I was still able to make horses go. I'll never forget going back to the winner's circle with him. It was a great deal of satisfaction. That's more of a personal thing, but it was all tied back to Art Major."
Bred and foaled at Brittany Farms on June 11, 2019, the son of Artsplace—Perfect Profile brought $65,000 at the Tattersalls by a partnership that included Sampson Street Stables, TLP Stable, Deena Frost and Jerry Silva. Entrusted to Chris Ryder as a freshman, Art Major won four of seven starts and took a mark of 1:54.3.
The 2002 campaign would signal change for the pacer. He was turned over to Bill Robinson in late June, and Campbell was paired with Art Major in early August. Together the two would finish second in a stake at the Meadowlands after the colt had reeled off four straight wins north of the border. Art Major clocked the mile in 1:49.1, dropping more than a full second off his seasonal best.
"He raced really well and finished second, and then he just took off from there, and in the latter part of the year, was tremendous," said Campbell. "Art Major's form just improved and improved and it worked out very well for me."
The colt would ship to Hoosier Park and capture an elimination and the $450,000 final of the Hoosier Cup, then shipped to Flamboro Downs and did the same in the Confederation Cup before returning stateside to annex an elimination and the $369,188 Cane Pace final. Art Major finished fourth in the Little Brown Jug for Mike Lachance before reuniting with Campbell for the balance of the 2002 campaign. Together, they would win nine straight starts and score victories in the Bluegrass, Tattersalls Pace, Progress Pace and Breeders Crown final.
By virtue of winning 20 of 31 starts, Art Major was voted the top three-year-old pacing colt in both the United States and Canada. His $1.56 million in purse earnings also led all pacers that season.
With Campbell on the sidelines to begin the year, Chris Christoforou guided Art Major through his first seven starts of the 2003 season. Now a 4-year-old, the pacer collected four wins and raced second in the Battle of Lake Erie and the $650,000 Haughton final. Robinson would call on Campbell in the U.S. Pacing Championships, where Art Major kept a neck in front of Four Starzzz Shark in a career-best 1:48.4. It was a big win for both horse and driver, and it triggered a four-race sequence where the two also captured the Canadian Pacing Derby and their second Breeders Crown.
In those final four starts, Art Major banked $770,230 of his $1,082,930 in seasonal earnings, which ranked him fourth among all standardbreds in 2003. He tallied eight wins in 11 starts, finishing second in the other three starts. The performance earned him the Dan Patch and O'Brien Award for Older Pacing Horse of the Year. Art Major finished his career with a slate of 49-32-7-2 and $2.72 million in earnings.
"He had big lungs. He could carry his speed and he wasn't a sprinter," Campbell said of Art Major's greatest attribute. "You wanted to use strategy. He was a horse that you needed to be up near the front or on the front, and once he got there, he just wouldn't let you down."
Transitioning to the breeding shed, Art Major has become an elite sire. The richest son of Artsplace returned to Brittany Farms, where he has stood since 2004. To date, the pacer has sired winners of just under $127 million. He has produced 359 $100,000 winners, with 57 in 1:50 and 22 in 1:49. He boasts nine millionaires including world champion and Meadowlands Pace winner Art Official p,3, 1:47 ($2,082,885), North America Cup winner JK Endofanera p,3, 1:48.2 ($2,049,580), world champion Hypnotic Blue Chip p,4, 1:47.2 ($1,787,311), Breeders Crown champion Santanna Blue Chip p,9, 1:51s ($1,666,701) and Meadowlands Pace and Little Brown Jug victor Courtly Choice p,3, 1:47.1m ($1,066,554).
He has also sired 2014 Horse of the Year JK She'salady p,2, 1:50.1s ($919,583), Dan Patch Award winner Major In Art p,2, 1:50.4m ($849,154), Dan Patch and O'Brien Award winner Precocious Beauty p,4, 1:50.1s ($838,004) and .
Art Major has also proven influential as a broodmare sire. He has sired broodmares that have produced winners of just over $40 million. Top pacers include Dan Patch Award winner Divine Caroline p,3, 1:49.2m ($880,335), Big Top Hanover p,4, 1:51f ($752,812) and Melmerby Beach p,4, 1:47.3m ($663,651).
"From my standpoint, there is a level of satisfaction when you see a horse that you were associated with go on to become a great sire," Campbell said. "Having a horse that makes such an impact on the whole breed and you were associated with him as a driver, that's very satisfying."
Art Major follows in his sire's hoof prints, joining the Hall of Fame 19 years after Artsplace was named one of the sport's greats.