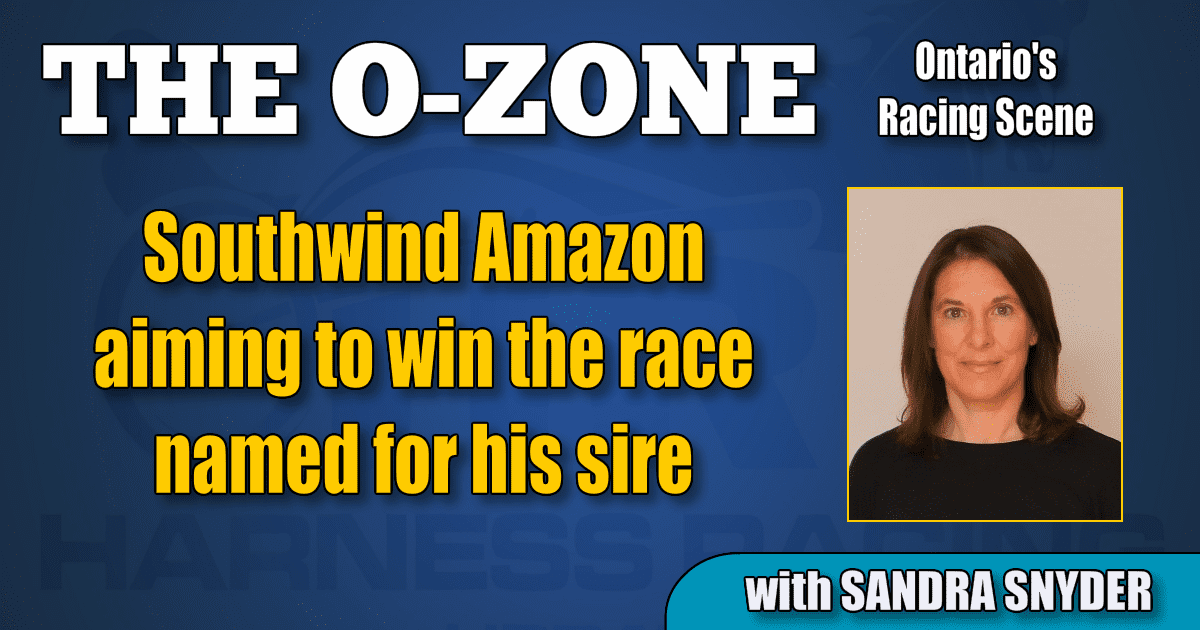 Southwind Amazon aiming to win the race named for his sire
The Camluck Classic card on May 31 will close out the live meet at The Raceway at The Western Fair District with a bang the night before both Hanover Raceway and Georgian Downs open for the summer.
by Sandra Snyder | Sponsored by Ontario Racing
Camluck Classic night at The Raceway at Western Fair District is more than just the London, ON oval's signature event. It is a celebration for everyone who contributed to the success of the eight month-long meet, an annual reunion in an area of the province that has been a hotbed of harness racing for over a century, and a tribute to a racehorse and sire whose impact will ripple through the industry for generations to come.
The event, which goes postward on Friday, May 31 this year, features the $150,000 Camluck Classic Invitational, the Ontario Sires Stakes Grassroots season opener for 3-year-old pacing fillies and four City of London Series Finals.
"We're excited, as always. It's the culmination of a long season and we like to end off on a high note. We're optimistic that returning to our traditional Friday time slot will give us a boost again this year," said director of racing Greg Blanchard of the event, which transformed from the Molson Pace to Camluck Classic in 2018. "We're happy with the field, the way it's shaping up this year. As long as weather cooperates it's always a fun-filled night on track."
Among the contenders for this year's Camluck Classic are defending champion Rockin Ron, who captured the 2018 event in a track record 1:50.3, 3-year-old pacing gelding track record holder Sintra, Confederation Cup winner Done Well, and a son of the race's namesake, Southwind Amazon.
As a 2- and 3-year-old Southwind Amazon was a five-time Grassroots winner on the Ontario Sires Stakes circuit, with four of those victories coming on different half-mile tracks. The son of Camluck and Artoonist has continued to shine on the half-mile through a career which has propelled him to 78 wins and earnings of $872,881.
"He's a half-mile specialist. He's just very, very handy, very athletic, very handy," said trainer Paul Holzman. "He goes on any size track, but he's just exceptional on a half because he's so handy."
Assistant raceway manager Greg Gangle started wooing Holzman and owner Ameer Najor last spring, hoping to have Southwind Amazon participate in the inaugural Camluck Classic, but a bout of ill health prevented the gelding from making the trip in 2018. Gangle and Holzman remained in contact, and with Southwind Amazon in peak form coming off a season that saw him win a North American best 22 races, the trainer was pleased to accept the 2019 invitation.
"I feel he's coming into the race just as sharp as he can be and it's amazing because he's gone quite a while without a break, but he's shown me no indications to give him any time off," said Holzman. "He's been racing very sharp, he just won the other night (May 20) at Northfield Park pretty easy — 1:51.3 by five in hand — and he's just razor sharp."
Holzman and Najor acquired Southwind Amazon at the start of his 6-year-old campaign and have been delighted with the gelding's evolution into a top-class pacer. While Holzman admits the field for the Camluck Classic is a tough one, he was honoured that Southwind Amazon was asked to represent his sire and is looking forward to the event.
"We only paid about $30,000 Canadian for him. I was in Florida at the time, this was 2016, and he came down to Florida and the rest is history," the trainer said. "I thought I was just buying a racehorse and he's just really, really blossomed into something special.
"I'm very happy that (Gangle) even considered me. Win, lose or draw, I think it's going to be quite a day and quite fun."
Michigan native Holzman will have family joining him for the festivities, as will the participants in many of other races, especially the City of London Series finals.
"You get late-blooming type horses for local connections and it means a lot to them to get to compete for a larger prize and to compete on the big stage," said Blanchard. "So the City of London's really become a staple of our closing night program."
Blanchard will be joined by colleagues Mark McKelvie and Jaimi MacDonald to broadcast the Camluck Classic via Facebook Live on May 31. Almost 7,000 viewers caught Flamboro Downs' May 19 Confederation Cup broadcast, the first of three Facebook Live events sponsored by the Central Ontario Standardbred Association (COSA). The third event is Grand River Raceway's Battle of Waterloo on Aug. 5.
Complete details about the 2019 Camluck Classic are available here.
Hanover Raceway and Georgian Downs open June 1
While May 31 marks the last day of The Raceway at Western Fair District's meet and Flamboro Downs will wrap things up on May 30, two Ontario racetracks will raise the curtain on their 2019 season June 1.
Hanover Raceway will welcome fans for the first of 15 Saturday nights next weekend and trainer Becky Geisel is hoping local supporters are as enthusiastic about the opening of her hometown oval as they were for Clinton Raceway's kick off on May 19.
"The fans were super at Clinton on Sunday. It poured rain and they were still there," said the Hanover resident. "There was a torrential downpour and they just went inside and were right back out again."
Geisel, a two-time winner of the Ray and Leu Leifso Trainer of the Year at Hanover, has five horses hoping to compete over the Hanover half-mile this summer including 8-year-old Daylon Frontier gelding Acefortyfourtalon who currently ranks at the top of the group of four pacers and one trotter.
"I must admit I do favor the Acefortyfourtalon horse. Quite the handle I know," she said with a laugh. "And I don't own any of him. I own parts of two others but I don't own any of him. But it doesn't matter whether you own them or not, if they kind of work their way in there."
Geisel is stabled at the Walkerton Equine Clinic, just outside of Hanover, which is located about 125 kilometres northwest of Woodbine Mohawk Park and 65 kilometres south of the popular Lake Huron beach town Sauble Beach.
Beyond opening night festivities, highlights of Hanover Raceway's 2019 season include the Dream Of Glory Final, including post-race fireworks, on Aug. 3 and the Balanced Image Final on Aug. 24. Post time for Hanover Raceway's Saturday evening programs is 7:15 pm, with the exception of the Aug. 3 Dream Of Glory night, which gets under way at 6:15 pm.
Georgian Downs will kick off 40 nights of racing on June 1, going postward at 7:15 pm on Saturday and Tuesdays and 6 pm on Sundays through Aug. 31. Trainer Dave Byron, who calls nearby Thornton, ON home, said local horsemen are looking forward to the resumption of racing at the Innisfil track.
"It's nice to get it back open again. It's a short season, wish it was a little longer, but everybody seems to be excited to get it back going up here," said Byron. "There's been quite a few horses in there training, some young 2-year-olds and some older ones getting ready."
Byron has nine in training this season and is prepping three of them to qualify this Saturday, May 25 at Georgian Downs, including McKenna Hanover, who took her mark of 1:53.4 over the five-eighths mile surface last season.
"There's one mare, McKenna Hanover, that we kept over as a 3-year-old to race as a 4-year-old, she's qualifying Saturday too," said Byron of the Sportswriter daughter who banked $30,118 at three. "So we're hoping to race her all summer at Georgian."
Byron says the track, located 15 kilometres south of Barrie, ON, 15 kilometres west of Lake Simcoe and about an hour's drive north of the Toronto city limits, is a popular destination for summer visitors on weekends. Among the highlights fans will enjoy on the 2019 summer schedule is the Earl Rowe Memorial Trot on Sunday, Aug. 18.