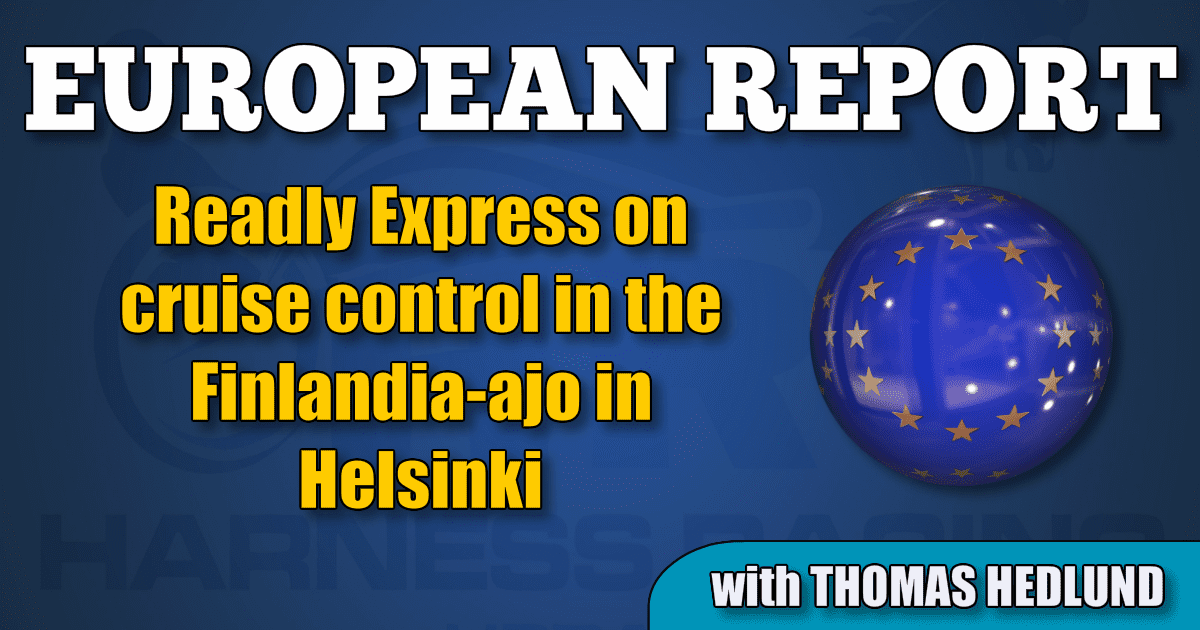 Readly Express on cruise control in the Finlandia-ajo in Helsinki
by Thomas Hedlund
Heavy favorite Readly Express (Ready Cash) mastered the sloppy surface at Vermo racetrack in Helsinki, Finland on Saturday afternoon without concern while winning the $213,000 Finlandia-ajo.
Timo Nurmos' Prix d'Amérique winner from 2018 came to Helsinki after a shorter break since the victory in Criterium de Vitesse over the mile in French Cagnes-sur-Mer and it was most certainly with relief that Nurmos saw his 7-year-old Ready Cash son jog to a safe win from front position.
The race itself was undramatic. Readly Express easily got to the lead after 550 meters and early leader Next Direction (Orlando Vici) had no interest in defending that position when Björn Goop made his offensive move for the lead with Readly Express.
A quick finish put all the antagonists in checkmate and Readly Express came home in 1:53.2, with plenty of power in the reigns.
Finnish hope Next Direction was a positive runner up after a pocket trip and the bronze medal went to Chief Orlando.
"Readly Express felt very nice today and, of course, it's great to win races like these," Goop said.
The duo will have their next gathering at Solvalla on May 26 in the Elitloppet.
Volstead returns to USA
Volstead (Cantab Hall—Madame Volo) is sold and will return to his birth country. Stefan Melander has trained the 8-year-old son of Cantab Hall during the career in Sweden. Sulkysport is reporting Volstead will stand somewhere in the United States beginning in 2020. Negotiations are ongoing with several farms to determine where Volstead will stand.
Volstead won, among several races, the Sweden Cup ($105,000), Kungapokalen ($210,000) and Prins Daniels Race ($84,000) and was victorious in 23 races in 72 starts.