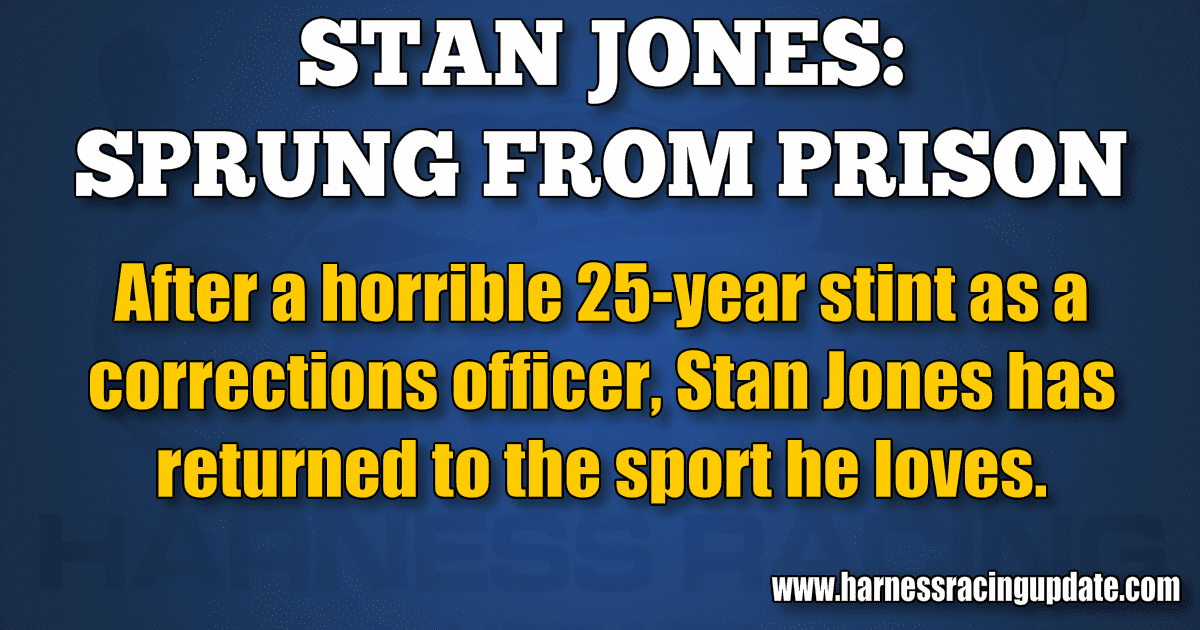 After a horrible 25-year stint as a corrections officer, Stan Jones has returned to the sport he loves.
by Bill Heller
After spending 25 years in a job he hated, Stan Jones got back to the one love he always had: horses. It was 2014, and the 59-year-old Jones, who had been working for the New York State Department of Corrections in prisons for a quarter of a century, turned down a road he didn't normally use heading to his home in Neversink, not far from Monticello Raceway where he had worked as a teenager so long ago. "I saw a horse farm," Jones said. "It was Jim Doherty Jr.'s farm. I loved the business when I was in it. I decided to go back."
Jones spent six months working for Doherty, but Jones and his wife Sue decided to move to be closer to their grandchildren. They wound up in Brewerton, 15 miles north of Syracuse. A bit more pro-active this time, Jones researched farms in the area and decided to visit a close one, Crawford Farms.
By chance, driver/trainer John MacDonald, who was spending the winter racing at Pompano Park, was dating the farm manager. When MacDonald returned, Jones explained to him that what he really wanted was a job on the racetrack rather than on a breeding farm. MacDonald offered Jones a job. They've done extremely well ever since at Vernon Downs. And when MacDonald takes off for the winter in Florida, Jones is off, allowing him all the time with his grandchildren he can handle.
While MacDonald was still in Florida, Jones got his first win as a trainer, and also drove in a pari-mutuel race for the first time in 34 years. "It's been great, it really has," Jones said. "I've been lucky this time. I could have come back and had no success at all. I was lucky to work for John. He's been very successful."
No lie there. MacDonald was the leading trainer and driver at Vernon Downs in 2016 and 2017, and the top trainer and No. 2 driver in 2018. At the current Pompano Park meet, he's the fifth leading trainer with 19 victories.
"My barn got a lot bigger," MacDonald said. "When Stan started, we had seven to eight horses. Now we have 30. We have better horses. We're doing well and Stan is a big part of that. He's the hardest-working guy we have, the first one in the barn and the last to leave. He takes very good care of the horses."
It's a lot easier taking care of horses than the prisoners who were part of Jones' daily life for 25 years.
Both Jones' grandfather and father were veterinarians. Stan's dad had a practice near their home in Ferndale and at Monticello Raceway. When Stan was 14, a driver/trainer at Monticello, Kenny Bouchard, had a problem when all his help got sick. "He needed some help, and the first day, my father drops me off, Bouchard already had a harness on a horse," Jones said. "He shows me how to hook them up, gives me the lines and said, 'Jump up on the seat, go around six laps and come back.'"
Jones said, "I was a sky kid. I didn't say too much. I was nervous, but also ecstatic. I'd never been behind a horse. I had no idea what I was doing. I did six laps. When I got back, he already had the next one ready to go. I jogged six of his seven horses. The last one was a 3-year-old, a very talented animal, and he kept going faster and faster. Then he goes up on the bank on the turn. I was pretty scared. I had no control."
Fortunately, Bouchard had driven down in his truck to watch. He caught the horse. "That was my start in harness racing," Jones said. "He was a great guy, so good to me."
Jones worked at the track every year before going to college for two years at Upper Iowa. He came back and worked for a number of people, including his neighbor in Ferndale, Al Manzi, and his two talented sons, Catello and Steve. Catello turned into a Hall of Fame driver. Steve trained and drove briefly at The Meadowlands. "Their father was a tremendous person, just a great guy," Jones said. "The family was good to me. I worked for Steve for a while in 1978-79. I worked for a number of people. I eventually got some horses myself."
With a provisional license, Jones wanted to get his "A." He claimed two horses. "Both for about $5,000," Jones said. "One of them quickly got sick. The other got claimed off me. It took the sick horse a year, but he came back and raced really well, and they claimed him off me. Two horses. One horse in my stable at the time. Each time, he got claimed."
Jones tried his luck at Pocono Downs. "I actually had a good driver record," he said. "Maybe 55 starts with 13 wins and at least 20 seconds. Some of the seconds, I made mistakes. I was a green driver."
In 1985, Jones' son Steven was about to enter kindergarten. Jones took a hard look at his scattered racing career. "I said, 'I'm going to get out and do something else,'" Jones said.
He landed with the Department of Corrections. "The first week, they took us on a tour of the prisons," Jones said. "The places were horrible," he said. "I called my wife. I said, 'If I hadn't sold my horses, I'd quit today.' I didn't quit. I stuck it out. I hated it from Day One to the last day."
How bad was it? For the last 23 years of his 25-year career with the Department of Corrections, he worked at a prison in Woodbourne, 10 miles from Monticello. Founded in 1933, Woodbourne is classified as a medium security prison with a capacity of 849 inmates.
"There was an inmate who would get drugs into jail, sell them to other prisoners, rat them out and tell the sergeant that so-and-so was dirty," Jones said. "They found out. They slashed his neck in front of me, from his ear to the mouth. His face was just cut wide open. That's what they do to snitches. They paid the guy to slash him. It was nasty."
He did know what to do. "When something like that happens, the training takes over," Jones said. "Almost everybody had a radio. You call and report an emergency. There's a team of five to seven officers. He slashed the guy and ran. I stayed with the guy that was hurt. We treated him and he went to an outside hospital to get his face stitched up. It's unbelievable really, that the guy somehow smuggles the drugs into jail, sells them and rats them out."
Looking back at his career with the Department of Corrections, Jones said, "It was hard, really hard."
But it's over. It's spring, and Vernon Downs opens on April 19. Jones is caring for horses, not inmates, and he inhales the difference every single morning and smiles. His life is good again.
(Author's note: My first question to Stan, my teammate on the Liberty High School baseball team, was, "How have you been the last 48 years?" Jones was a talented junior second baseman. I was a senior second baseman who hadn't received a single at-bat in almost two years. Until our final game when, in the bottom of the first inning, he hit a grounder to third base. The throw to first hit his face, breaking his jaw and prompting our coach to say three words I'd never heard before: "Heller, you're in." Strikeout. Single. Single. Walk. I never played again, giving me a lifetime batting average of .667 and an on-base percentage of .750. Eat your heart out Mike Trout!)