by Dean Towers
Unless you've been living under a rock, you've heard about the problems at Santa Anita Park in Acadia, CA. Since Dec. 26, 23 racehorses were euthanized following injury, and the track — along with much of the sport of thoroughbred racing — has been reeling.
Management at Santa Anita have brought forth myriad rules they hope gets a handle on the problem. Over the last month, the track has been studied, Lasix and whip restrictions have been introduced, vet record transparency was broached, the use of race day drugs curtailed, and new vet protocols have been created.
The impetus for many of these reforms go well beyond trying to solve Santa Anita's immediate issues. They are in response to the mainstream media, activists, and the resulting public interest in the story. And the public's eye is huge.
Using Google trends, we see searches for Santa Anita Park have spiked, reaching an all-time high. This interest was not about local Triple Crown winners such as American Pharoah or Justify; the Breeders' Cups they've hosted; or other big days, of course. It's about the death of racehorses.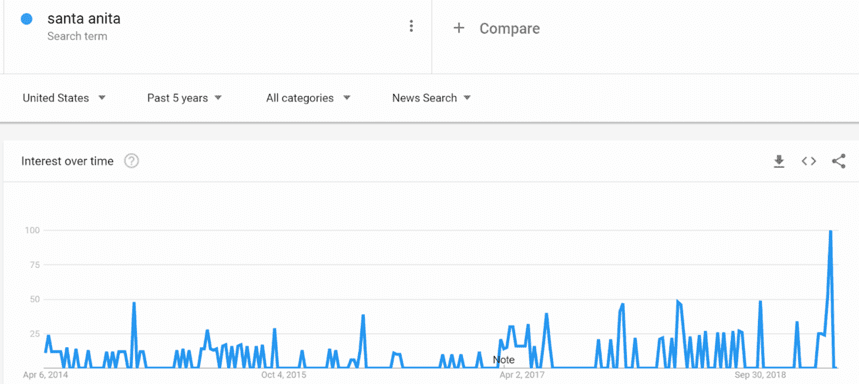 This story is so big, the fact that racehorses did not die after a safe racing weekend was worth a cover story at CNN.

Time will tell what happens regarding racing in Southern California, but even if the major problems are behind them, these issues are not over. PETA, smelling blood in the water, is setting their sites on Kentucky during the Derby season, echoed in a recent press release.
"Now, all eyes will be on Kentucky, where Churchill Downs — home of the Kentucky Derby — has the second-worst reported death rate for horses in the country. PETA will be attending the Churchill Downs Incorporated annual shareholders meeting later this month to question the company's executives."
A former Prime Minister of Canada once famously said of the U.S., "Living next to you is like sleeping with an elephant, no matter how even-tempered the beast, one is affected by every twitch and grunt."
That's probably true when it comes to this sport and thoroughbred racing. If harness racing should be worried or not is anyone's guess; however, I think the Boy Scout motto of "be prepared" is probably something that's worth a look.
This is a safe sport
It's almost considered a freak occurrence if a standardbred loses its life on the track. This is quite simply an incredibly safe sport for the equine athletes. Sharing this information at the present time is probably not a good idea, but having these statistics on hand could be vitally important in the future.
Do we know this sport's breakdown rates? Can we share exactly how safe the sport is? If not, we should.
Build a response before (not after) anything happens
It's not going out on a limb to say that Santa Anita's management and horse racing in general were blindsided. The responses were slow, and in my view, often times tone deaf.
I don't think we can blame them too much, quite frankly, because racing has not seen anything like this in this degree. But if and when the questions are being asked to harness racing, the answers (and a team to answer them) needs to be at the ready. It should be discussed and gamed out.
The aftercare group needs funding
In its nascent stages, the Standardbred Transition Alliance is beginning important work. The idea, brought forth late last year by the USTA's Mike Tanner, represents a monumental task. But in this day and age I believe it's one worth throwing some time and money behind.
Of late, I've been chatting with a few prescient people whom I have great respect for about the aftercare issue, and I believe it – where our horses end up – might be the next big battleground for horse racing's survival.
Those ideas only scratch the surface; a surface that might have to be scratched more and more over the next months and years.