by Victoria M. Howard
Like anything else that is barely hanging on for its life, harness racing is in need of something to help flourish and revitalize it to where it once was: One of the greatest and most exciting sports in America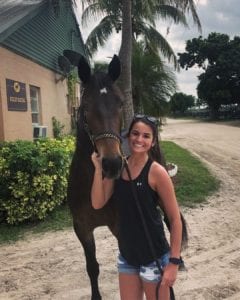 Flowers need water, air is essential for life to both plants and animals, and mankind needs the sun to survive. So, when the personnel at the Meadowlands Racetrack in East Rutherford, NJ looked for a way to bring excitement and interest to their TV show they hired a young, pretty lady who had extensive knowledge of the sport: Jessica Otten.
A third-generation horsewoman, Jessica was born into the business.
"I was born with a pitch fork in my hand," she said, laughing. "I've always had a strong love and passion for the business. The older I get, the more I love it."
The dark-haired beauty is a Michigan native who started out assisting her father, trainer Peter Otten, in running his stable. Growing up in the business is a plus for her new career as a race interviewer for she knows the game of harness racing inside and out.
"When I was 14-years-old, I testified in front of Michigan's legislation to help them better understand what families were going through and why we (harness racing) need their help. It was an eye-opener for me, but a couple weeks process. When I left the Capital, I told myself I wanted a career in Law. I wasn't sure doing what, but I wanted to be in charge. The older I got I decided I didn't want to be in politics, so when I graduated from high school, I decided to help my dad work in the barn. In 2015, I took a break from harness racing and went to college taking classes in a computer fraud program. After a year and a half, I found myself missing the horses more than ever. As all horse lovers know — once it's in your blood, it's there forever.
"During Jug Week of 2017, I received a message from Michael Carter — half of 'Post Time with Mike and Mike.' He said they were doing their first live remote from The Meadowlands and asked if I would join them for interviews. Other than doing live interviews at Northville Downs I'd never done anything like that before. After the Breeders Crown weekend, I went back to school and changed my major to Business Marketing with a minor in Broadcasting."
During her teenage years, Jessica went to work for some powerhouse stables such as Gregg McNair, Trent Stohler and Peter and Melanie Wrenn.
"I also worked for Joe Cirsuola; mainly shipping and racing horses for him in Canada, Ohio and Indiana. But I have to give the most credit to my dad who I started working for at age 10. Although we butted heads at times, I owe him a big thank you for taking time to teach me just about everything I know when it comes to horses."
Working alongside many different trainers, Otten discovered that they all have a different way of doing things.
"All the trainers I have worked for do things differently, and I as a groom have my own way of doing things as well. Of course, if the trainer wanted something done their way I would do it for I believe that is how you learn. The more opportunities you have to learn, the better it is for you.
"I am so amazed how women trainers are making their mark today in the sport. When I was younger, especially where I come from, it was always a male dominated sport. Now it is like women are taking over the world," she said, laughing. "Not really, but it is awesome.
"When I started out in the business, I wanted to be a trainer. I wanted to be like Casie Coleman. Things have definitely changed today and whether the woman is a trainer, or on the publicity side, I look up to each and every one."
There are a lot of extra perks in doing what she does for Jessica has travelled across North America to witness and participate in some of the biggest races: The North America Cup at Mohawk, Camluck Classic at Western Fair, The Hambletonian and Meadowlands Pace at The Meadowlands, Events at Hoosier Park in Indiana, The Yonkers International Trot, The Little Brown Jug in Delaware, Ohio and the past three Breeders Crowns.
"I've witnessed some great racing and had the chance to meet and talk with 'the best of the best' in the sport. I'm truly grateful to the people who believed in me and gave me the opportunities to get where I am today.
"I would like to thank Mike Carter and Mike Bozich who believed in me from the beginning. I also want to thank Jason Settlemoir and Jeff Gural for the opportunity to work at The Meadowlands and trainer Nick Surick for helping me get there.
"I am a very lucky and blessed woman who is doing what I love at the age of 22 and am so happy. I'm doing what I always dreamed of and can still be around the horses I love so much. I never imagined being able to interact and learn from the best in the business. Yes, sir, I'm just a small-town girl living my dream."