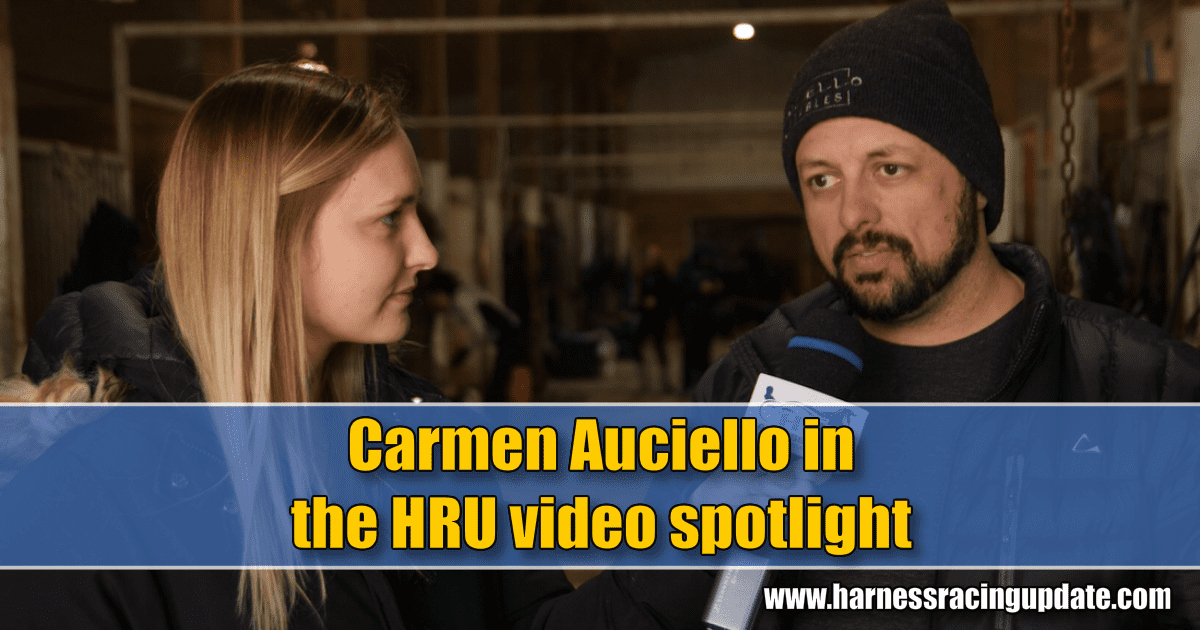 Carmen Auciello in video spotlight
Trainer Carmen Auciello was interviewed in Ontario by HRU's Jaimi MacDonald about the babies he has in training with his racing partner Jonathan Drury in the latest edition of HRU's Twos in Training video series.
by Dave Briggs
Two nights after Dustin Jones made his debut in Harness Racing Update's Twos in Training video series, fellow Ontario-based trainer Carmen Auciello does the same.
That interview with Jaimi MacDonald, at the Golden Horse Shoe Training Center in Flamborough, ON, is available now on the HRU YouTube channel.
Auciello details the wide range of babies he has in training under the daily tutelage of horseman Jonathan Drury.
Special thanks to Woodbine Mohawk Park and Ontario Racing for sponsoring the Auciello video.
The Jones interview with Heather Vitale can be viewed here:
On Wednesday, HRU uploaded its video with 2nd trainer Ole Nielsen of the Ake Svanstedt Stable.
Last Sunday evening, 2018 Trainer of the Year Ron Burke was in the HRU spotlight:
Look for videos featuring Peter Wrenn, Dan Daley, Jeff Webster, Casie Coleman and Tony Alagna in the weeks ahead, as well as an update on Foiled Again's retirement and many more videos from Ontario.
Some sponsorship opportunities remain for the videos. To place your video message at the start of a video please contact advertising director Wilma Van Vaerenbergh at: hruadsales@gmail.com.