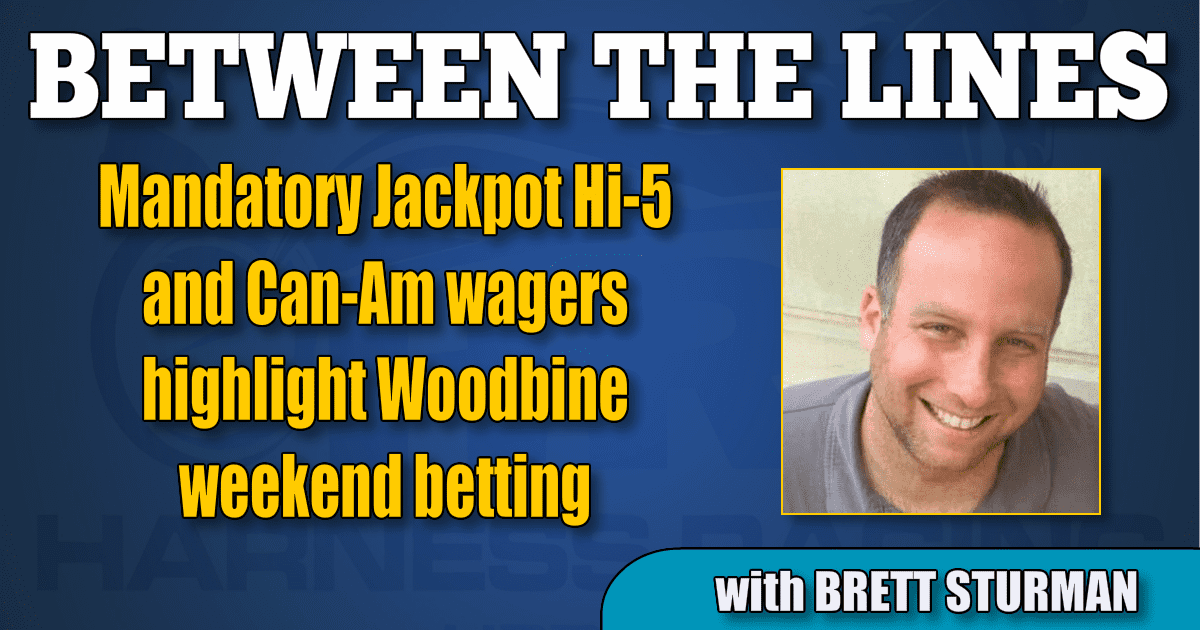 Mandatory Jackpot Hi-5 and Can-Am wagers highlight Woodbine weekend betting
by Brett Sturman
Woodbine Mohawk Park plays host to two different wagers with unique circumstances this weekend, beginning with the second edition of the weekly Can-Am Pick 4 tonight, and then a Jackpot Hi-5 on Saturday that includes a carryover of over $525,000 as part of a mandatory payout.
Free Woodbine PPs available here
In last Friday's debut of the Can-Am Pick 4, which combines two races from Woodbine and two races from the Meadowlands, the new bet was strongly received. Hosted by Woodbine, the bet totaled a pool of $57,489 that was added to the track's handle. On the surface, close to $60,000 sounds like a big number for the initial go of the cross-track wager, and other comparable handle numbers support it. Even with the Can-Am, the standard Woodbine Win 4 still handled $54,577, which is right on par with what the Saturday night Win 4 handled of $55,649. Similarly, the Friday Pick 4 at the Meadowlands handled a solid number of $88,470, even though it was competing, in a sense, with the separate Can-Am pool.
With Woodbine hosting it, the Can-Am is offered in 20 cent increments. This is a difference to Meadowlands regulars who are used to playing the Pick 4 in 50 cent increments, but the good news is that it allows for players to use more combinations than they would otherwise. Sure, the smaller minimum could dilute the total payout by having more winners, but with bettors likely more familiar with one track than the other, there's a need to be able to play more combinations. And even with the small minimum, the Can-Am payout last week came back at $2,982 for $1 wager and $596 for the 20-cent base. It's not all bad considering the odds of the winning horses were 5-2 and 11-1 at Woodbine, and 6-5 with 7-2 at the Meadowlands. Suffice to say that the low 15 per cent takeout helps with the payout amounts.
This weeks Can-AM Pick 4 includes races 10 and 11 at Woodbine, with races 10 and 11 from the Meadowlands. In sequential order:
Race 10 Woodbine: On paper this looks to be between two of the class dropping mares, BUTTERMILK HANOVER and P L HURRICANE, both of whom weren't racing too badly in the F&M preferred that long ago. The former comes off a confidence building win at Flamboro and the latter plunges from the N/W $26,000 conditions; drawback is that barn is 1 for 26. WINDSONGMAGNIFIQUE is in a similar spot as last week when she was able to have it her own way from an inside post and had to settle for second; gets Roy back for another try. I WISH YOU WELL makes her fourth start off the bench and flashed a touch of speed in her last; may be a sign of more to come now. COUSIN MARY tried speed last out and it didn't work; likely back to closing now.
Race 10 Meadowlands: OCEANIA has been crushing them since returning from the December layoff including a 1:50.1 score here two back against lesser. She goes for one of the suddenly hot barns that is 10 for its last 22; all you need to know? DONGAL RUNDLSCRK N showed speed last out and was shuffled. That drive was with Vallee aboard and now she picks up Gingras in a noticeable driver change; interested to see what kind of price she offers. BELIEVE IN ME and NEWSDAY were both outkicked by the classy Diva's Image last week so there's no disgrace there; Newsday makes her second start up north after a prep in Florida.
Race 11 Woodbine: EXHILARATED finally came through with a win last out in her third straight race as the favorite, but had to drop all the way down to the bottom to do it. She'll likely be favored in here again despite stepping back up; good enough to win again? BIG LIS may have been a bit overdriven in her last but overall is pretty consistent at this level; seems tough to toss out from the rail for connections of Roy and Moreau. DOCS SAUSALITO was a claim for trainer Otis Hall last month and those two most recent races have been encouraging; offers a price on the driver change from Jamieson to Whelan. WHISTYS PARADISE makes her second start off the lengthy layoff and she can go forward from last week; steps up but so do a lot of others.
Race 11 Meadowlands: RESITA gets some much-needed class relief and hasn't had a realistic shot yet since moving from Burke to Cullipher; bound to show more in this spot. PIERCEWAVE HANOVER shocked last week to make it two in a row on the big step up in class for another barn that's heating up of late. He just may be that good right now and is a contender this time around. GOLDEN SON makes his second start back for Melander but is compromised by post 10; had a useful prep last week and this field isn't the toughest relative to the condition. ZLATAN has the post edge on many of these and was a 1:54 winner a few back.
$0.20 Can-Am Wager: 2-6 / 4-5-8-9 / 1-5-7 / 3-7-9-10 Cost: $19.20
Moving to Saturday, the final race of the evening is the Jackpot Hi-5 where it will be mandatory that the carryover amount of $525,140 be added to the final pool and paid out. With the large carryover, the Woodbine program advertises the final pool to be $1.1 million but in reality, it should wind up much higher than that. Previous Hi-5 mandatory carryovers in the same ballpark of $500,000 has resulted in final pools in excess of $2 million. With those numbers in mind, Saturday's Hi-5 will produce an instance where the standard takeout rate should be entirely negated by the amount of the free money from the carryover.
As per usual, the challenge of picking the first 5 finishers is made more difficult by the field size increased from 10 horses to 12. While many horses are stepping up in class, one that's stepping down is TORRIN HANOVER. He's been well bet at the windows in all his recent starts against better but hasn't been able to carry his speed all the way of late; could make out better against this group. It's interesting that Filion was listed on Torrin Hanover but he opts instead for TYMAL PEACEMAKER. That one has the rail but the issue I have here is that he hung for his life last week in the stretch against an 11-1 longshot on the front that he couldn't get by; would be surprised if he won now against this group. The same could be said to a degree for REAL WILLEY who tipped from the pocket midstretch last week but could only inch in on the heavily backed WESTLUCKY TERROR. That one was 3/5 in that race last Friday and will be one of the key players tonight as he aims for four straight wins. Similar to #4, HUMBOLDT is another that's accustomed to racing well in this class. He was a winner three back against slightly lesser and McNair might think about taking an early shot with him from post 10.
$0.20 Jackpot Hi-5 Wager: 3-4 / 3-4-10-12 / 1-3-4-10-12 / 1-3-4-10-12 / 1-2-3-4-10-12 Cost: $21.60