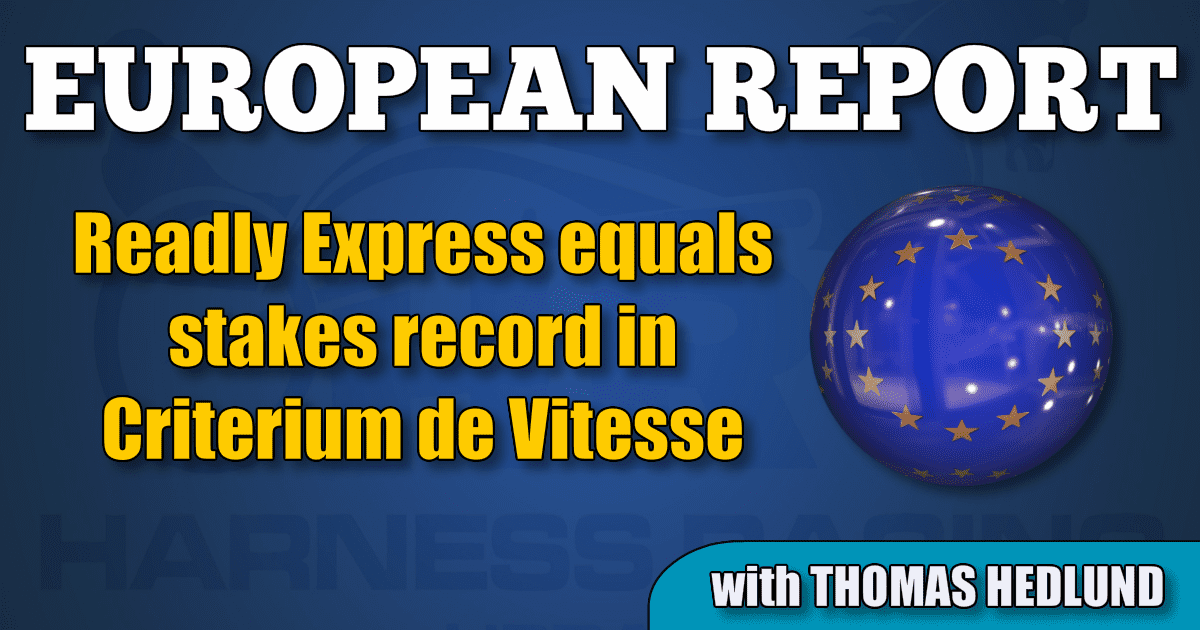 Readly Express equals stakes record in Criterium de Vitesse
by Thomas Hedlund
Timo Nurmos' trained Readly Express (Ready Cash) followed up his victory in Prix de France by winning the $191,000 Criterium de Vitesse over the mile in Cagnes-sur-Mer at the French Riviera last Sunday afternoon (March 10).
Readly Express had never before tried the mile and with a ticket to Elitloppet in his hand, Nurmos surely wanted to see what his champion was able to do over shorter distances than he's used to.
From number one behind the gate, driver Björn Goop was not even close to the front with the 7-year-old top trotter, but shortly after the start, Readly Express was placed in second line, without obstacles to victory.
Dijon opened quickly for the lead and Bold Eagle's driver Franck Nivard was eager to try to get that same position, but Romain Derieux was determined and defended the lead with Dijon while Bold Eagle was left first over.
Bold Eagle was a beaten horse with more than a quarter to go. At that point, Bahia Quesnot attacked three wide and gave cover to Readly Express, who seemed to have problems accelerating in the beginning of the home stretch. The stretch is long in Cagnes-sur-Mer and just a few meters before the wire, Readly Express caught leader Dijon and the Swedish champion won in 1:50.4, which equalled the stakes record in Criterium de Vitesse. Bold Eagle noted the same mile 2018.
Readly Express' victory was, of course, an important indication of the horse's ability over the Elitlopp distance. Nurmos can exhale and feel comfortable that his horse will be one Solvalla spectators will love to cheer for.
Dijon's performance as runner up gave him a ticket to both Olympiatravet at Åby in April and Elitloppet at Solvalla in May.
Bold Eagle's performance, however, was not what the fans expected and since trainer Sébastien Guarato declared that his horse was not tired after the race, many question marks surround Bold Eagle.
Number of broodmares in Europe
The Swedish harness racing breeding association held its annual meeting last week and showed the numbers of broodmares in the European countries in 2018.
The numbers in the biggest harness racing countries, France and Sweden, are quite stable, but these figures don't tell the whole truth since there have been years with higher amounts of bred mares in, for example, Sweden between 2005 and 2018.
Number of standardbred boodmares
2005
Austria – 350
Belgium – 753
Czech – 83
Denmark – 1,207
Finland – 2,700
France – 15,981
Germany – 952
Italy – N.A.
Norway – 933
Russia – N.A.
Spain – 420
Sweden – 4,449
Switzerland – 58
The Netherlands – 679
2018
Austria – 120 (-66%)
Belgium – 434 (-42%)
Czech – 51 (-39%)
Denmark – 794 (-34%)
Finland – 1,580 (-41%)
France – 14,689 (-8%)
Germany – 316 (-67%)
Italy – 2,347 (-)
Norway – 711 (-24%)
Russia – 1,980 (-)
Spain – 267 (-36%)
Sweden – 4,483 (0,8%)
Switzerland – 52 (-10%)
The Netherlands – 280 (-59%)
In addition to the biggest countries in the sport in Europe, there were mares bred even in more uncommon standardbred nations. Serbia (251), Hungary (128), Slovenia (88) and Ireland (35) are all in the game of harness racing and reported bred mares during 2018.
Purse money report
Harness racing magazine Sulkysport (sulkysport.se) published a list over the purse money paid in European countries in 2018. France is still the biggest nation regarding money in the sport and in 2018, the French association spent approximately $283,496,000 dollars in prize money.
Country: Purses in dollars
France: $283,496,000
Sweden: $102,163,330
Italy: $53,868,000
Norway: $42,963,000
Finland: $25,738,615
Denmark: $7,197,300
Germany: $6,300,500
Bazire: King in Paris
Jean-Michel Bazire did not just win the Prix d'Amérique during the winter meeting in Paris 2018/2019. His horses dominated the whole period and Bazire was superior both as trainer and driver.
As trainer, Bazire made 220 starts in Paris, 71 ended with victory and his horses earned $3,825,588 between November to February. Runner up Philippe Allaire's horses earned $2,172,110 and Franck Leblanc took third place with $1,895,208.
Bazire's 88 victories as driver was 40 ahead of runner up Franck Nivard. Bazire dominated the meeting totally this season. Unfortunately for the racing fans in Europe, the champion trainer and driver doesn't like to leave his home country very often, due to differences in rulings within U.E.T. (the European Trotting Associaton), but it might be possible that Bazire will send some of his top horses to one or two of the biggest races this spring.
Looking Superb wins in Laval
Prix d'Amérique runner up Looking Superb, owned in Norway, won Prix Conseil Departemental Mayenne ($62,000) in Laval on Wednesday afternoon and the Orlando Vici son would be an interesting card in both Olympiatravet at Åby and Elitloppet at Solvalla this spring.
Belina Josselyn suffers fracture
On Wednesday afternoon, French media reported that Prix d'Amérique and Prix de Paris winner Belina Josselyn unfortunately has a fracture in a leg.
"If everything works fine, she will be back on track in September, October", said Jean-Michel Bazire to French magazine Paris-Turf.
Best trainers in Paris, winter meeting 18/19
1. Jean-Michel Bazire $3,825,588
2. Philippe Allaire $2,172,110
3. Franck Leblanc $1,895,208
4. Sébastien Guarato $1,852,567
5. Laurent-Claude Abrivard $1,132,075
Best drivers in Paris, winter meeting 18/19
1. Jean-Michel Bazire 88
2. Franck Nivard 48
3. Eric Raffin 44
4. Yoann Lebourgeois 31
5. Matthieu Abrivard 26
Best stallion in Paris, winter meeting 18/19
Stallion Victories Money in dollars
1. Ready Cash 48 $4,066,776
2. Love You 16 $1,715,105
3. Prodigious 22 $1,324,418
4. Niky 11 $999,970
5. Goetmals Wood 19 $847,240