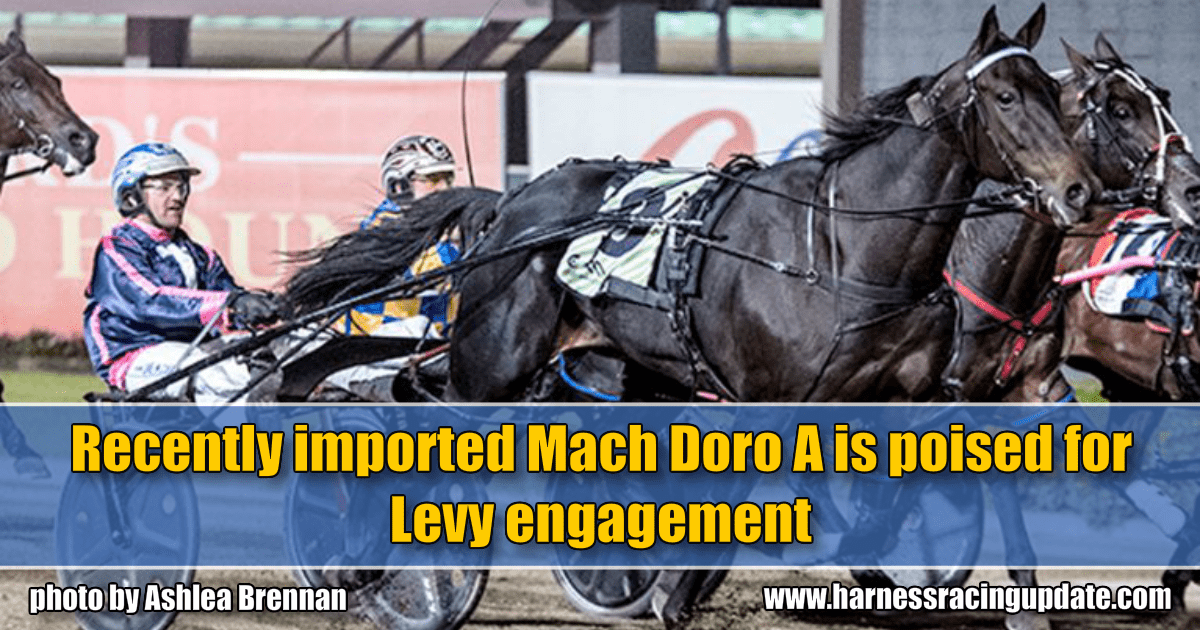 Recently imported Mach Doro A is poised for Levy engagement
The talented son of Mach Three was one of the top open pacers in Australia.
by Tim Bojarski
Kevin Sywyk and Ron Cushing thought they were set with a legitimate contender for the 2019 Levy at Yonkers when they bought Bettors Fire N in September of 2018. After going undefeated last year and only missing the board once since the calendar turned in January, Bettors Fire N had them looking forward to the start of the series next week.
But the result of a casual conversation with their third partner, Frank Ranaldi, seven weeks ago now has them loaded with a solid one-two punch after acquiring one of the best open pacers from Australia: Mach Doro A.
Mach Doro A (Mach Three—Three Eagles—Falcon Seelster) is a travelling Group 1 pacer that has consistently tackled the Australian Grand Circuit over the past two years. His career included competing in the Inter Dominion and Miracle Mile, the two biggest races on their schedule, along with winning many other feature events during his six years of racing.
He has raced against the very best including the great Lazarus N and Spankem N and has beaten the likes of Tiger Tara N, My Field Marshall N and Lennytheshark A along the way.
Ranaldi, a noted Australasian standardbred exporter, was well acquainted with the career of Mach Doro A and appreciated his racing efforts week in and week out. When he heard the horse might be for sale, he moved with stealth speed to procure him and send him to the States.
"The purchase of Mach Doro A was somewhat of an interesting process. He was on my watch list way before he reached free-for-all company and I had an opportunity to buy him for less than half of what he cost recently. I liked him and hated him all at the same time as he showed great talent one start, but followed with subsequent lack-luster performances. He confused me to a point where I just passed on him," said Ranaldi.
"I soon lived to regret that decision as he went on to win race after race. So when there were whispers that he may be available again I did not hesitate to consolidate and buy him myself and worry about selling later."
As it turned out, time was not on Ranaldi's side after this transaction as a flight to New York was already booked and the horse was slated to leave in a few days. During that time, he contacted a couple of his clients in the States who were interested in buying him but could not commit completely with the short notice they had. So Mach Doro A ended up in the air with no final destination.
"It was a chance social conversation with Kevin (Sywyk) who asked me what else I had available. I advised him there was one on an inbound flight with no particular home to go to and we struck up a deal then and there. Kevin and Ron (Cushing) partnered in with me and Bettors Fire had a new stablemate," said Ranaldi.
"Despite his outstanding performances Down Under, Mach Doro A still has to acclimate and adapt to the North American style of racing before we really know how he will perform or before we compare him to other successful Group 1 imports like Bit Of A Legend N, Christen Me or Bettors Fire.
"Our trainer Heidi Gibbs and Ron had the daunting task of preparing Mach for the Levy and a shot at the title against some great horses. It's a huge challenge but if the horse remains healthy and Lady Luck is on his side, I am quietly confident Mach will make his presence felt."
The whole series of events caught Cushing off guard because in the length of one phone call he found out he had another top pacer coming to his stable. But after learning what happened, Cushing wasn't really surprised because he knows how Ranaldi works.
"Frank does things a little differently. He doesn't look for horses that are being shopped around; he looks for horses he likes and goes after them. Once the owners see there is an interest, a conversation gets underway and eventually a price does come out and a deal gets done." Cushing then went on to speak very highly of the horse that came into his barn in late January.
"Mach is more than I expected. He's a very intelligent horse who goes about his business in a very professional manner. He's a big horse and he covers a lot of ground. Gait-wise he's perfect and he has unbelievable speed. When I qualified him two weeks ago I got away third and found myself behind a leader getting to the half in a minute. So I pulled and let him out just a little bit and he paced the third quarter in :27.1 opening up four lengths and I was just hanging onto him. He was very gently rigged when he got here and I only made a few minor changes to help him cover the half-mile track. If I can get him to do what I want to do, the sky is the limit," said Cushing.
In his first pari-mutuel start on Monday (March 4) at Yonkers he went a very similar mile. After getting away sixth he pulled before the half, moved three- wide at three-quarters and around the last turn before pacing away under a line drive down the lane in 1:54.3, which was a new lifetime mark for a mile.
"Mach Doro A was a machine over there. However, how he performs here remains to be seen. But one thing is for certain, we're going to get a chance to see one of the top 15 open pacers from the Southern Hemisphere race against some of the top open pacers in North America over the next five weeks," Cushing said.
"Was buying this horse being in the right place at the right time? That's yet to be seen. I think it was the right place at the right time. We felt like we had a contender in Bettors Fire N and now we have another horse that is a contender in Mach Doro A. If he does what he is capable of doing and has luck on his side, we have a chance to clear $400,000 in two months."