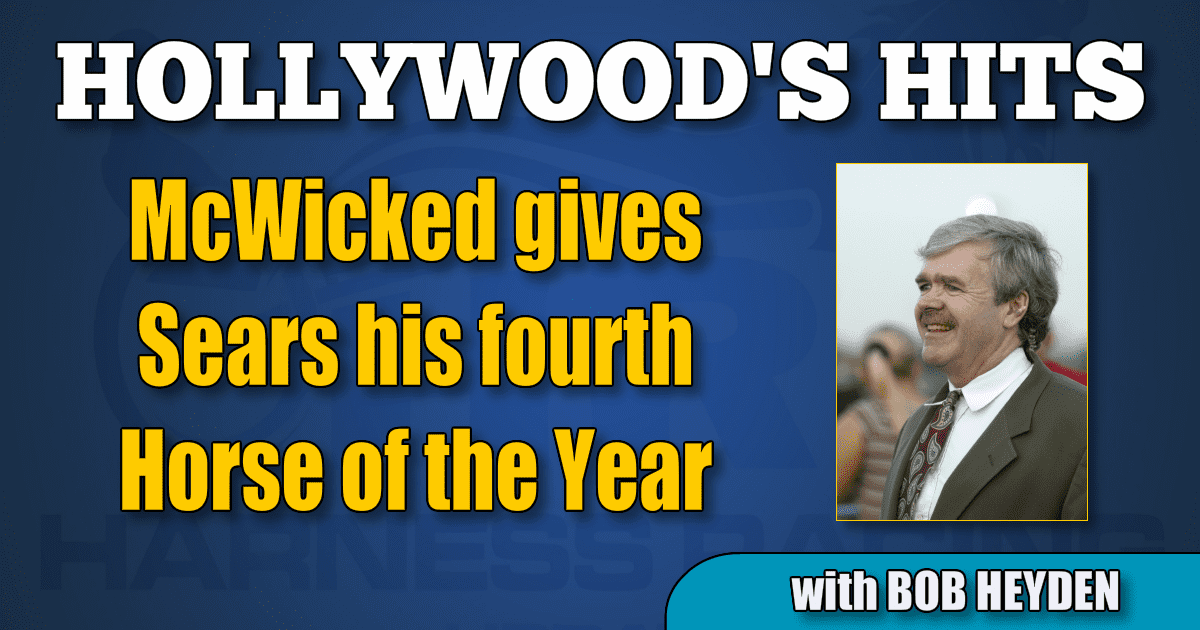 McWicked gives Sears his fourth Horse of the Year
by Bob Heyden

When McWicked was announced as Horse of the Year Sunday night at the Dan Patch Awards, his driver, Brian Sears, joined select company by nailing down his fourth Horse of the Year title and first since Sears was elected to the Hall of Fame. McWicked, at age 7, is the oldest pacer to be voted Horse of the Year.

Sears was also the driver for:

• 2005 HOY Rocknroll Hanover ($2,223,257 — the third highest single season total to that point for a pacer).
• 2009 HOY Muscle Hill (12 12-0-0, $2.456,041 — the richest single-season ever trotter or pacer).
• 2013 HOY Bee A Magician (17 17-0-0 — the first and only female trotter to surpass $1.5 million in a season).

All four of Sears' Horse of the Year were record-setting superstars.

The year prior to Rocknroll Hanover winning the 2005 Horse of the Year, he became the first ever sub-1:50 winning freshman taking the Metro in 1:49.4. Sears' first two million-dollar wins came with Rocknroll Hanover — the $1,215,000 North America Cup and the $1 million Meadowlands Pace (NOTE: The Metro was $930,000 U.S. funds). This was also trainer Brett Pelling's first HOY, in his final season in North America until re-emerging two years back. Rocknroll Hanover was a first-crop HOY out of Western Ideal and Rocknroll Hanover sired a first-crop HOY in Rock n Roll Heaven 2010…

In 2009, Muscle Hill won his final 20 career starts and is the all-time record holder in earnings per start. He is the fastest ever Hambletonian winner at 1:50.1, doing so the same day that Lucky Jim — the HOY runnerup — also trotted in 1:50.1. Muscle Hill was a two-time Breeders Crown winner-and his two fastest wins came in his two Triple Crown races (the Hambletonian and his 1:51.1 mile in the Kentucky Futurity).

In 2013, Bee A Magician made Sears the first ever driver to have a pair of undefeated Horses of the Year when the super daughter of Kadabra went 17-for-17 and edged past Moni Maker's female single season earning mark of $1.494 million while winning the Moni Maker. Nifty Norman trained, which means Sears now has two HOY titles for trainers from Down Under.

In 2018, Sears pulled off the rare driving double having recorded the fastest trot and pace of the year — 1:46.2 with McWicked and 1:48.4 with Homicide Hunter. McWicked was a division winner prior in 2013-at age 3, when he decisioned Always B Miki and banked $1.4 million plus. That total was surpassed again in 2018, making McWicked the only Horse of the Year ever to have had two $1.4 million or better seasons at the time of being named Horse of the Year (NOTE: Moni Maker and Nihilator fell a bit short).

One final note on Brian Sears: His career money total as a driver entering 2004 was $24,016,011. His 2004-2005 total in just those two seasons, was $25,114,292, on the strength of his first two seasons of $10 million or better. (2004 — $10,028,306 and 2005 — $15, 085,992 (his first money title)).

Trainer Casie Coleman celebrates her very first U.S. HOY with McWicked. He finished 2/5ths off the world race record, making McWicked the second fastest HOY. Always B Miki was the 2016 winner with a 1:46 mark.

The first driver to notch four Horse of the Year titles was Frank Ervin, who won the 1949 and 1953 titles with Good Time and the 1964, 1965 and 1966 HOY crowns with Bret Hanover.
The first driver to notch four HOY titles with four different horses was Stanley Dancer with: Su Mac Lad (1962), Nevele Pride (1967, 1968 and 1969), Albatross (1971, 1972) and Keystone Ore (1976).

21st century drivers with HOY titles

Brian Sears — 4
David Miller — 2
Yannick Gingras — 2
John Campbell — 2
Ron Pierce — 2
Daniel Dube — 2
Paul MacDonell — 1
Montrell Teague — 1
John Stark, Jr. — 1
Randy Waples — 1
Tim Tetrick — 1

Shartin N tops the t-breds

Shartin N won 19 times in 2018. That is more than any of the top six thoroughbred earners of all time.

1) Arrogate $17,422,600 – 7 for 11
2) Gun Runner $15,988,560 – 12 for 19
3) California Chrome $14,752,610 – 16 for 27
4) Espoir City $11,443,812 – 17 for 40
5) Enable $10,705,631 – 10 for 11
6) Highland Red $10,530,964 – 10 for 21
(NOTE: #7 Cigar was 19 for 33 lifetime and banked $9,999,815)

Down Under stars

It's quite an honor to win a Dan Patch award, especially when something has not been done in a half-century. Shartin N is the first Down Under Dan Patch winner since Cardigan Bay in 1968. She was the first ever Down Under pacing mare to bankroll 7 figures in a season. He was the first to reach a $1 million anywhere. Which leads to the question: who was the first to a half-million?

That would be Bye Bye Byrd. The 5-year-old stallion, in mid-November 1960, won a mile and a half test at Yonkers to improve to $504,846 and tip past half-a-million for the very first time in standardbred history. It was a six-horse field, the time was 3:07.2 over the off going and second was 20-1 Culver Pick. This was the first try past 1 1/4 miles for the 1959 HOY, whose victory came in the Good Time Pace, named for the 1949 and 1952 HOY. The margin was two lengths, it was a Thursday Night, well over 12,000 witnessed live for owner Rex Larkin and trainer/driver Clint Hodgins (original trainer Don Taylor). He paid $3.10 to win. Bye Bye Byrds' year finished up at 25 11-7-2 $200,112.

Some Horse of the Year notes through the years

In 1970, Albatross, a $7,000 yearling and not yet the two-time Horse of the Year he'd become in 1971-1972, gave a look-see into the future winning his division 203-1 in the voting as a freshman.

In 1976, the "Keystone Combo" of Keystone Ore and Keystone Pioneer went 1-2 in the HOY balloting. Lost in that year's ballot with eight votes was Green Speed, the 1977 overwhelming choice for HOY.

Just 26.5 per cent of the vote was all that was required in 1975, when the closest vote occurred with 52 going to Savoir and 49 for the filly Silk Stockings. Fifteen different horses received ballots (one off the record) as 196 voters cast their ballots.

Young Quinn got four votes in 1975 and two more in 1976 for HOY — far off the winners, of course, but still recognizing the Down Under talents of the special import.

Billy Haughton twice won the HOY and was well past 50 both times (1977-54; 1985-62).

Cam Fella's two-year total for votes was 347 in 1982 and1983 — the last pacer to go back to back in the HOY. He won over Genghis Khan 164-48 in 1982 and then over Triple Crown winner Ralph Hanover in 1983, 183-90.

McWicked won HOY this year at age 7. How did Rambling Willie do in the HOY balloting at the same age? In 1977, Rambling Willie was third with 28 votes, far off the top pair Green Speed 117 and Governor Skipper 78.

Eight divisions in 2018 were decided by over 100 votes, which is amazing when you consider only 136 ballots were returned.

In the 1974 Horse of the Year ballot, 16 got at least one vote for first, which is a record. For the only time, the winner received fewer than 25 per cent of the tally — 24.7 per cent was enough for Delmonica Hanover (5-for-17 on the season) to take home the prize. She won it 48-32 over Armbro Nesbit. Also unusual that year was the fact that Handle With Care lost the 3-year-old category to Armbro Omaha 98-71, but then got 8 more votes than he did in the HOY final count 30-22. Bonefish got a single vote, tying him for 14th the year prior to his winning the Hambletonian.