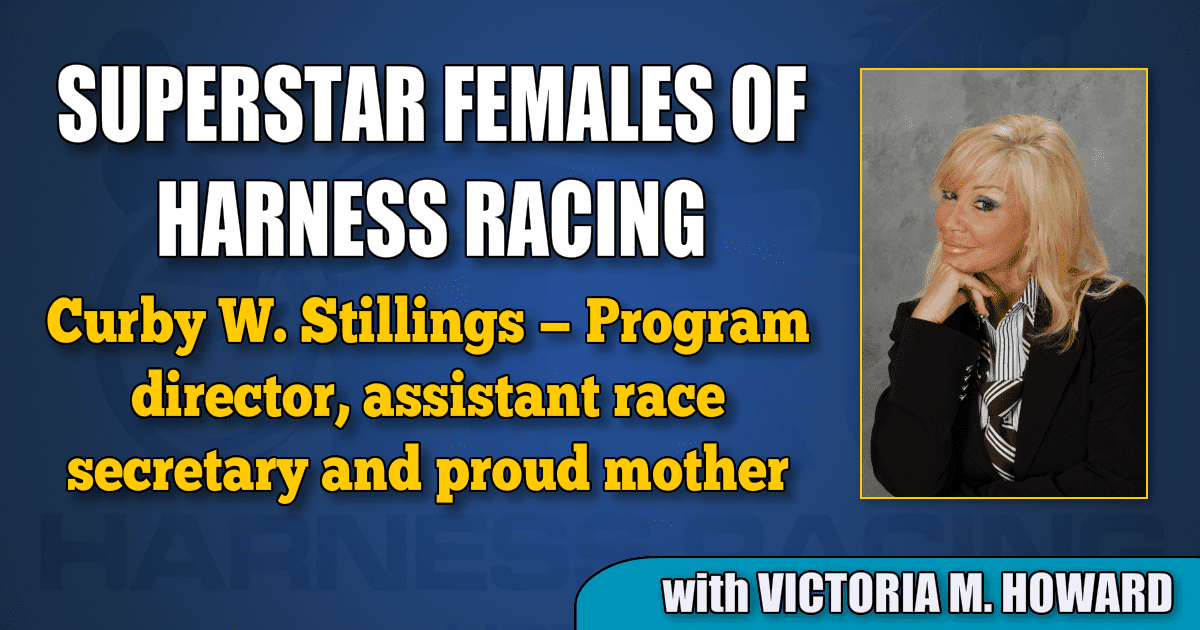 Curby W. Stillings: Program director, assistant race secretary and proud mother
by Victoria M. Howard
I have known Curby Welch Stillings for over 40 years. She was one of the first horsewomen I met when I began training horses at The Meadows in the early 1980s. She has always been kind, helpful and lucky.
"Lucky — no. I don't consider myself lucky, but blessed," Stillings said. "My favorite things in life have always been people, horses and travel (maybe not in that order) and I hit the Trifecta!"
You may recognize the name Stillings. Richard and Buddy Stillings have been one of the top training/driving brother teams for decades. Curby was once married to Buddy who is the father of her son, Tyler. But before Curby was a Stillings, she was a Welch.
"My father Chester Welch was literally 'born in the barn.' His father, (my grandfather) Curby Welch, (my namesake) was an undertaker and had a livery stable in Dayton, PA. His family actually lived above the stable.
"Dad had a tire recapping shop, but always trained one or two horses on the side. After he sold the shop he went into training full time. When The Meadows opened, we stabled there. When dad got sick in 1978 I took over the stable of four horses. In 1971, I started worked at Wheeling Downs as a program director, moved onto Louisville Downs for seven years and then was at The Meadows for 28 years."
Though the years, Curby has owned many horses. Her favorite was Prix D Normany.
"I got him in 2001 and we had a lot in common. He was old (12) and so was I (54). We both had bad knees, but that didn't stop us. We kept on truckin. He went on to make $50,000 for us and take a mark of 1:55.3 at age 12 and I went to work 17 years ago at the racetrack in Lexington, where I am still working as assistant race secretary.
"Prix D Normany means so much to me for it was my son Tyler's first drive at The Meadowlands. It was the most exciting time in my life. I was sitting at home watching the race, biting my nails and pacing the floor, just hoping to get a check. Tyler pulled at the ¾ pole. The Meadowlands has a LONG stretch and Prix D Normandy was a trotter and we all know they can break at any time — but not that night. He won the race by a head in 1:56.1. Norman and Tyler went on to win three in a row and six for the season.
"I also have to give Adonis B a call. He earned over $478,000, took a mark of 1:54.4 and made the cover of Hoof Beats! Not bad for a horse I wanted to get rid of as a 3-year-old because he wouldn't trot. Mark (Goldberg) gets the credit for keeping that one."
Tyler Stillings is one of my favorite people. I watched him grow up to be a successful, hard working young man. In fact, I remember back in the late '70s when he asked if I would help him put his horse, Sharp Princess, in crossties because he wasn't tall enough.
"This is an incredible business. I have met many great people who have stood by me, helped my family, and I've gotten to travel around the world," Curby said. "I've been to Oslo Grand Prix in Norway, The Inter Dominion Championships in Adelaide Australia, The Macau Trotting Club in Macau, The Hong Kong Jockey Club in Hong Kong and The Elitioppet at Solvalla, Sweden. I've been to China, Singapore, Thailand, London, Paris, Canada and Thunder Ridge in Prestonsburg, KY. Each one of these trips has been affiliated with people in harness racing."
Having been in the industry for decades Curby's opinion of the sport is 'it's moving too fast in too many directions.
"I am 72 years young and just trying to keep up in my own little world. The greatest thing is that I am still working and meeting many new people. I'm just so glad there's no mandatory retirement age. I wouldn't know what to do if I wasn't working. I still work at The Red Mile three months a year, the Harrisburg Horse Sale, and keep the books and records for the Goldberg/Stillings Stable of 40 horses at The Meadows.
"My son Tyler has done well in the business. He started working around the barn with trainer Mark (Goldberg) at age 10 and after graduating from Duquesne University, he moved into the spot of trainer and driver for the stable."
Curby smiles when talking about her significant other. Mark Goldberg who has been a top trainer at The Meadows for decades. "Mark and I have been together for 35 years. I guess time flies when you're having fun. I'm lucky and blessed to have a great family and still have a job I love."