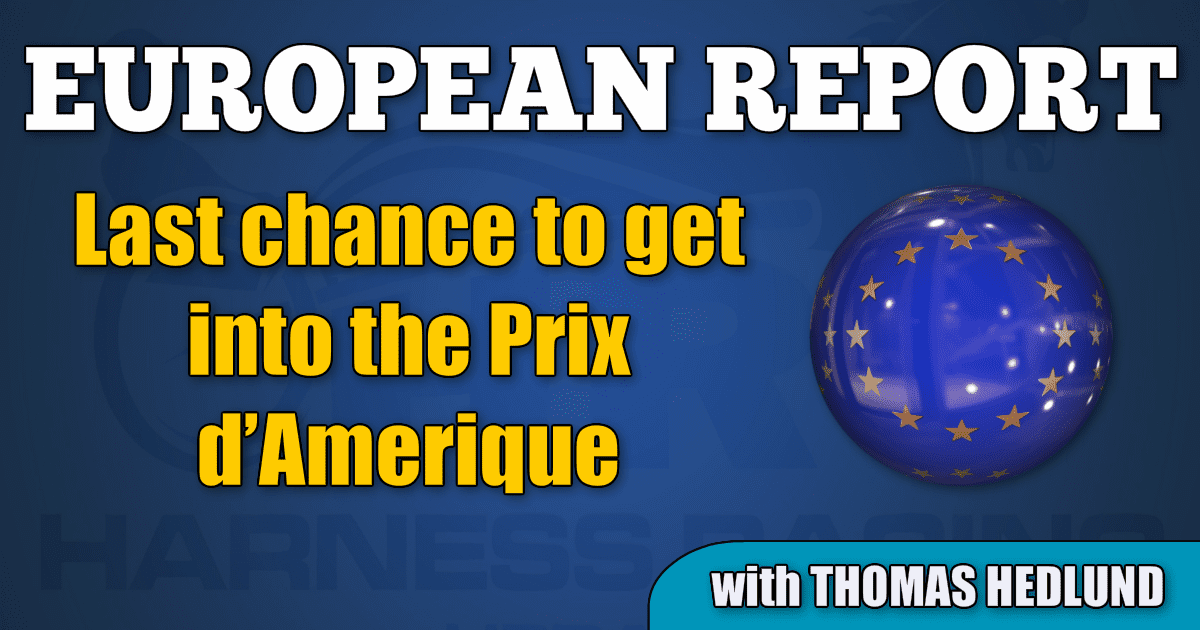 Last chance to get into the Prix d'Amerique
by Thomas Hedlund
The last B-race, the $135,000 Prix de Belgique, is by tradition scheduled two weeks before Prix d'Amérique. So, Sunday, Jan. 13 is an important date for those who want to reach one of the most prestigious races in the world.
The Prix de Belgique is held over 2,850 meters (approximately 1.8 miles) and 14 trotters will enter the race at Vincennes in Paris.
Last year's Prix d'Amérique winner Readly Express, trained by Timo Nurmos, finished second to Bold Eagle in the last B-race and Readly Express chases full and complete form in Sunday's Prix de Belgique, while Sébastien Guarato's Bold Eagle stays in his barn this time. Guarato still has four horses competing since Eridan, Carat Williams, Valko Jenilat and Billie de Montfort all are in the race.
Prix de Belgique 2019 field
Horses with * are already qualified for Prix d'Amérique.
Horse – Driver
Day Or Night In – Johan Untersteiner
Bahia Quesnot – Junior Guelpa
Eridan* – Eric Raffin
Cash Gamble – Franck Nivard
Davidson du Pont* – Franck Ouvrie
Delia du Pommereux* – Damien Bonne
Charly du Noyer – Yoann Lebourgeois
Uza Josselyn* – Gabriele Gelormini
Carat Williams – David Thomain
Valko Jenilat – Francois Lagadeuc
Belina Josselyn* – Jean-Michel Bazire
Billie de Montfort – Pierre-Yves Verva
Readly Express* – Björn Goop
Bird Parker* – Jean-Philippe Monclin
Bazire's horses will not lose
Jean-Michel Bazire's stable has been running like nothing else in France this winter. On Thursday afternoon, Bazire sent his Bel Avis (Ganymede) to the French Riviera, to Cagnes-sur-Mer where the duo won the $135,000 Prix de la Cote d'Azur in a splendid mile rate of 1:56.3 over 1.8 miles.
Bazire's meeting in France this year is the talk of harness racing fans. The champion driver delivers winners in Paris almost on every race card and for Prix d'Amérique Bazire has three horses qualified. Davidson du Pont, Looking Superb and Belina Josselyn are all set for the great race and two of them will get the last preparation in Prix de Belgique on Sunday. Looking Superb was disqualified in a race at Vincennes last weekend.
Falco de Laurma wins Prix de Tonnac Villneuve
Four-year-old dominant Face Time Bourbon chased another victory as first choice in $115,000 Prix de Tonnac Villneuve at Vincennes last Sunday but Guarato's trotter couldn't defend himself when Thierry Duvaldestin-trained Falcao de Laurma (Uniclove) found an extra gear in the home stretch. Falcao de Laurma was placed outside leader Face Time Bourbon and it seemed like the favorite had everything under control in the last turn, but his opponent on the outside showed extraordinary qualities and disarmed Face Time Bourbon short before the wire.
The mile rate of 1:56 over 1.3 miles is a strong note for a 4-year-old this time of the season.
In monté race (racing under saddle) in the $150,000 Prix du Calvados over 1.8 miles, three horses were outstanding, which makes next week's upcoming $746,000 Prix de Cournulier more interesting. Traders, Billibilli and Briac Dark all impressed and Billibilli (Niky) was the one that got out of Prix du Calvados as a winner. The mile rate 1:56.2 over 1.8 miles is a new stakes record and Billibilli will be a serious antagonist to last year's Prix de Cournlier winner Traders on Sunday, Jan. 20.