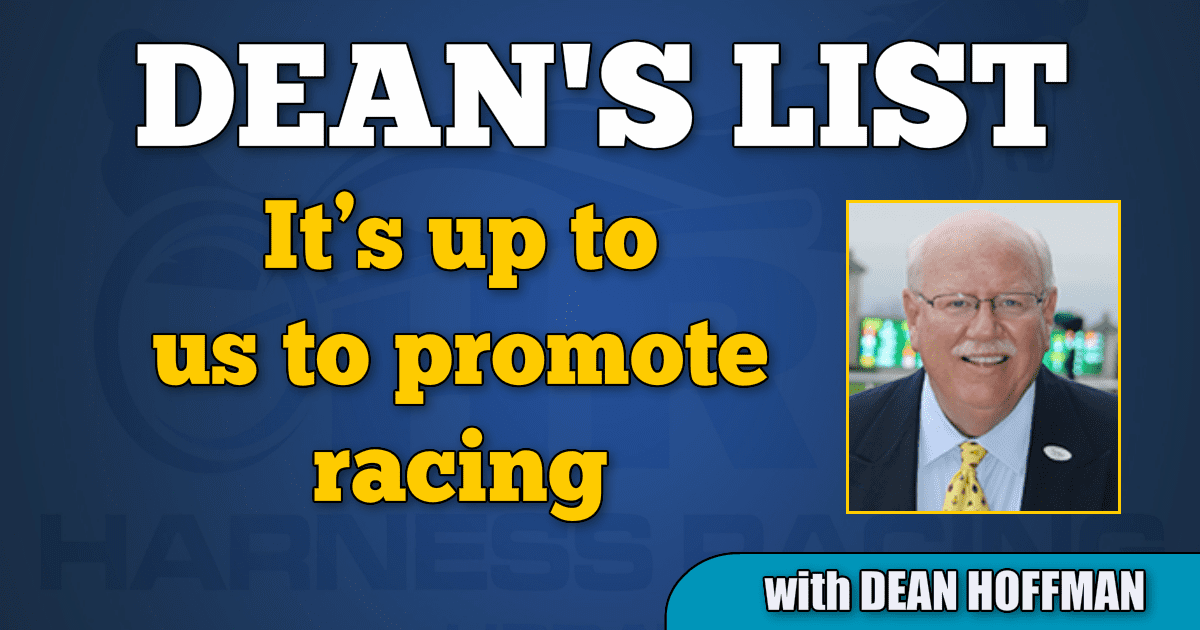 It's up to us to promote racing
by Dean A. Hoffman
"Hoffman, the problem with racing today is that the people who own racetracks hate horse racing."
That statement was made to me several years ago by my longtime friend Jay Farrar, who has spent his life in harness racing.
Jay was voicing his concern that so many tracks were owned by gaming companies that held their noses and agreed to conduct horse racing to get licensed as gaming operators. His statement wasn't all that incisive when he made it, but it cut to the chase of the problem that horse racing faces in the current environment.
If track owners hate horse racing, who will promote our beloved sport? Look in the mirror. It's up to us.
If harness racing needs a New Year's Resolution for 2019, it's that everyone involved should make an effort to promote the business in some way.
First, let me add that I don't think all tracks have abandoned promotion of racing. Certainly I have nothing but high praise for Hoosier Park and I've heard the same from many people. The job Hoosier did in playing host to the Breeders Crowns in 2017 under very adverse circumstances got universal kudos. Jeff Gural and his staff at the Meadowlands have certainly promoted harness racing and maintained a high standard of integrity. Other tracks have also made a commitment.
Still, racing is almost an afterthought at some tracks. Tracks which once had publicity and marketing personnel now must rely on the kindness of strangers from the racino staff to get any promotional efforts.
Perhaps seven years ago or so, I moderated a panel on promoting racing at a conference hosted by Standardbred Canada in Windsor, ON. One of the obvious questions that arose was, "Who pays for racing promotion?"
The obvious answer is "the tracks" but several people quickly pointed out that the racing's business model had flipped in the racino era. Track ownership was focused on promoting the most profitable part of the business — gaming operations — and not on horse racing. Many people felt that the funds allocated to purses should be invested in promoting of racing.
A lively debate ensued, shall we say. One person argued that it was not proper to use money intended for purses for promotion. He angrily emphasized that each dollar used for promotion instead of purse money is a dollar "stolen" from owners, trainers, drivers, grooms, etc.
So who promotes racing today?
Racing. It's up to the folks in racing. We hold our destiny in our hands.
Some organizations in racing are already doing this. I realize that resources are limited but so much can be done.
What about handicapping tips for newcomers at the track? These could easily be implemented by a horsemen's group. I think every handicapping seminar for fans has paid dividends at the pari-mutuel windows. They should be done regularly, not sporadically.
I just returned from several days in Vegas and the casinos are always anxious to teach newbies how to play blackjack or roulette. Casinos want you to understand the games because they know they'll reap the rewards. Ditto for horse racing.
I've always believed that horse racing programs are a major turn-off to first-time fans. No newbie can possibly decipher all those numbers and symbols the first time they come to a track. But local horsemen could easily find someone to educate new customers on reading a program.
(Efforts to provide new customers with simplified programs are laudable.)
Some tracks still have decent stable areas; some don't. I always thought that backstretch tours were wonderful way to educate people about what happens behind the scenes in harness racing.
(I once interviewed some racing customers who knew absolutely nothing about what horses did between races. Training, vet care, shoeing, nutrition — these were things they never simply considered. They told me they thought the horses just were pulled in from a field an hour before they raced. Seriously.)
If a track doesn't have a presentable stable area, perhaps there is a training center nearby. Tours of the training center could be offered free to fans. It might require renting a bus or a couple vans, but it would be a good investment for local horsemen to promote the product.
Ditto for breeding farms. I've found few things more enchanting in my life than the sight of mare and foals romping in fields of green grass. Stallions can be showcased, too. This might seem removed from actual racing and the betting windows, but I think these are great way to build true harness racing fans.
Depending on time available and locations, it would be possible to offer fans a combo tour of a training center and breeding farm. In this way, we can build a foundation of customers who see harness racing as far more than just random horses going in circles.
(Again, I know such things have been done in the past, but they should be done regularly to reach as many people as possible.)
The ideas are endless. But it requires a commitment.
Remember, when tracks have no interest in promoting racing, it's up the people and organizations within racing.
Here's to a great year for harness racing in 2019.