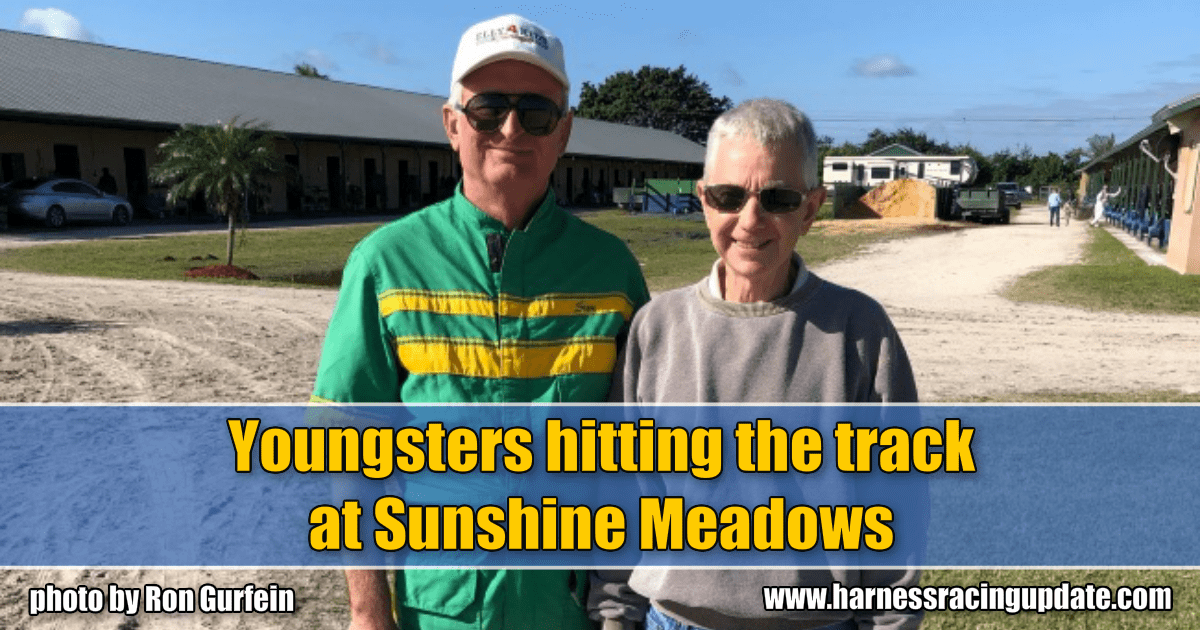 Youngsters hitting the track at Sunshine Meadows
by Ron Gurfein
It was rather chilly in South Florida Saturday morning and that truly had a slimming effect on the turnout for the day's festivities at Sunshine Meadows. However, most of the usual suspects were in attendance. I got to spend some time with two of my favorite Canadian drivers, both of whom I credit for many successful stakes engagements on both sides of the border. Steve Condren and Trevor Richie bring back many fond memories to me. Steve stays in shape riding for Casie Coleman, while Trevor plays golf and watches some of the horses he owns in the Tony Alagna stable.
As early as it is in the season there were lots of precocious youngsters on display at Sunshine Meadows.
From the Alagna stable I liked Force And Fury driven by Tony Alagna, a Captaintreacherous colt from My Little Dragon bred by Marvin Katz who owns the colt with Al Libfeld and Brad Grant and It's Showtime, driven by Matt Kruger, a Captaintreacherous colt from Uffizi Hanover owned by too many owners to list.
On the filly side two nice movers were Cavairt Heather, (Kruger) a Somebeachsomewhere out of Full Picture owned by Caviart Farms and Lady Lou (Alagna) a Sweet Lou out of Bolt of Thunder also owned by Grant.
Tony is only training two trotters this year, concentrating on "The Captain" but one of them a Brittany homebred Sister Theresa (Father Patrick—Anywhere With You) looked impressive with Tony's mom at the lines.
Most of the Lindy Farms crew remains in Connecticut until January, but I did make note of a very special Cantab Hall colt Hi West, from Define Royalty purchased from Crawford farm at the Lexington Selected Yearling Sale. This tall agile fellow could be special.
When I made out the 2-yearold lists I remarked to Fred Grant that it looks like he is about to begin a great year. I love some of his purchases. After watching his barn today I predict he is on his way to a banner year. Mouse Circus, a filly by Sebastian K from Product Placement and Flammable Hanover a Muscle Mass colt out of Finesse Hanover went very well and Upper Deck Hanover a Chapter Seven lass out of Upfront Hotsey spooked from something at the wire and took of at 100 miles an hour on the trot and never missed a beat.
Paul Kelley made a appearance with a fancy looking Trixton colt out of a beautiful mare I trained for a while Zeta Jones. His name is Amos Hart, cleverly named after a character in the movie Chicago starring Catherine Zeta Jones.
Peter Wren displayed a nice pair of Pet Rock yearlings. Sweet Magnolia, a filly from Southern Magnolia owned by Odds On Racing and Skipping Stone a colt from Skinny Dip owned by MT Pockets Stable, Allyn Jones, Michael Gust and Dolne Farm Enterprises.
Last but not least, Condren went with a great-gaited Western Ideal Filly out of Sapere Hanover, Stowaway Hanover from the Casie Coleman barn.
Merry Christmas to all and if you have any suggestions for my end-of-the-year column on the Good the Bad and The Ugly of 2018, please email me at gurftrot@aol.com ASAP.