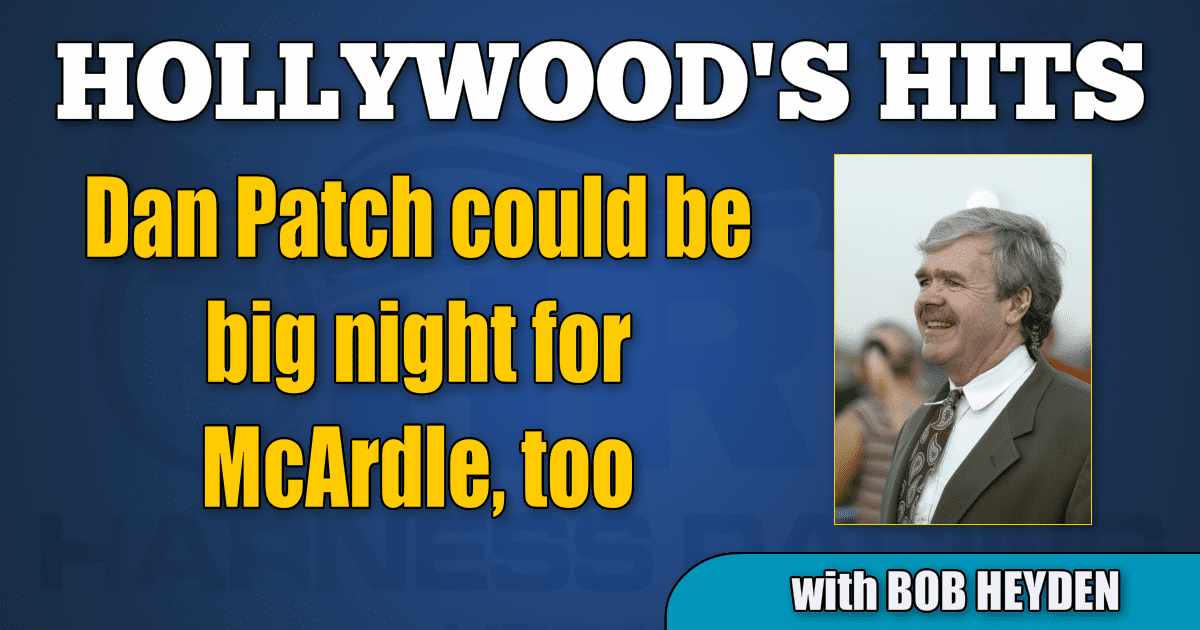 Big night for McArdle, too
by Bob Heyden
Dan Patch Awards Night 2019 in Florida could be something of a coming out party for sire McArdle. Not only is his son McWicked expected to be named Horse of the Year, there's a decent chance his granddaughter Shartin N will be runnerup. No sire has gone 1-2 in the HOY balloting since Yankee Glide did it in 2006 with Glidemaster over Passionate Glide. As for McArdle, his trainer, Chris Ryder, remembers him well.
"A tough horse— very tough. Fast, too. He could leave in :26 and come home in :26. He didn't like horses passing him at all," Ryder said.
McArdle's career spanned from 2001-2003. He earned well over $2 million and was right there in all the big events, capturing the NJ Classic for $500,000, was third in the NA Cup and second in the Meadowlands Pace. For the first year and a third of his racing career, he was a stablemate of Art Major, until that one was pulled and wound up with Bill Robinson. The former buddies became the best two sophomores of 2002 and 4-year-olds of 2003.
"My greatest moment in harness racing was the night McArdle beat Art Major in the $700,000 William Haughton Final (2003) at the Meadowlands," Ryder said. "We had post 10-and wound up first over. Mike Lachance drove him, kept him alive and he held off Art Major. The night was extra special because I knew the owners of Art Major had promised Bill Robinson an $80,000 bonus if he could win the Canadian Pacing Derby, the Haughton and the Breeders Crown. That, plus the fact that I had Art Major at 2 and into his 3-year-old season myself."
This is hardly McArdle's first time in the spotlight as a sire. His One More Laugh went on to a near $3 million career, won the Meadowlands Pace and set the stakes record winning the Cane Pace at Freehold.
"(McArdle is) 20 now, and that makes this even more impressive. He doesn't get the publicity I felt he deserved. If one of the marquee sires had the HOY and the runnerup, it would probably be splashed all over. He's definitely been under the radar."
McArdle's been a dual hemisphere stallion, thus the "N" after Shartin. She's a daughter of TinTin In America. What kind of horse was he?
"A fast horse in New Zealand. I would say he bred 15-20 mares a year, he's still around as far as I know."
25 is significant to the Haughton family
In a weird way, the number 25 has added significance to the Royal Family Haughton. Consider:
Tommy Haughton was 25 when he won the 1982 Hambletonian with Speed Bowl — still the youngest ever driver to do so.
Brother Peter was lost tragically in an accident just two years before, already established and on the expressway to superstardom. He was 25.
Billy Haughton first tried to win the Hambletonian in 1949 — without success — at age 25.
It wasn't until 1974 that Billy at age 50 — 25 years later — finally got his initial Hambletonian trophy, one which he would get with alarming regularity the next decade with three more driving and another as trainer.
The ladies… again?
Three-for-three last year for the first time ever, females were 1-2-3 in the balloting for Horse of the Year — Hannelore Hanover, Ariana G and Manchego. This year, Atlanta and Shartin N certainly have a good chance of being among the top trio, which would make it five of the top six slots (McWicked the very likely HOY) in a two-year span.
Six Pack
Six Pack is doing it like a few big names from the past. He led his division in money as a sophomore trotting colt without a dime of that coming from the Hambletonian.
2001 S Js Caviar (Not eligible)
2002 Kadabra (Not eligible)
2003 Mr Muscleman (Failed to get out of the elims)
Six Pack was fifth but DQ'D from his elimination on Hambletonian Day and then won the two other trotting Triple Crown events by nearly 10 combined lengths — the Yonkers Trot and the Kentucky Futurity.