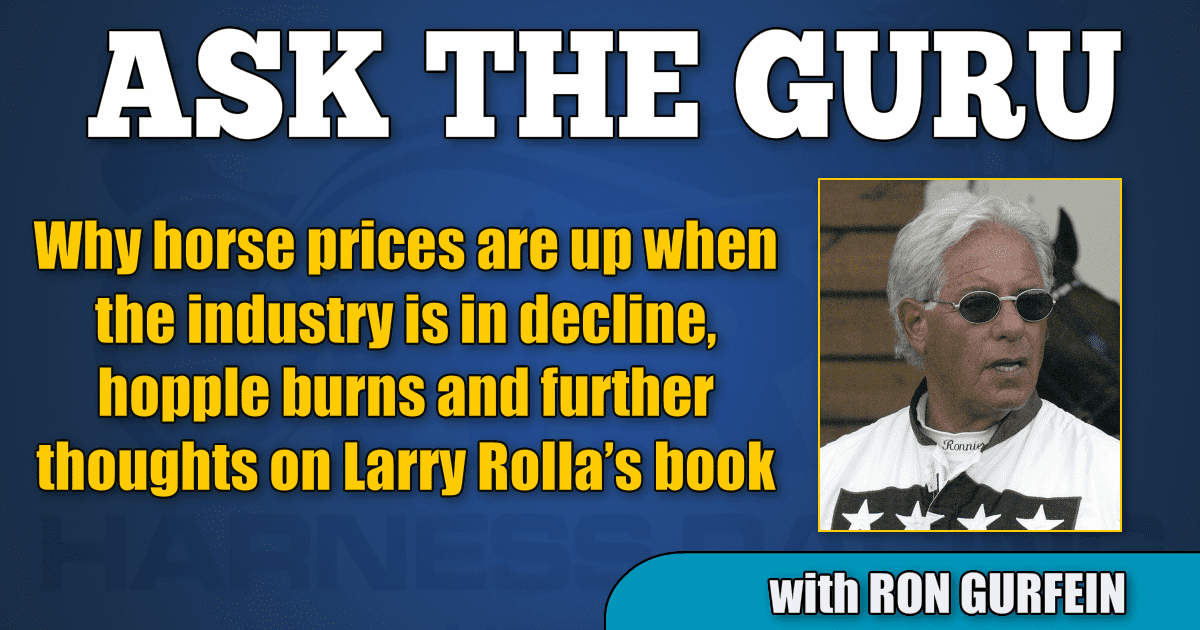 Why horse prices are up when the industry is in decline, hopple burns and further thoughts on Larry Rolla's book
by Ron Gurfein
Tidbits: Thanks for the amazing reaction to my basketball query. Special mention to David Miller, Murray Brown and Joel Kravet for helping to answer me.
The responses show that there are many reasons for all the off-balance college basketball games in early season, but by far the one most mentioned is MONEY. When I think about college, I rarely equate dollars. Murray points out that the TV exposure aside from the money gives many kids from lesser schools a chance to appear on a national broadcast that would never happen with a normal schedule for them. The only way the lesser programs can cash in is to appear on national television and that would mean accepting invitation to a big school for an attempt at the impossible. David claims that it pads the team's resume with lots of extra wins. Joel says that it provides a great opportunity for many of the real-time bench sitters to get to play in the mismatches. Murray also equates it to horse racing qualifiers, as it gets legs under the babies.
Bob Marks sent me a preview of Way of Life an autobiography that is nothing short of fascinating. He describes his achievements in the business as a handicapper, columnist, and TV personality through the years plus the tales of Boardwalk and Perretti. So many great stories. I just would like it to begin with where he was raised and a bit more about his formative years, sort of a personal touch. He hasn't told me when it would be published but I look forward to its arrival.
I have almost all of the 2-year-old lists and will introduce them in the first From the Deck, hopefully on Sunday. What an amazing star-studded field it is.
My two favorite teams both had heart-stopping finishes last weekend. I hope you got to see the end of the Kentucky basketball game in regulation — the overtime was sad — and the Miami Dolphins game. If you missed either one, watch on YouTube, they are not to be missed. If you are a Patriots fan I feel for you, but what it come down to is complacency. The entire defense fell asleep at the wheel. To Kentucky fans that watched as Keldon Johnson received the inbound pass with 1.6 seconds on the clock and turned and drained a jump shot from beyond the center court stripe to tie the game only to lose in overtime, I feel for you.
Billy Wells asks: What do you think of the reaction on Facebook to Larry Rolla's book debut?
Between Facebook and my own email, if would say that it was very positive. Everyone enjoyed it and there were no negative comments about the book itself. However I am very upset with the horseman that felt it necessary to add some chapters of their own in a public forum with stories of bad races with names and places.
In the book, Larry mentions people, horsemen or others that performed questionable acts that were beyond proper under the law. Most of these people are missing or dead. On the other hand, I regret that some horsepeople we know well told stories on Facebook implicating others in high crimes and misdemeanors. This is unacceptable. Whether the stories are true or not there was no reason for this. I suggest that the guilty parties go to their accounts and remove them ASAP — or even better, write your own book.
Ken Young asks: I see ads on this site (HRU) touting how yearling and mixed sale prices have been up over the last few years. However, if wagering and on-track attendance is down and some tracks (i.e: Meadowlands) are paying purses that when adjusted for inflation are lower than they were 40 years ago, why are buyers spending money for horses?
First of all your premise is out of touch with reality and your knowledge of the purse structures at most tracks is inaccurate at best. Have you ever gotten on a plane to Las Vegas? As the plane descends into that mercurial atmosphere, in your mind are you thinking how much money you are going to win or are you hoping that you have a great time and don't get financially crushed? Those are the thoughts of 99 per cent of the big buyers that create the high price of horseflesh. I trained for many big breeders in my career such as Lindy Farm, Brittany Farm, Walnut Hall and Perretti, plus many others, and bought my share of very expensive horses. Owners like Guy, Jerry and Frank Antonacci, George Segal, Alan Leavit, and Bill Perretti had one thing in mind, make a stallion because that's the only way you make real money in this business. That's why we have $800,000 colts and $500,000 fillies. The buyer of the filly understands that he basically can't get out unless she ends up producing amazing horses. It's not a game for the meager at heart, but remember it's a game and the fun is in the playing just like that trip to Vegas you should enjoy yourself and not lose too much.
Years ago I would tell prospective owners if you give me $1,000,000 and we stay in the game for 10 years and have half of that left I did a hell of a job.
So much for the theories now look at the facts. The only tracks that have a real dip in purses from years past are those not supported by slot money. The purses are way up in states that are supported by slots and the infusion of cash into the Sires Stakes programs has been a boon to the indigenous breeders and sent yearling prices through the roof. Who would have ever thought that an Ohio or Indiana bred would bring over $100,000? Now it's expected.
There is more money to race for than you think. At times Yonkers' opens go for $60,000 and the opens at Pennsylvania tracks near $40,000. Recently, Jeff Gural announced that he was going to share a portion of the sports betting profits with the horsemen and the New Jersey legislature passed a bill 13 to 0 to support racing in the state with $100 million dollars going to purse accounts over a period of five years, split equally between thoroughbred and standardbred tracks.
The Meadowlands will make an amazing comeback in the next few years. They still have the biggest simulcast handle going over the $3 million mark often during the year. I have trained horses for almost six decades and in my opinion there has never been a better time to own a racehorse than now.
Jeff Roberts asks: I sold my yearling at the sale this year and the trainer is having trouble getting him to pace. The hopples were burning him so bad that they had to take them off. They said they were going to put some weight on him behind so he can get the hang of it. What does all this mean?
There is no need to be concerned many top pacers took till March to get the hang of it. However, I find it alarming that the colt burned badly this early in the season. I never broke horses with a tight hopple, not only do they burn but they also get sore in their shoulders and hind end. I don't like telling trainers what to do, but I would like you to make a suggestion that the colt jogs about a month without the hopples to heal and recover from the trauma and that when he is okay you start with a long hopple that doesn't burn him. As far as adding weight to his hind feet, that's really old and should be a last resort. I would prefer wet bandages on his hind legs that will add some weight and can rectify the problem. But I wouldn't worry, at least not now. I would say that the chances of success are in the 90 per cent range. It would also be smart to have a vet examine the colt because it is quite possible he can't find his gait because he is lame. Please give me an update when he turns it around.
To all my readers thanks again for the kind words and please look forward to my From The Deck column coming soon. I am also going to try and have The Guru's best of 2018 and what to look forward to in 2019. Have a wonderful week.
Have a question for The Guru?
Email him at GurfTrot@aol.com.