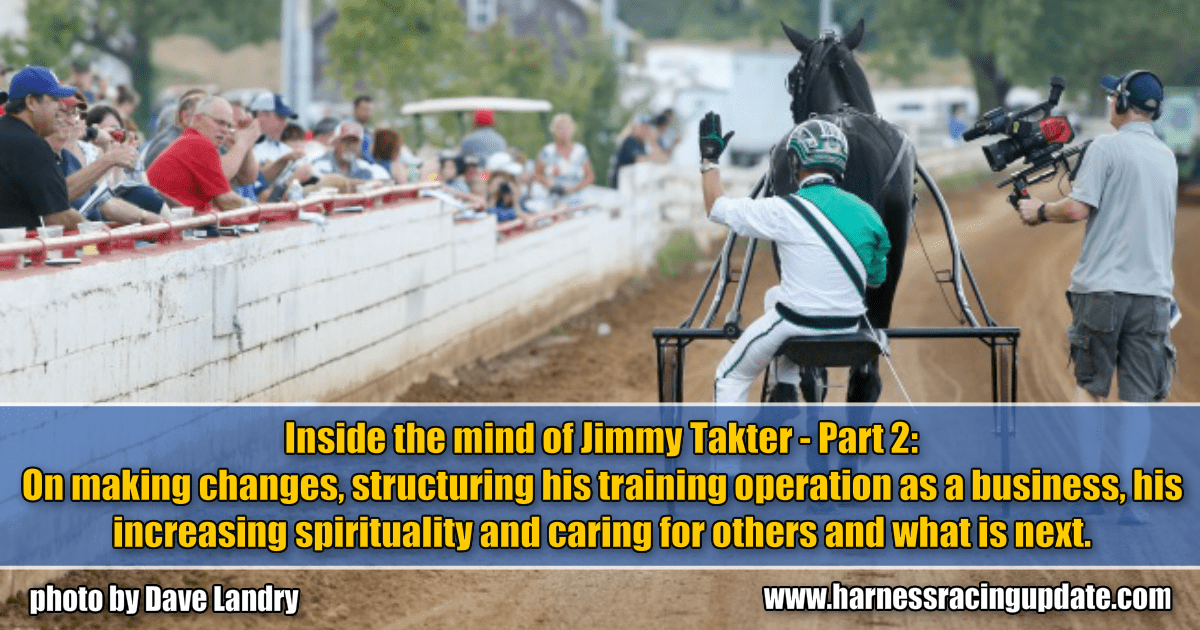 Inside the mind of Jimmy Takter – Part 2
One week from now, perhaps the greatest trainer in history will retire. In Part 2 of a two-part feature, HRU examines how Takter is a master of making changes and structuring his training operation as a business. We also explore his spiritual, caring side and what is next for him.
by Dave Briggs
It isn't always easy living in Jimmy Takter's world. One of the challenges of dealing with the trainer's brilliant, hyperactive mind is rolling with all the changes.
Many times, Perry Soderberg — Takter's longtime friend, former assistant and yearling-picking master — admits he has "freaked out" mentally when horses would win a major stakes race and Takter would change everything about their equipment and routine.
"He'll have a great year, win six Breeders Crowns, and change everything," Soderberg said. "His thought process is energized. He needs to think about new things, likes to improve things. It's how he is.
Today, Soderberg can shrug about it. Takter's unparalleled success long ago earned the trainer the benefit of the doubt.
"I think he wants the horses to think about where they are putting their feet all the time, going forward, not just going like zombies straight forward. It's got to be the right combination, the mental thing. I get nervous every time, 'Why did you change this?' but then it turns out to be even better," Soderberg said.
Adapting to Takter's decision to retire on Dec. 1 at age 58 is no different. Some people are struggling to understand, others are skeptical.
Takter just wants a change — something he said is both inevitable and necessary.
"You've got to change… I change everything," he said emphatically, explaining that, when it comes to horses, you simply can't train them in 2018 the way you did in 1980 and hope to have success.
As for going against conventional wisdom and advice, Frank "The Elder" Antonacci, one of Moni Maker's owners, said the reality is Takter has considerable strength of conviction… and stubbornness.
"He doesn't like to take 'no' for an answer. 'No' just means there's a different way," Antonacci said, laughing. "No matter what he does, he's just that kind of person. 'No' just means… if he sees a horse and it's not working, he's trying to figure out a different way. It takes a lot of different ways for the wheel to go around."
Takter uses the straight track on his 100-acre farm as an example of his fixation with change.
"My straight track is finally awesome. Do you know how many times I changed it? Rebuilt it? Like six or seven times," Takter said. "I had to find the right material. It has to be material that holds (a horse's footing) because it's deep sand. It's deep and it's very tight."
Conny Svensson, another longtime lieutenant in the Takter army, said that just speaks to Takter's, "tremendous work ethic. He doesn't skip work. He comes to work and does what needs to be done. He doesn't shortcut anything… He's very focused, very driven… He has certain goals for each horse, whether it's a horse that he may think he can make $100,000 with, or one that can win a big race. He wants every one to reach their peak ability."
FROM TRAINER TO CONSULTANT
Takter said it is all about helping his owners — most of whom are dear friends — recoup as much money from their investment as possible.
It also explains why he has decided to transition into being a consultant overseeing his clients' investment in horses. Though Takter is retiring from training next weekend, many of his owners are staying in the operation he built. Most of the horses are being split between his daughter, Nancy Johansson, and his top assistant trainer, Per Engblom. Both trainers will work out of Jimmy's farm.
"(My owners) got very excited when I said this is what I want to do, that I want to be involved for Nancy and Per. I want to see them do well. I'm not going to interfere and tell them what to do. I want them to be independent, but, by the same token, I'm going to come in and if I see a horse that my clients own is on the wrong track and not doing well, bap-bap-bap I can say, 'Nancy, I think you should give that one to Per' or the other way around and see if we make progress," Takter said.
"I'll say, 'What are you doing with this horse? I want to see progress.' Owners give a horse to a trainer and trainers often say, 'Oh, he's doing okay. He's doing all right' and blah-blah-blah. Don't bulls— me. If it is a bad horse, it should go out, because the biggest thing that kills an owner is expenses. Buying a horse is as big an expense as could be, but also keeping a bad horse, that's expensive. If we buy a horse for $100,000 and I see in February that (it can't compete), I'd rather see them take that horse and get rid of him, maybe sell him for $15,000 or $20,000 to somebody and concentrate on the ones that are possibly good horses."
It's one of many examples that Takter truly cares about the people in his life and wants them all to succeed. Takter said not everyone sees the compassionate side of his personality.
"People don't know me," he said. "Mostly when people see me, they see me at the racetrack. At the racetrack, I'm not the same guy. I'm more serious… Maybe people think, 'That guy's cocky.' I'm not, actually. I'm totally opposite. I'm more caring. But I always say what I think and a lot of times that backfires, too.
"Harness racing is a competitive business. Maybe they have a little jealousy, but when it comes down to it, really, we're a little family. You saw what happened with that (barn fire) disaster up in Canada. People are really very good in harness racing to stick together. Nobody wishes any bad, really. Maybe they're happy that I'm (retiring) bap-bap-bap. There's always some people that want to see me and (fellow top trainer Ron) Burke get a positive, or are wishing us bad luck. But when it comes down to it, really, that's not what they're wishing for. It's just that they want to get you out of the competition.
"I want to see everybody do well… I've never had jealousy towards anybody else."
TAKTER TEXTS INSPIRATIONAL MESSAGES
This partly explains the genesis of a daily inspirational message Takter started sending out to his friends via text about three months ago.
"All my owners are on my daily quote list. They get a text every day," Takter said, adding that the list is growing. "I write about half of them and some I get back from people that are on my list and I reuse them. All of the ones I send come from how I feel that day. I do this because we all need support in our lives and we get stronger together.
"My faith is very big, and, lately, I've become more and more about caring about others… I'm very emotional. I'd rather get disappointed at someone than I disappoint somebody."
With that, he recommends a book that really spoke to his creative mind.
"Rhonda Byrne wrote a book called The Secret. The Secret is a little bit how I am. When I'm going into big races, I see it exactly… I know when I'm going to have a good day. I feel it around me. Then she wrote another book called The Power. It's very good. It's basically, love is the most powerful thing in this world. You give love and if you're coming in with a loving attitude to something, people will respond back."
These days, doing good things for other people makes Takter happy. Sometimes, he's a bit like a mother hen — refusing to take no for an answer, as is his wont. Like the time he insisted a visitor that struggled with a horse allergy try Flonase nasal spray and then drove that person to the local pharmacy and insisted they go across the street to buy some.
Trying to do the right thing matters deeply to the man.
When he was given Always B Miki to train, Takter asked to buy a share of the horse, but was told only a five per cent piece was available and the cost was $80,000. He agreed to buy the share without telling his wife, Christina, who looks after the stable's books. About a week later, Always B Miki broke down for the second time in his career. Jimmy was training the pacer on his sand track when he felt something give way with a whap! Instantly, Always B Miki had a foot in the air.
"It's the worst feeling in the world when a horse breaks down, especially when they break a bone like that. I saw the pain in the horse's eye… and I was standing there holding him. I started walking him and he started walking on three legs. It was heart-breaking," Jimmy said.
They rushed Always B Miki to equine surgeon Dr. Patty Hogan, who operated and put four screws in the pacer's leg. But there was still the issue of Jimmy's ownership share in the horse. The trainer had not sent a check prior to Miki breaking down, but didn't think about backing out of the deal even though the situation looked dire.
"I talked to Christina, and I said, 'By the way, Christina, you have to send them a check for $80,000.' That's a lot of money for five per cent in a horse, especially when he's broken down. Christina said, 'What!' I said, 'I know.'"
Always B Miki not only recovered, he went on to record the fastest mile in the history of harness racing, a 1:46 performance in October of 2016 at Red Mile en route to the Horse of the Year Award and a stallion career.
"See how karma works when you do the right thing? The horse made that money back, plus," Jimmy said, smiling.
TAKTER'S LONG LEGACY
Always B Miki is one of about 50 stallions, worldwide, that Jimmy said he has helped create in his career. Soderberg confirmed the number.
"I looked at the sales catalogue in Indiana, recently. They sold 450 babies. Over 60 per cent of the babies in that sale are out of my sires," Jimmy said. "That's Indiana. In Canada, we've basically now just have Kadabra that we trained, but, before, we had quite a few of them. Pennsylvania we have a bunch. But stallions, that's where you make money. You buy Father Patrick for $100,000, syndicate him for $9.6 million. The highest syndication, ever, on a 2-year-old."
Though creating some 50 stallions would be impressive enough for one trainer, Jimmy said the statistic he is most proud of is the one in which his horses have earned more than $13,000 per start over 26 years (ever since trainer stats were first kept in 1991).
"I've been extremely consistent for the last 25 years. Everybody can get good horses and have a good year and bap-bap-bap, but we've been very consistent," he said.
Through Nov. 22 — and remember, the eight years between 1983, when he started training, and 1991, when they started keeping trainer records, are not accounted for — Jimmy is credited with 9,956 starts, 2,154 wins and earnings of $129,769,939. As a driver, he has won 822 of 4,368 starts and posted earnings of $24,445,651 in 35 years in the sulky.
Assembling a crack team — Christina, Svensson, Soderberg, Engblom, Johansson and many talented caretakers — has been key to his success.
In his blacksmith shop in the main barn, Svensson proudly shows off a photo of Team Takter in 1993 — six caretakers, plus Jimmy and Christina.
"When I first started shoeing for Jimmy, Perry (Soderberg) was working for Jimmy helping in the barn for a little while," Svensson said. "We didn't have a big stable when we started. I think the first year I worked for Jimmy we had 11 babies, but that was a good group of babies. There was Mr Lavec, Gleam, Whiteland Image, Do It With Style.
"I'm very proud, absolutely, that I've had some small part in the whole operation. In 1993, we had our first million-dollar year and it's just been going up from then."
Ten years earlier, when Jimmy started out on his own, it wasn't as glamorous. Soderberg was along for the ride and he remembers Jimmy's first horse was a pacer that won something like 26 or 27 races that was key to supporting Jimmy's young family.
"Then they had a seven-year-old gelding with suspensory problems that he was given to train. Jimmy and his partner, I think, spent $4,000 on a Speedy Somali gelding at a sale and the first time they hooked him up he took off. I don't know if he has come back yet. He was crazy. Those three horses were, to my recollection, what he started out with. Nothing else. People think he goes and buys all the expensive horses and it's easy to do that way, but when he started out he definitely started out from scratch or below. He wasn't given anything. You've got to build your name and fight through the ups and downs and that's what he did."
Jimmy soon learned that it was best to hire Soderberg to inspect yearlings — the first horse he told Jimmy to buy was Gleam — and leave Svensson to work his magic with horses' shoes.
One of those times, Svensson was asked to save the day with Kadabra when the trotter went lame just before heading off to check into the detention barn at the Meadowlands for a major stakes race.
"They called and said, 'He's dead lame. What are we going to do?' They were all ready to load their horses and there were lots of people around. Jimmy just told them, 'Hey, leave Svensson alone.' He looked at me and said, 'You fix him' and then he left. He just said 'fix him, do the best you can' and then he walked away. It felt like he trusted my judgment on it. I did the best I could and it worked out, so that's one really good memory," Svensson said, smiling.
Caretakers are just as important, of course. Jimmy said he's been lucky to have many talented ones, but few, if any, can equal the work of Anette Zackrisson, a 10-year veteran at Takter Stables whom Jimmy calls the best caretaker in the business.
"She is the best. There is nobody better… Her horses are her babies," Jimmy said.
Strolling through his shedrow on his morning rounds, Jimmy kids with Zackrisson about where her new horses will be located — either in the main inside barn or one of the outdoor shedrows.
"I know Anette doesn't like to be outside," he said.
"No, I want my horses inside and I want my corner. That's it," Zackrisson said, matter-of-factly.
"She has a corner," Jimmy said, smiling. "She's been here long enough and can have her demands."
Then, with a wink, he shouted down the shedrow, "Best boss you ever had, right?"
Zackrisson rolled her eyes and walked away.
Outside, Greg Harrison — son of trainer Kelvin Harrison — is singing Elvis tunes while doing his work.
"Nothing wrong with a little Elvis in the morning," Greg said with a big goofy grin.
"He's actually a very talented singer," Jimmy said. "We have wanted to sign him up for America Idol many times, but I would be scared that Simon (Cowell) would say that had Greg lived 200 years ago they would have stoned him to death."
In the barn entrance way, blankets celebrating victories in the Hambletonian, Jug, World Trotting Derby — and one celebrating Always B Miki's retirement — are displayed on railings. The horse statue in front of Jimmy and Christina's house — the one that always touts the latest Team Takter triumph — is covered with Tactical Landing's Breeders Crown blanket that is rippling in a stiff breeze.
There's no horse photos in his house, but in the barn office, framed photos of Jimmy's many champions hang on the wall.
"If I just train a horse, it's not that fun, really, especially when you don't own then. I own most of these horses," he said, pointing out a few of the stars that are far too numerous to mention. "To make money in this game, you have to also be a good businessman. I'm also a pretty good businessman."
BUSINESS, BUSINESS, BUSINESS
Technically, it is Christina that is the owner. But since they share everything, Jimmy said the arrangement has been an essential part of the operation.
"That's how I made money. You could be a great trainer, but you're sitting there getting your little percentage. You're going to be just making a decent living at best. You're not going to make any money. You do the math. If you do $100 million you get five per cent. $5 million in your lifetime, you blow that easy. It's not that much money."
Keeping in mind that Jimmy is just the second trainer in history to reach $100 million.
Moni Maker's part-owner David Reid said, "Jimmy is a very smart guy, in addition to being one of the most talented trainers that our sport has ever seen."
"He's a salesman," adds Antonacci, "and has the ability to get along with people. He's a salesman and a good horseman."
Jimmy said he gets both his business savvy and training acumen from his father, Bo.
"He was a businessman. He sold cars. He sold everything. He was a real hustler," Jimmy said.
When Bo was 27, he fell in love with horse racing on his first visit to Stockholm's famed Solvalla Racetrack. At that moment, Bo had an epiphany. This is what he wanted to do with his life.
Not long after, when Mantorp Race Track opened near where the Takters lived in Norrköping, Bo enthusiastically jumped into the horse racing business. When Jimmy was 7 or 8, the family moved to a small farm. The hours both before and after school, and on weekends, were consumed with working in the barn. Meanwhile, Bo, a fitness nut, kept a scale in the family living room and every day had Jimmy and his brother, top European driver Johnny Takter, weigh in to make sure they were staying fit, too.
"He took horses from good trainers — bap-bap-bap — and turned them over. He never, ever worked for anybody. Still today, I'm not sure he ever cleaned a stall," Jimmy said of his father. "My father worked with horses that he traded for nothing — $500 horses. It's a different game now."
Though Jimmy rose to become one of the top trainers in the world and his brother one of the best drivers on the planet, Jimmy said Bo never told them how proud he was.
"My father is a very tough guy like that. I know he's very proud of both me and my brother, but he kind of has a hard time showing it," Jimmy said. "He's not that type of guy, really. He's a warm guy, but not like that. He should have been more like that."
Jimmy's voice falls to a whisper for a second before repeating, softly, "He should have been more like that."
TURNING IT OVER TO PER AND NANCY
Now the legacy falls, partly, to the next generation.
Johansson is slated to train 23 babies this winter, while Engblom, Jimmy's main assistant, will get an equal number.
"We've been doing so well for so many years and now it's going to be a bit turned upside down, but with Jimmy's help and the owners' support, I think we're going to do pretty okay," said Engblom, who has worked off and on for Jimmy for 11 years, including the last six.
"To be able to stay on the farm and train at this facility, that's big," Engblom said. "For 90 per cent of it I'm sure we can handle it just as well (as Jimmy), and sometimes change is good… Maybe I will be a little bit motivated, maybe I can get the staff a bit more motivated when Jimmy doesn't have to help every day."
Jimmy said he is already looking forward to May when he will personally oversee both operations for the month. He said working with the babies is his favorite time of year.
"It's not my stable, I'm just a consultant," he said. "They can call me up and say, 'We have this horse here and it's doing this and that — bap-bap-bap — any suggestions?' It will keep me a little bit day-to-day, a little bit involved if I want to. In May I'm going to be here, but in June I'm going to be in Sweden."
Svensson said he expects both Engblom and Johansson to do well.
"Nancy has already proven herself and, whatever comes her way, I'm hoping if she starts continuing on and does great, (people won't say) it's because daddy retired, because she's already established and had a tremendous year this year on her own," Svensson said, adding an important caveat. "There's never going to be another just like (Jimmy), because he's such a character. There's going to be successful trainers, but it will be hard to put together a career like he did. That's very difficult."
Owner Marvin Katz said Jimmy is, "a unique master of his craft. That, to me, is an important designation. He's not a trainer, he's a master of his craft. He's become acknowledged and respected as one of the very, very best in the world at his craft. When you think about people in any endeavor — whether it's the arts or sport or science, academia – to be ranked among the very best of your craft, that is such an enormous accomplishment and it takes every aspect of a human's skill and talent. You have to be intelligent. You have to be thoughtful to consider and re-consider decisions you have made. You have to be disciplined. You have to be strong-willed. You have to be confident."
WILL RETIREMENT STICK?
Some suggest Jimmy is just too talented, too successful and too young to be retired from training for long.
Yet, on a bit of test run last January he took the entire month off and spent it in Florida with Christina and a magical thing happened.
"I never felt better. I felt so good in February," he said. "First of all, I was training hard. Christina and I did hot yoga three times a week. Then I was running twice a week — five, six miles. Every night we took at least an hour walk. I was feeling good and I slept."
His hyperactive brain needed no medication to quiet it. But, long term, Jimmy said he's not sure how he will fare.
"I know myself. I cannot go from 180 miles per hour down to three. If I do, I swear I'm going to be an idiot. I'm going to most likely lose it… but the first two months, maybe, is easy because it's like you're having a long vacation."
For now, Jimmy Takter is embracing retirement with all of his energy and spirituality.
"When you're coming closer to 60 you see it a little bit differently. What's the purpose of life? Before you know it, you are 75 and then you're tired," he said. "I'm looking forward to going to New Zealand or being in Paris in April."
NEW ROLE IN THE SPORT?
He insists he is not walking away from harness racing entirely.
"I'm going to keep an eye on the sport. Actually, you never know what it's going to bring me," he said. "I like challenges. I think I have great ideas. I don't mind giving my input into how to make the sport great again… I think it would be really, really interesting to manage a racetrack. I think it would be challenging."
Reid laughed when he heard that line, but not because he doesn't think Jimmy is up to the task of making a positive impact on the sport in a different way.
"He's not short on self-confidence. He's not short on salesmanship, so if he's the CEO of Goldman Sachs in five years, I won't be surprised," Reid said.
"He's a great ambassador for the sport. Between (John) Campbell and him, they could probably talk anybody into doing anything," Antonacci said.
"I think (Jimmy's) greatest strength is his curiosity and his greatest weakness is his curiosity, in that now he's curious to do other things with his life. You saw it with Michael Jordan. He was the greatest, but when he retired he wanted to become a baseball player… It's part of what makes (Jimmy) great."
Meanwhile, those that know Jimmy best are happy for him.
"I think (his retirement) is an excellent thing, because I know how hard he has worked. People don't understand… other top trainers do of course, but he's special and it's been 24/7 for 35 years," Soderberg said. "It wears on you and I think he needs to enjoy his life a little bit with his wife."
Svensson said maybe after some time away Jimmy will realize "that what he wants to do is train horses. Who knows? He's deserves (a break), no doubt — both him and Christina. She has been carrying a big load as well (as the office manager)."
When you get right down to it, Jimmy said retirement is more about Christina than himself.
"She's a wonderful person," he said of the woman he fell in love with when they were just teenagers in Sweden and Christina worked every other weekend at a grocery store to afford the train ticket to come visit him.
Christina smiles sweetly at the memory, though it's a lifetime ago.
Just a week earlier, the morning after winning the Breeders Crown with Tactical Landing, her husband was more fixated on the Crowns he didn't win with the 13 other horses he had entered.
"I care and I felt like s— over it and I said to myself, 'Can you imagine waking up and just worrying about what you're going to have for breakfast?' How nice and relaxed that's got to be. It takes a special woman to be my wife and put up with it.
"I owe it to my wife to spend a little time with her."
For the man with the creative mind that is always racing, always changing, never satisfied, this is one thing he knows for sure.