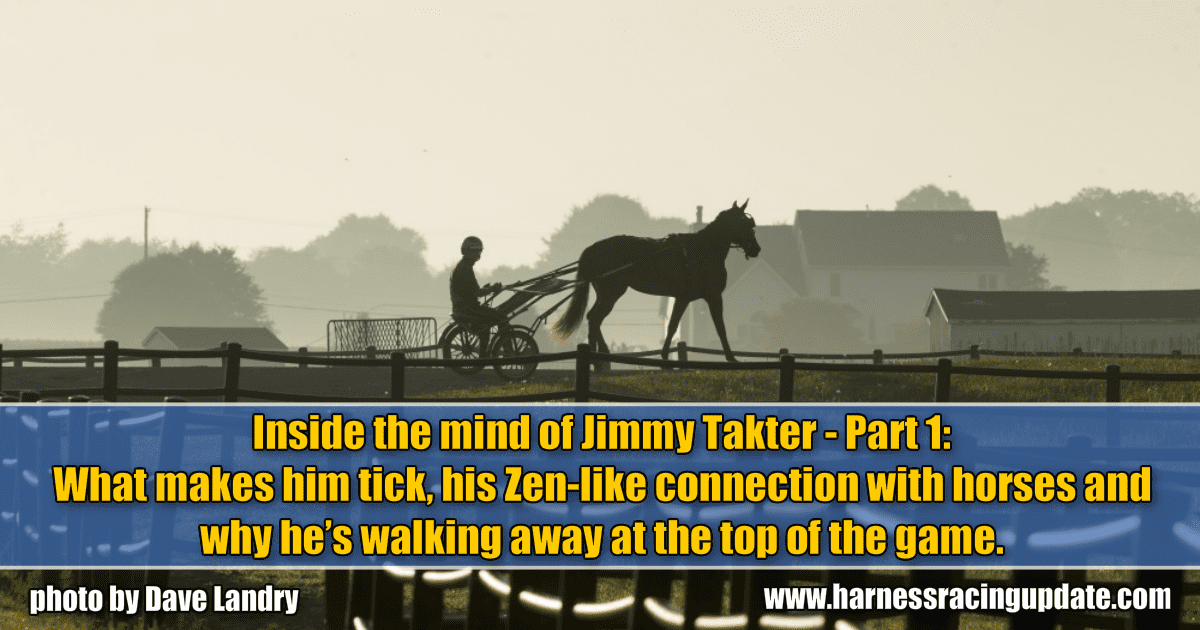 Inside the Mind of Jimmy Takter
One week from today, perhaps the greatest trainer in history will retire. In Part 1 of a two-part feature, HRU examines what makes him tick, his Zen-like connection with horses and why he's walking away at the top of the game.
by Dave Briggs
PART 1
Under battleship gray skies, a squadron of geese is bugging out over rust-dusted trees. A chilling November wind indicates a sea change, but, for the moment, Jimmy Takter is passively sitting in a jog cart, waiting on Tactical Landing to decide when it is time for work.
"If you're not patient in this game you're never going to make it as a trainer," Takter said as the majestic trotter stood statue still for the better part of 10 minutes on the path to the track, staring at God knows what in the vast panoramic at Takter's Hightstown, NJ private equine heaven.
It is exactly one week since Tactical Landing's Breeders Crown victory added another chapter to Takter's thick tome of accomplishments, but the trainer is counting the days forward, not backward.
The night before, over a bottle of wine, Takter turned to his wife Christina with a grin and said simply, "Twenty-eight days."
Christina beamed.
More than a year ago, Jimmy announced he would retire from training at the end of 2018 (full story here). The date he has circled on his mental calendar is Dec. 1.
One week from today, one of the greatest trainers to ever sit behind a standardbred will wake up with no fixed plans for the first time in about 40 years.
Skeptics, who should have learned long ago never to doubt anything Jimmy sets his mind to, should know he has already made an appointment for he and Christina to get their Global Entry cards to expedite the clearance process through customs and they have already booked flights to New Zealand for February with no return tickets.
"I've never done that," Jimmy said of leaving a trip open ended. "That's how I wanted things to be. I've lived by a schedule all my life and I don't want to have a schedule. I want to get out of the schedule."
He is only 58, but horse racing years are not the same as normal years.
The job, he said, is filled with incredible highs and lows and even a man that has accomplished as much as he has starts thinking he's a terrible trainer when his horses don't race well.
"That's how the game is," Jimmy said.
On this night, his horses were racing poorly at Hoosier Park and the Meadowlands. Neither the wine, nor the fact he and Christina are watching from their cozy American room — everything in it festooned in red, white and blue to celebrate their deep love of their adopted country — did much to soothe the blow to his ego.
Losing gnaws at his soul, even with 33 perfectly displayed and illuminated Breeders Crown trainer trophies on a high wall nearby — with one more to be added soon.
"If you try to satisfy every person, you can't do that. But that's what your goal has to be. Every owner buying a horse — whatever they're paying — you want to see those guys be happy with your job, but it's impossible," he said. "I've been batting close to a 25 per cent win percentage in my career. That means that you're losing 75 per cent of the time. It's a tough life. It's not a normal life. I grew up with it. I've worked in the barn since I was 7 or 8 years old."
About two or three years ago, Jimmy said he started feeling burned out. Though he still had his usual red-hot motivation to win every time out, the highs weren't as high.
"It just became a job," he said.
A man known for his youthful energy started to look tired and — as Jimmy is fond of punctuating his sentences — "bap-bap-bap" he was determined to do something else with his life while he still could.
"I've had insomnia all my life. I have big problems sleeping," Jimmy said, explaining that he can't slow his mind down from trying to solve the latest horse problems. "My brain is going a million miles an hour all the time. You get tired. I can think about this and this and what I'm going to do with that — bap-bap-bap.
"I told my doctor, 'My brain is going too fast. I really feel exhausted and I don't feel good.' So, he put me on something to quiet my brain down a little bit. I took them and it got quiet. It got like this."
He imitates the feeling with a bemused, glazed smile and eyes that slowly scan the room like a Felix the Cat clock.
"I said, 'Wow. This is how normal people think.' But you know what happened? I wasn't creative. I had no ideas. I couldn't function. I had no vision. So I stopped."
ZEN-LIKE CONNECTION WITH HORSES
The next morning, Jimmy is doing what he has done thousands of mornings before. He makes the drive from his beautiful house to the barn he built directly behind it, parks in the spot marked "Mr. Takter" — adjacent to the one marked "Mrs. Takter"— and practically bounces into the barn. Walking the shedrows to visit his horses and staff is one of his favorite parts of his routine.
"I'm good with animals and I love my animals. Horses for me are like a gift from God," he said.
One of his first stops is to visit Tactical Landing.
"I just love great horses," he said. "Most of the great horses have charisma, not all of them, but most of them do. It's like when I'm buying a horse, too many people are a little too focused on conformation and things like that. I agree (conformation is important), but, to me, I try to look for charisma. I'm trying to see something in their eye."
He opens Tactical Landing's stall and walks in.
"How are you doing, buddy? Come on big boy."
The trotter is reluctant at first and then approaches. Jimmy gives a deep Santa-like belly laugh, "Ha, ha, ha" he said as he rubs the horse's neck vigorously. "There is my big boy. Always has to bite. What happened that you have to bite? What happened? Now you're in the history books, buddy. Bob Heyden said you are the most expensive yearling, ever, to win a Breeders Crown."
Not only did Tactical Landing cost $800,000 as a yearling, Jimmy said the full-brother to Mission Brief knows he's special, despite a bumpy road getting to prominence.
"That freakin' horse knows he's good," Jimmy said, which is why he lets Tactical Landing take his own sweet time getting to the track. After all, the horse has been something of a personal project for the trainer since arriving in his barn in June after limited success elsewhere.
"I've seen a lot of great trainers, but (Jimmy's) understanding of horses is just second to none," said longtime friend, assistant and world-renowned farrier Conny Svensson. "The way that he communicates with horses on the track is just tremendous."
Svensson tells the story of his own trainee Brind'Amour. When the trotter was returning to the races at three, something was wrong and Svensson was struggling to straighten Brind'Amour out. Svensson wanted Jimmy to try his hand with the horse, but was reluctant to ask.
"I always took him out there when Jimmy was on the track so he could see him. One day, I told my wife, 'Walk next to Jimmy back to the barn.' And Jimmy said, 'Don't take the harness off, I'll go a trip with him.' He goes one time around, turns him and he trots like a million bucks. He trains a mile in :58 and comes off the track, happy as can be. The horse was proud of himself. God knows what (Jimmy) did. I have no idea… I don't think he knows. For him it's just so natural and simple."
Perry Soderberg, another longtime friend and assistant — and the man that has picked out many of Jimmy's champions — said Jimmy has an incredible ability to read horses.
"When he sits behind horses, he gets a feeling for what's going on with the horses and he starts to check them out. You can stand on the side and see nothing wrong, but he will feel that something is coming. He always checks them out before it goes bad. He does his own checking, has his acupuncture points. He does flexion on the joints. He checks everything. Conny works with the feet and they are on top of it before (something bad) happens," Soderberg said.
Through a full day's worth of conversations, Jimmy remains remarkably humble, but this is one of only a handful of areas that he admits to having above-average ability.
"You know what I'm good at, extremely good at? I'm very, very good at locating where your horse is hurting," Jimmy said. "Ask my veterinarian, I am really, really good at that. When I go through a horse, I know exactly. It's one of my biggest strengths. If you can keep a horse sound all the time and see lameness before it's actually visible to everyone — like when it's just maybe three or five per cent lameness — we'll pick it up and fix it, but it will never become a (big) deal."
Jimmy's top assistant, Per Engblom, said Jimmy excels at the fine details.
"Are we going to push on or back off? Are we going to train hard today or train soft? That's really what it comes down to with him. I can prepare everything for him and have everything ready, but that's where, I think, we've been successful. I've been helping him to have everything prepared, 'Here's the training list… everything is organized' and then he comes in and does his thing and that's been great," Engblom said.
Owner Frank "The Elder" Antonacci said Jimmy has, "a great sixth sense about the horses." Jimmy trained Moni Maker for Antonacci and his partners. When the trotting mare retired, she was the richest standardbred in the world with earnings of nearly $5.6 million.
"He really understands the psyche of the horse. When he sees a problem with one horse and fixes it a certain way, he's smart enough to understand that maybe that same change won't work on another horse with a different mental capacity," Antonacci said.
This morning, on his tour of the shedrows, Jimmy stops in to visit Moni Maker's son, International Moni. The trotter recently came into his operation.
"Hey, buddy. Hey, buddy. Come," Takter said, as the trotter obediently approaches. "How are you doing, buddy? Have you seen your mother's name on you? Have you seen your mother's name, huh?"
With that, he slaps International Moni's neck enthusiastically and laughs.
Jimmy said perhaps his favorite horse, ever, was world champion pacer Always B Miki — not because Miki set a 1:46 all-age world record, but more for the horse's personality. The trainer used to go to the barn at night just to visit Miki.
"Every night I walked into the stall to pat his head and I loved it," he said.
That deep and abiding love of horses didn't come instantly. Though he was 7 or 8 when he began working with his father Bo's horses 50 years ago back in Norrköping, Sweden, Jimmy said he was more enamoured with his father's used car business than the horses his father trained.
"When I grew up, it was a Mickey Mouse game what we were doing," Jimmy said. "We were struggling. My father was a good businessman, but he couldn't make any money training horses. We were poor back then. We had no money at all. So, I didn't understand why he was working with horses when he could sell cars and make more money. But, he was passionate about it. He didn't care about the car dealership."
Jimmy didn't fall in love with horses until he made his first trip to the United States at age 17 and worked for Swedish legend Hakan Wallner.
"I took care of a horse called Saint Francis and one named Keystone Patriot. When you take care of two horses, you become very attached to them," Jimmy said.
From that moment on, he was determined to be successful in the United States; all the while his mind was churning as he searched for angles to profit from his God-given talent to comprehend horses.
How he would solve the puzzle and become one of the greatest trainers in history is the story of a powerful work ethic, a fearlessness to never stop changing and a business savvy worthy of a CEO.
Sunday – Inside the Mind of Jimmy Takter – Part 2