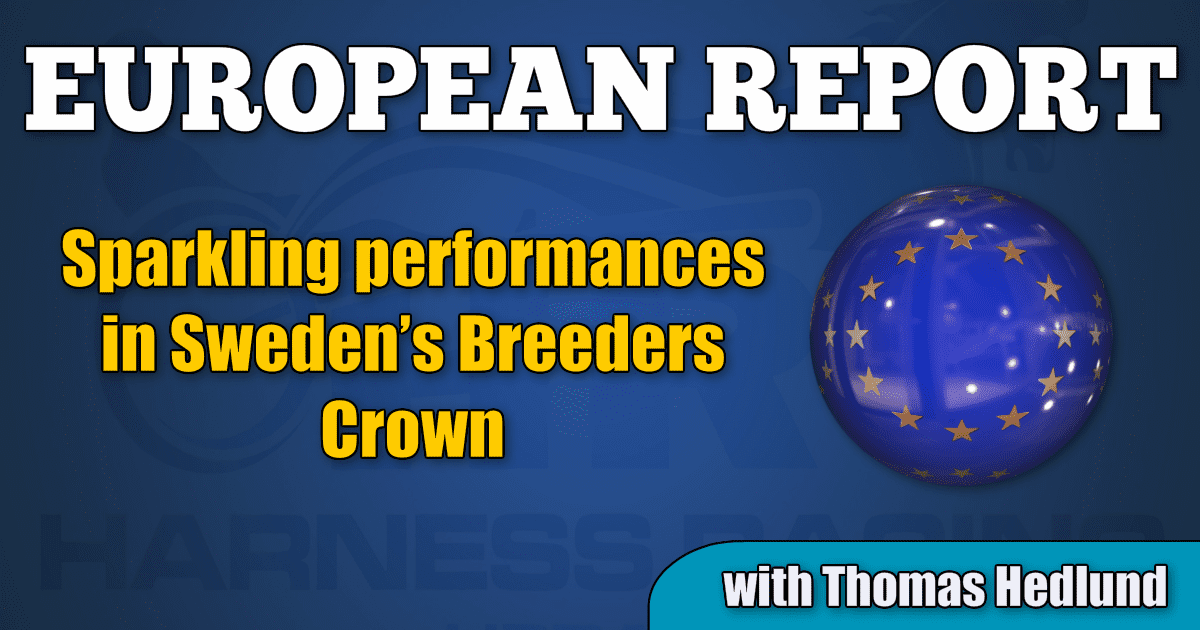 Sparkling performances in Sweden's Breeders Crown
by Thomas Hedlund
Eskilstuna racetrack was, as usual, the host track for the Swedish Breeders Crown finals last Sunday. Four finals were held and top trotters showed up and entertained the fans.
Eskilstuna arranged great races the whole weekend and on Saturday's race card, an impressive V75 jackpot resulted in a betting handle of an incredible $25,514,297.
On the Sunday's card, the gambling was not as much in focus, since the finals of Breeders Crown had collected many of the best horses among the 3-, and 4-year-olds.
Hambletonian winner Perfect Spirit or Swedish Derby winner Who's Who? That was the question many fans asked before the final for 4-year-old colts and geldings and it seemed like answer would be Perfect Spirit. The son of Andover Hall hit the lead at an early stage, but in the hands of Örjan Kihlström Perfect Spirit got a little bit too eager in the 1.3 mile-long race and when Selmer I.H. attacked strongly three wide, an upset was a fact.
Selmer I.H. (Love You) is trained by an amateur from north of Sweden, Ingemar Hultqvist, driven by Finnish Mika Forss and the purse for the 4-year-old colts and gelding was in this case $176,200.
The 1:55 mile rate was noted for both Selmer I.H. and Perfect Spirit and the judges had to take a really close look at the photo to decide who had won the race.
Björn Goop's Mellby Free (Muscle Hill) closed her season with another great win in races for 4-year-old mares. Mellby Free won Stochampionatet at Axevalla in July, finished second to Villiam in Grand Prix de l'U.E.T. at Vincennes in October and was more or less outstanding in the Breeders Crown for 4-year-old mares ($353,000) in Eskilstuna. The only drama happened when Dibaba got willing to race on the outside of the leader in mid race, but when Dibaba's gas ran out, Goop put Mellby Free in the highest gear and she answered her driver's command.
As the first choice in the race, Mellby Free sprinted home in mile rate of 1:56.2 and summed up a season where she put more than $660,000 in her bank account.
Timo Nurmos' Hevin Boko finished strongly from bad position and Global Upper Style took the bronze medal.
Svante Båth shows phenomenal results with young trotters and for the Breeders Crown finals he had qualified two colts in the race for 3-year-olds. Erik Adielsson selected Global Welcome (S.J.'s Caviar) as his choice and the owners of Båth's second horse in the race, Global Withdrawl, let the caretaker – and Svante Båth's daughter – Kim Moberg drive in the final.
Global Withdrawl opened quickly from number one behind the gate, but when Jorma Kontio let Kriteriet winner Inti Boko challenge for the lead after a quarter of a mile, Moberg willingly let Inti Boko to the front position.
The field was full of potential top trotters. E3 winner Betting Gangster was one of them and he had to do the hard job outside the leader and also offered a cover trip for Global Welcome. Erik Adielsson had to attack three wide with a little less than a half mile to go and Global Welcome seemed to get control of the race in the home stretch. But leader Inti Boko had no thoughts about giving the race up and Timo Nurmos' trotter fought impressively, which also must be said about Betting Gangster between horses.
Global Welcome won Breeders Crown, Inti Boko finished second and Betting Gangster third. Mile rate for the winner was 1:56.1.
S.J.'s Caviar's success in Breeders Crown had not come to an end by global Welcome's win for the 3-year-old colts and geldings. Among the mares, a new star is born. The chestnut coloured Conrads Rödluva, trained by Daniel Redén, followed up her win in Oaks in September, by showing who's the best female trotter for the 3-year-olds this season.
A Sweet Dance and Staro Miami both have had a longer season and Conrads Rödluva made her breakthrough when she beat the best mares in Sweden in Oaks at Solvalla.
The S.J.'s Caviar mare was the first choice after an impressive win in the eliminations, but the bettors had maybe lost their trust in Daniel Redén's trotter with 5/8ths of a mile to go. At that point, "Rödluva" (Red Riding Hood in English) had to leave third over when horses attacked three wide from behind, so she had to try to make contact with leading duo A Sweet Dance and Staro Miami by attacking without cover during the last kilometer of the race.
Conrads Rödluva succeeded to pass by Staro Miami and landed outside A Sweet Dance just before the last turn and shortly after, she was in the lead, from where Örjan Kihlström could let his horse jog to comfortable victory in mile rate 1:56,2.
The win was Conrads Rödluva's sixth in nine starts 2018 and she pushed her lifetime earnings over $540,000, which is a new record for a Swedish bred 3-year-old, trained in Sweden.
Staro Miami (S.J.'s Caviar) finished second, just like in Oaks, and A Sweet Dance (Maharajah) held strongly for third.
Rookie trotter Antonio Tabac (Crazed) won in The Netherlands
The $68,000 Prijs der Giganten was held at Victoria Park in Wolvega, The Netherlands, on Sunday afternoon and after four consecutive wins in Swedish silver division and one in gold division, trainer Oskar Kylin-Blom aimed for a bigger target against more merited European trotters.
Prijs der Giganten had not attracted the elite behind the gate, but Antonio Tabac's journey through the classes is impressive and he won this objective in mile rate 1:57 over 1.3 miles.
Antonio Tabac has won eight of 13 starts this year and will most certainly be a colourful contribution in big races next year.
Report from Vincennes
Big races were held at Vincennes racetrack in Paris on Monday afternoon this week. In the $135,000 Prix Abel Bassigny, Sébastien Guarato's new star, 3-year-old Face Time Bourbon (Ready Cash) played with his opponents from the lead. Björn Goop drove the Ready Cash son to victory in mile rate 1:58.1 over 1.3 miles.
In the $135,000 Prix Rene du Corta, the spectators could see an impressive performance from Philippe Allaire-trained Fly With Us (Ready Cash). An early break resulted in approximately 20-25 lost lengths to the leader, but driver Yoann Lebourgeois made contact deep down in the field and the finish was nothing but astonishing from the Ready Cash mare.
The 1:57.1 mile rate over 1.3 miles and Fly With Us will probably aim for the $271,000 Criterium des 3 ans at Vincennes on Dec. 16.
This Sunday (Nov. 18), the first of four preparation races ahead of the Prix d'Amérique is scheduled at Vincennes. The B-race Prix de Bretagne has attracted several top trotters in chase of $135,000, such as Bold Eagle, Bird Parker, Belina Josselyn and Carat Williams. The top-3 horses in this race are guaranteed a place in Prix d'Amérique in January next year.
 2.700 meters (approximately 1.7 miles) is the distance in Prix de Bretagne.
Googoo Gaagaa son impressive in important elimination
Four eliminations for the biggest 2-year-old race in Sweden, the $307,000 Uppfödningslöpningen, were held on Tuesday and Wednesday night at Jägersro and Solvalla.
 Jerry Riordan trained Aetos Kronos (Bold Eagle) and Sören Norberg's Trix On Line (Trixton) won their respective eliminations at Jägersro before Svante Båth completely stole the show at Solvalla the day after.
Båth's Alien Kronos (Infinitif) and Global Adventure (S.J.'s Caviar) fought side by side in the home stretch and Global Adventure, who won Svampen in Örebro earlier this year, put his nose first at the wire.
Bythebook (Googoo Gaagaa) was the most impressive winner of the four trotters. Örjan Kihlström was entrusted behind Båth's 2-year-old and Bythebook disarmed the field of seven antagonists from position in the back of the field in 1:57, which is a strong note in Sweden for a 2-year-old.
 Uppfödningslöpningen is scheduled at Jägersro on Dec. 1.
Uppfödningslöpningen 2018:
Aetos Kronos (Bold Eagle–Will Of A Woman) – Jerry Riordan
Trix On Line (Trixton–Fascination) – Sören Norberg
Global Adventure (S.J.'s Caviar–Platinium Shine) – Svante Båth
Bythebook (Googoo Gaagaa–Stellar Value) – Svante Båth
Alien Kronos (Infintif–Pilgrims Truffles) – Svante Båth
Belker (Scarlet Knight–Oki I Can) – Sten O Jansson
Grande Diva Sisu (Ready Cash–Super Model) – Per Nordström
Master Of Trix (Yarrah Boko–Super Mara) – Mattias Djuse
Muscle Valky (Muscle Hill–Valkyria R.Ö.K.) – Svante Båth
Staro Nashville (Sebastian K.–Meta di Azzurra) – Joakim Lövgren
Ultion Face (Joke Face–Croix d'Am) – Adrian Kolgjini
Unico Broline (Cantab Hall–Notre Histoire) – Sofia Aronsson