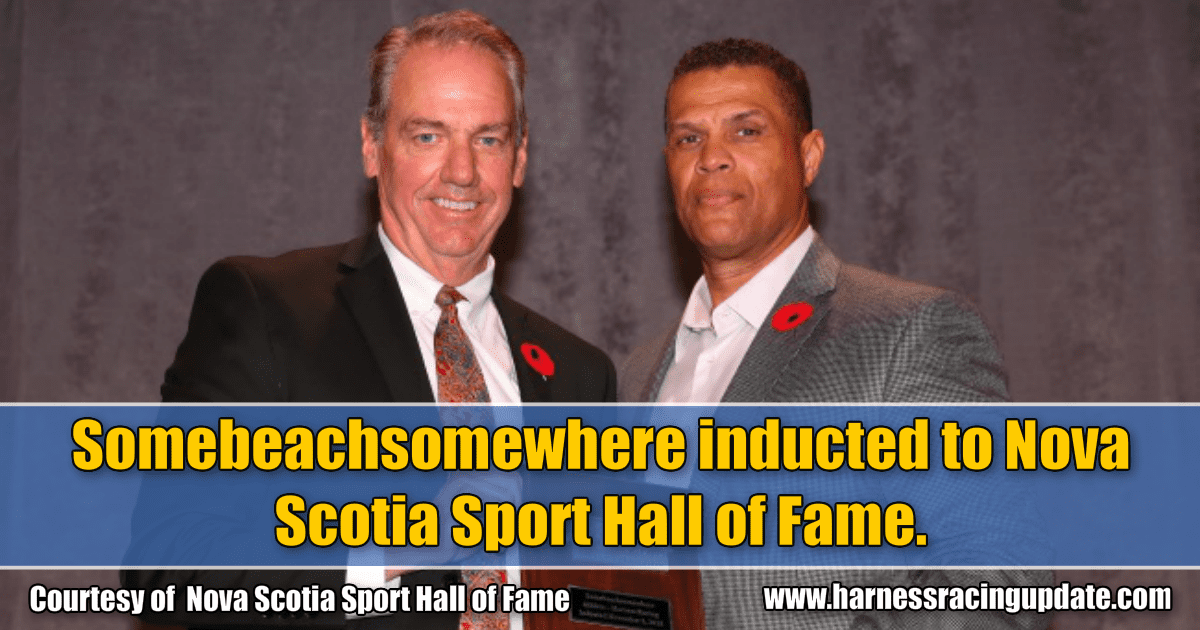 When horse defines athlete
Somebeachsomewhere inducted to Nova Scotia Sport Hall of Fame.
by Melissa Keith
When Somebeachsomewhere was posthumously inducted to the Nova Scotia Sport Hall of Fame Friday night (Nov. 2), it was a breakthrough of sorts: The late world champion became the first and only equine athlete to be so recognized.
Trainer and Schooner Stable partner Brent MacGrath accepted a plaque on his horse's behalf, also fielding questions about what the late pacer meant to him and the harness racing industry. The Truro, NS businessman told the sizable Halifax Convention Centre audience that he missed Somebeachsomewhere "terribly," particularly since the Hanover Shoe Farms stallion had been such a robust animal prior to developing cancer late last year. (The Mach Three son was humanely euthanized January 14, 2018.)
For all the outstanding pacer's racing accomplishments and success at stud, his induction to the Hall of Fame was not without controversy. Selection committee chair Mark Smith confirmed that several voters initially opposed Somebeachsomewhere (p, 2, 1:49.3s; 3,1:46.4m; $ 3,221,299 US) being a candidate. "It's a first for us — it's something that's an anomaly in most halls of fame," Smith told HRU. "I think some of our folks struggled a bit initially about whether or not to put a horse into the Hall of Fame, when it's always been humans."
Making Somebeachsomewhere relatable as an athlete was essential to break the stalemate among the 14 voters, who represented a demographically-diverse swath of the Nova Scotian sports community. The discussion of whether to include the racehorse took longer than any other, occupying much of a four-hour meeting.
"As we talked about it around the table, we started to draw some correlations between the accomplishments of that horse and if you compared it to a Sidney Crosby. If you compared (Beach) to one of the top 15 athletes in the province, that horse would be in the top 15," explained Smith. "So when we started to make those correlations, people started to see it was a 'one-time only'… a very special animal that accomplished some significant things. I think that's what people could get behind."
Smith and Sport Hall of Fame president/CEO Bruce Rainnie both highlighted the uniqueness of an equine inductee, each independently suggesting that Somebeachsomewhere might be the only horse who would ever qualify for inclusion.
Horseman Dale Pinkney attended the induction ceremony with wife Jackie, two of around 20 Truro, NS racing fans who braved stormy weather and a bus trip to Halifax for the occasion. He told HRU that it sounded as if there would be no future consideration of equine inductees, even though trotting legend Fresh Yankee and former world champion Rumpus Hanover would definitely warrant discussion. "They should keep an open mind," advised the nephew of Nova Scotia and Canadian Hall of Fame trainer/driver Dave Pinkney.
Can a racehorse be an athlete? For Dale Pinkney, the answer was clear: "The (Nova Scotia) community was mentioned a lot for all these sports (at induction ceremony), but (Somebeachsomewhere) brought people together. People love winners and follow greatness."
MacGrath had also heard about the difficulty convincing several Hall of Fame voters that a horse is sometimes more than just a horse. "He's worthy, I believe, but being the first at anything is tough, so it seems fitting that 'Beach' would be the first equine athlete that would be inducted. It's certainly special," he told HRU.
MacGrath also addressed one voter's complaint that after admitting a famous horse, the Hall could find itself compelled to debate the merits of putting inanimate objects like the Bluenose, a renowned racing schooner, on the ballot. "Obviously a boat is a boat, and a horse is a living, breathing thing that's a competitor," he noted. "There is no question whether he's an athlete or not. Everyone has the right to question who belongs in the Sport Hall of Fame for Nova Scotia, but he was a great athlete — no question."
It's not the first time Somebeachsomewhere has been the poster boy for exceptional horses in sport: In 2008, a popular petition attempted to make him eligible for the Lou Marsh Award, honoring Canada's top athlete of the year. (To date, no horse has been named a Lou Marsh winner).
Mark Smith himself supported the Nova Scotian-owned and trained pacer's inclusion in the provincial Sport Hall of Fame, and clarified that the precedent-setting nature of Somebeachsomewhere's induction is not an arbitrary ban on consideration of future equine nominees.
"It could happen again, but of course it would be that exceptional circumstance of which we consider this horse to be," said the selection committee chair. "We checked with a number of halls of fame across the country to see what protocol was, and a number of them have those special types of circumstances, so it's not so much a policy as much as we know the ability is there, on a per-issue basis, to be able to consider [another horse for induction]."
There is no gambling-related or other stigma associated with harness racing inductees; the Nova Scotia Sport Hall of Fame already includes several trainer/drivers. "It's merit-driven," said Smith. There is no preference given to sports based on current popularity, either: "It doesn't matter to us. It's about the significance of the accomplishment, how it ranks on a national level, international level; the contribution the athlete's made to the province."
There was no better illustration of Somebeachsomewhere's credibility as an athlete than when MacGrath told the ceremony audience about how his horse reacted to losing the 2008 Meadowlands Pace, his sole lifetime defeat. MacGrath checked in with trainer Carl Conte, who fed the colt the morning after the race: "I know (Somebeachsomewhere) knew he lost. He's an athlete. He knew he got beat — there's no question… Of course I'm calling first thing, to see if 'Beach' was okay, and (Conte) said he didn't know if (Somebeachsomewhere) was going to eat him or the feed."
Some audience members laughed as MacGrath described the colt's evident frustration after the Meadowlands Pace, and laughed again as emcee Bruce Rainnie joked about Somebeachsomewhere's accomplishments at stud, conveying the impression that many in the downtown Halifax crowd found the former subject incomprehensible and the latter simply awkward. It was a vivid illustration of the induction's broader implications: Until they witness an event like Somebeachsomewhere's official recognition, people outside of the racing industry are unlikely to view a horse as more than a vehicle for human athletes.
Selection committee members individually ranked this year's top 10 Sport Hall of Fame finalists from #1 to #10; Somebeachsomewhere was either first or last on each voter's list. "There was nothing in the middle. People either bought in or they could not buy in" to accepting him as an athlete, observed Rainnie.
As MacGrath looked back on how the Schooner Stable's $40,000 yearling became arguably the greatest Standardbred of all time, he recalled turning down an offer of $750,000 from the Muscara family, passed along right after the colt's debut at Grand River Raceway. "It wasn't really clicking with us that he was going to make $3.5-million (Cdn.), and $160,000 every time he went to the gate," said the lifelong horseman. The offer was rejected because the ownership group members didn't need the money, and because they wanted what money can't buy: a shot at greatness, with a horse who left little doubt.
To find out about the new Somebeachsomewhere exhibit and the NS Sport Hall of Fame, visit novascotiasporthalloffame.com.