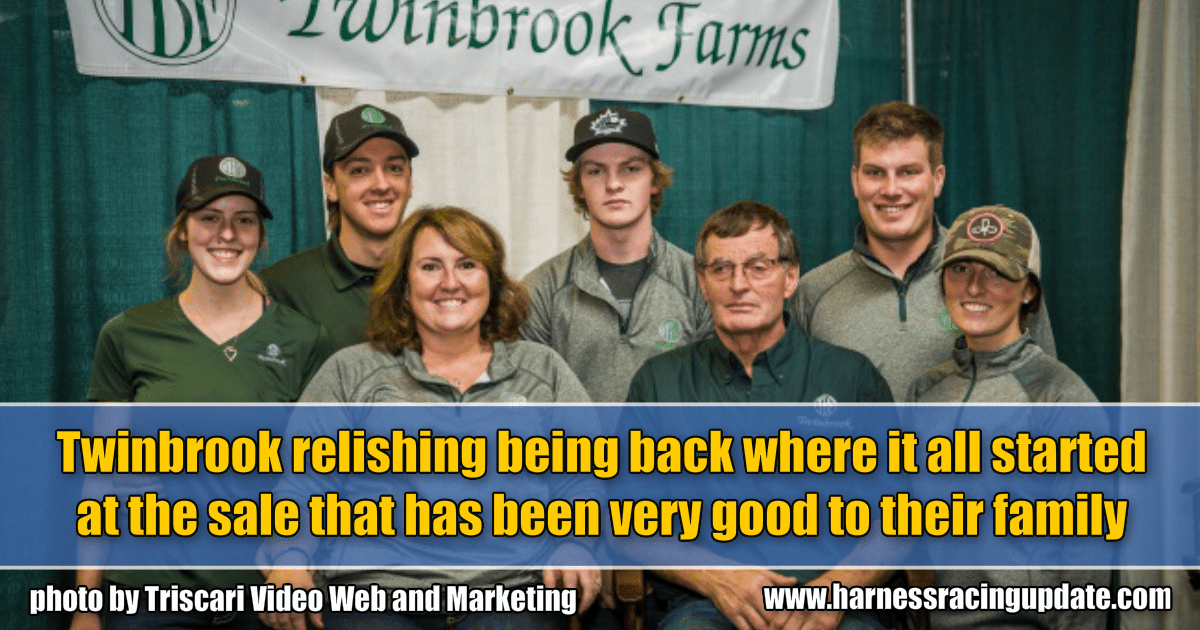 Twinbrook relishing being back where it all started at the sale that has been very good to their family
by Dave Briggs
Tammy McNiven is quick to point out that the new location for her Twinbrook Farms consignment in the Pennsylvania State Farm Show Complex is actually an old spot — the original location the Ontario farm had when it first started selling its yearlings at the Standardbred Horse Sale Company's auction some 20 years ago.
"We really like this spot. It's been great, very cozy, only our horses and they sleep well. Lots of light, and we can play our own music," she said excitedly about the country music playing, the same music she said they cranked up on Thursday when they were getting their stalls ready.
Tammy and her husband, Rob, are equally excited about the yearlings they're selling.
"We have a really exciting year this year because we have a little bit of everything – the sires that people want, Somebeachsomewheres, Captaintreacherous, Bettors Delights, Muscle Masses. I think we have just a little bit of everything to fit everybody's niche," Tammy said.
The highlight, said Rob, is hip 83, a Somebeachsomewhere filly out of Lovely Erin named Twin B Imabeach.
"Very smart," Rob said. "She learns fast."
"She's racey, you just see it in her," Tammy added. "She's just an athlete. We just think she's spectacular."
"And, she's got that toughness in her," Rob said.
The McNivens say both the U.S. market and horse racing, in general, has been very good to their family operation over the years and Rob, in particular, has his fingers crossed that will continue this year.
"We've spent a lot of money on mares the last couple of years. It's been a little scary. We spent a lot a couple of weeks ago," he said.
"We spent $120,000 six weeks ago on two mares," Tammy said.
"Which is pretty stupid when you don't have your money yet," Rob said, "but we didn't want to pass them up. We'll know (Monday) if we survive, because there's no picking up the next two days. (Monday) is our day."