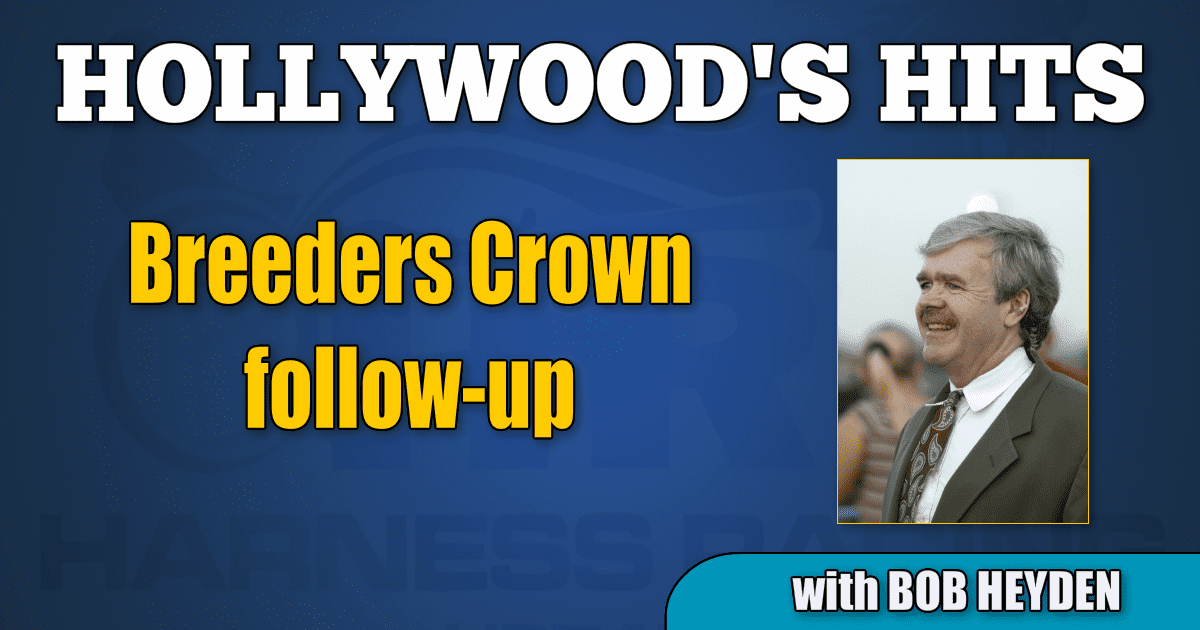 by Bob Heyden
Posts 6-7-8-9 were all shut out, going a collective 0-46 on Breeders Crown night last Saturday at The Downs at Mohegan Sun Pocono. The winning posts in order were: 4-5-2-4-4-4-5-2-4-1-5-3.
All five odds-on favorites won:
Gimpanzee: $3.00
Woodside Charm: $2.20
Tactical Landing: $2.80
Shartin N: $3.00
McWicked: $3.80
Cruzado Del Noches was the only Breeders Crown favorite not to get a check (sixth at 2.40-1).
Percy Blue Chip upset at $104, but she wasn't even the longest-priced Ron Burke filly in the race that got money. That honor went to Strong Opinion who was fifth in the sophomore pacing filly division at 134.60-1.
Bookends for father and son
Atlanta was even money favorite in the sophomore trotting filly race for driver Scott Zeron (finished second), while his father, Rick Zeron, drove Courtney Hanover to a sixth-place finish at 267.60-1. The fillies were, respectively, the shortest and longest-priced fillies in the race.
Captain my Captain
Sons of Captaintreacherous went 1-2 in the freshman pacing colt Crown — Captain Crunch over Captain Trevor — at the same track where The Captain won his lone Breeders Crown in 2013.
Captaintreacherous extended his lead over his own sire Somebeachsomewhere in two-year-old earnings for 2018 and was the most represented first-crop stallion on the Crown card.
Star trotting talent
Chapter Seven and Muscle Hill were the only two sires to double up this year in the Breeders Crown.
McWicked earnings piling up
Eternal Camnation, at the end of her seven-year-old season was #1 among the lady pacers all-time in earnings with $3,748,574. After his Breeders Crown victory, seven-year-old McWicked is at lifetime earnings of $3,715,376.
McWicked is at $1,393,864 for the year — and if he remains at #1, he'll become the first ever standardbred to lead all of his gait four years apart! (In 2014, he was also the leader with just under $1.5 million)
Tetrick tops $200 million
Tim Tetrick surpassed the $200 million plateau with a busy night —14 drives — where his slate read: 2-4-4-2-3-9-3-8-8-1-1-3-7-3
Gingras' winning percentage
When Yannick Gingras won the opening Breeders Crown with Warrawee Ubeaut, he was then 20 for his last 64 in the Breeders Crown, a winning rare of 31.3 per cent.
Sears ties Pierce for 2nd
Brian Sears and Ron Pierce are now tied at 30 for the second spot all time in Breeders Crown victories behind John Campbell's 48.
Landing the Crown
The richest ever yearling ($800,000) to win a Breeders Crown is now Tactical Landing. His dam, Southwind Serena, paid $100 to win back in 2008, getting Gingras his first win in the series.
Her daughter, Mission Brief, made quite an impression, too.
Takter's streak of multiple Breeders Crowns ended with a lone score (Tactical Landing) in what might be his swan song in the Crown. (12 Crowns going into the Hall Of Fame, 22 Crowns since going in, in the year 2012)
Parker-Jordan
The last time Jack Parker, Jr. drove in a Breeders Crown race prior to 2018, Michael Jordan was en route to the NBA Rookie Of The Year Award. In 1985, Parker was third with Dangarvon at Garden State Park in a race won by Horse of the Year Nihilator. Parker got money this year also with NF Happenstance.
Gimpanzee en route to history?
Gimpanzee, should he be named HOY, would mark a first. Never has a trotter been named HOY that was sired by a HOY. Gimpanzee's sire, Chapter Seven, was HOY in 2012.
Hail to the Kings
Shartin N is on the verge of a million-dollar season, giving the King-Looney pairing a gelded pacer (Wakisashi Hanover (In 201, a seven-figure season)), a pacing mare (Newborn Sassy $1,021,005 career) and a Down Under-bred pacing mare (Shartin N, $1,044,478 career) all hitting seven figures in a space of four years.