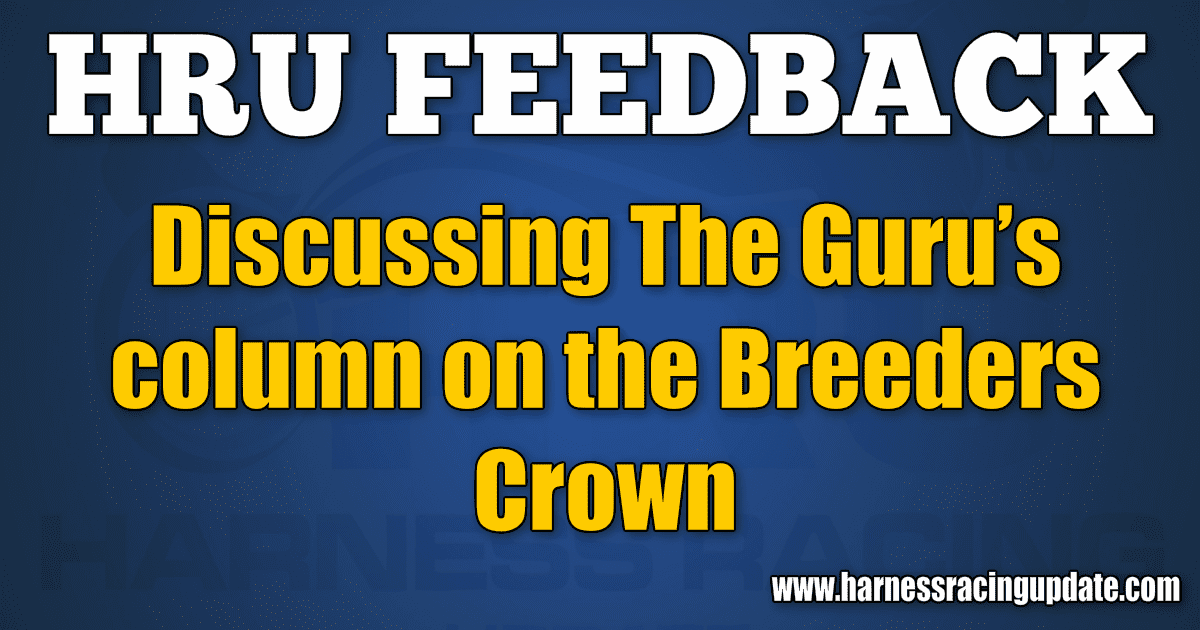 HRU Feedback (2018-10-28)
Kudos to The Guru
I would like to address Ron Gurfein's explanation of why he "criticized" aspects of the Breeders Crown and Pocono Downs (full story here).
It seems like some of the people who are putting on the event did not like that he made those statements.
 First, I would extend my kudos to Mr Gurfein. In my opinion, industry insiders can no longer afford to be "offended" by any suggestion that potentially could make harness racing better, even if that criticism is directed at their organization. It is a fact that many segments of our industry are in trouble, and we no longer as an industry can afford to be dismissive of any thought that might improve harness racing.
 A pat on the back should be extended to John Campbell for promising to look into whether The Guru's idea is workable. Only by seriously looking at the industry's problems and coming up with solutions can we hope to reverse the decline we are seeing in harness racing.
— Monica Bencal / Delray Beach, FL
Guru, you're dead wrong
Ron Gurfein, I usually agree with much of what you write, but you are dead wrong about one part of your assessment of the BC (full story here). It is acceptable to question whether or not to have eliminations, but the bottom line is all entrants knew when nominating that eliminations for each division may be a possibility. With that being said, to then write that you are not blaming the driver or trainers for the "dead" racing because they are only doing what is best for the horse is exactly why this sport is dying on the vine. Apparently you have forgotten the most important rule in our sport. Regardless of anything, which includes weather, track configuration, post position and yes, elimination process, YOU DRIVE TO WIN THE RACE and to write that you are not blaming the drivers/trainers is absurd, as their actions are… ILLEGAL! Look it up. It's in the rulebook.
— Mike Campbell / Milford, PA
Get real on Crown morning lines
When it comes to unrealistic morning lines, a classic example has to be race 2, the Breeders Crown Final for 2-year-old trotting fillies at Pocono Saturday night. Here we have WOODSIDE CHARM with a morning line of 5-2. This incredible young lady has won all six of her races including her elimination by 12 and a half lengths in 1:53 on the same track. She has been less than even money in her last 5 races and 20 cents on the dollar in her last two. I would be more than happy to bet a bundle on her at 1-2, so can someone please explain to me how 5-2 makes any sense as the morning line?
— Jerry White / Boynton Beach, FL
More changes needed – part two
After I read what I wrote in HRU Oct 21 (HRU Feedback 2018-10-21), it got me thinking beyond what I wrote. Maybe we have it all wrong or I am wrong? Maybe when it comes to making positive changes it's not where we have been pointing our fingers as we have. Let's face it, horses race, drivers drive and trainers train and accept it or not we the public jump all over a bad drive and daily it goes all over the Internet, yet the bad drive is only one part of the equation and who can honestly say they give a hundred per cent every day. How can a driver or horse be expected to be a hundred percent every race? The trainer to the best of his abilities has the horse trained but maybe in the wrong class? So here is where I, through the process of reasoning start to think where the fault lies. The tracks where every night the show plays out must strive to offer a positive customer experience. A clean property and good food at a fair price along with free admissions and parking. Which now we end up with who in my opinion has not been pulling its weight and that is Standardbred Canada and the USTA. Between the AGCO and Standardbred Canada here in Ontario you as an owner pay $100 for a AGCO license and $100 for a standardbred ownership payment to be in good standing, you can't race unless you have both. Every year these license fees are collected to pay for their operating costs, but when it comes to giving a fresh accurate program for the customers and would help new customers nothing gets done. A private bonded data company could come in and do everything that both Standardbred Canada and the USTA does and eliminate their license fees to participants and the cost of collecting all the data could be collected via a very small entry fee to race by all participants. A license in good standing in the province or state where you race would be valid outside of that province or state on a reciprocal basis provided you have no positives or under appeal rulings. Many of us have seen it first hand the travel and expenses of field reps and the senior officers, and if you ask me both Standardbred Canada and the USTA are a insiders' country club paid for by the industry and they have done little to nothing and have not pulled their weight in making the product a viable form of entertainment. It is now time for the industry to band together and put a stop to these two entities sucking the life out of the industry. Their time has passed and we as an industry that is on life support have been blinded by their "mis-information" for too many years.
— Bob Adams / London, ON