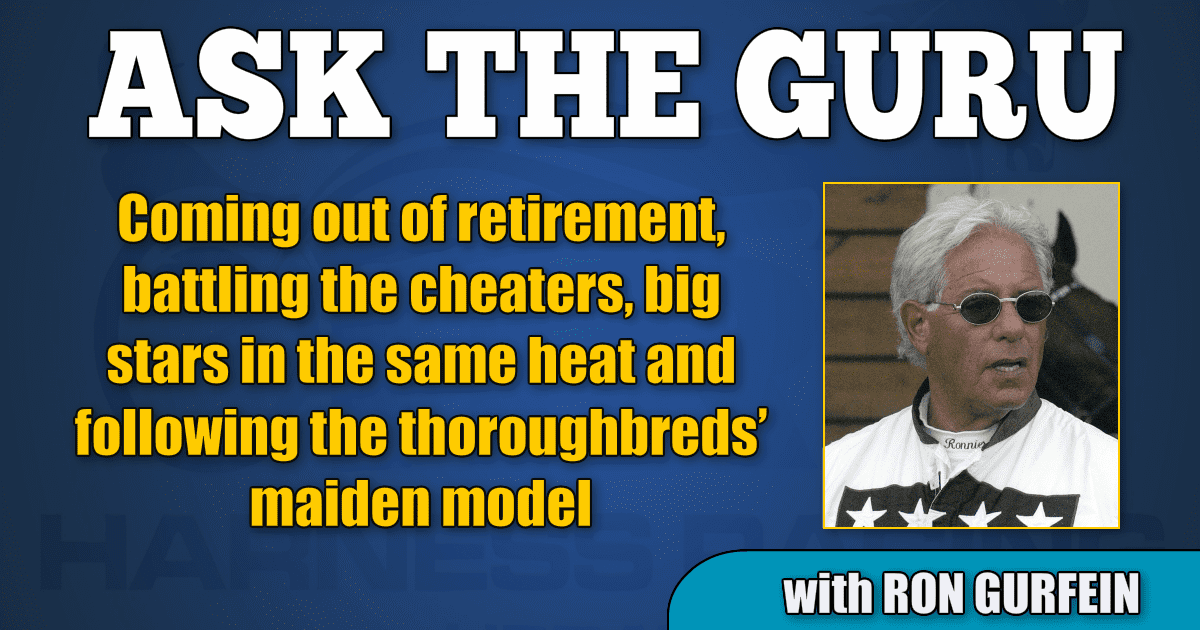 Coming out of retirement, battling the cheaters, big stars in the same heat and following the thoroughbreds' maiden model
by Ron Gurfein
Tidbits — What a week in Lexington! After 10 days of frightful weather, the rain stopped, the sun came out, the track was lightning fast and the SPEED was abounding. It was a fever pitch, the crowds were huge and the exciting racing carried over to the sale ring where the numbers were mind blowing.
This was my 55th consecutive visit to this mystical town and I never remember a week like we just witnessed on the track or in the sales pavilion. I remember many individual accomplishments both in fast races and high-priced colts but nothing that could compare to the happenings we have just been apart of. Almost $50 million in sales and a myriad of world records capped a breathtaking stop on the Grand Circuit tour. I feel bad for the event planners at Pocono Downs for the Breeders Crown races. The Red Mile will be a tough act to follow.
There are way too many individual achievements to be sending out accolades to all involved, however there is one that requires attention. Congratulations to Andy McCarthy for his prominent showing on the big stage, he is a talented and humble young star that truly shined all meet. Last time I looked, he was tied for leading driver and I don't know the final count. Whether he won or not was irrelevant, as he made his presence on the track evident through the two-week meet.
Paul Richardson asks: The cheaters or the trainers that push the envelope are killing the sport as well as hurting the honest trainers. Some of the suspects have even taken hold in the Grand Circuit recently. Do you have any suggestions how we can remedy this sad situation?
I have many solutions, however their legality may be suspect. Red Mile is a private entity and can make up their own guidelines as to exclusion. The detention barns are a waste of time and money. To me EPO, a common and powerful performance enhancer, is nearly undetectable and for the most part would be discovered through out of competition testing. In other words, you would have to be very unlucky to be caught. The pros have "shaking" or "drenching" down to a science although mistakes have been made.
Exclusion should be made on a temporary basis. For example John Doe will not be allowed to participate in the Red Mile meeting in 2019 because he has had six positive tests in the past three years and thus we deem him an improper addition to our training community. However, if John Doe races his stable in 2019 without any further serious infractions he will be welcomed back in 2020. Legal, I am not sure. I do know it would work. If you study positive tests you will find that many of these "usual suspects" not only have drug infractions but many minor infractions that show me an utter disregard for the rule of law in our sport. Some have as many as 10 pages of infractions where the average would be 3⁄4 of a page.
My favorite way to rid the sport of cheaters is to eliminate claiming races. Ninety percent of the money made by those that are on the fringe is made through the claiming game. Although I realize it's a pipe dream and almost impossible to implement, if all claiming races were conditioned we could basically create havoc with the drug lords. For example $25,000 claiming (horses winning their previous race in this class not eligible). Also no horse winning in a class may drop below that price for a period of 30 days.
Now people will say, this can hurt the innocents, we need a trade off. You will survive a little discomfort to clean up the sport.
I realize how impractical all this is and cannot really be passed on by the powers that be, but the suggestions may be modified or rearranged in some order by racetrack management to launch an attack on the guilty parties. If Woodbine Mohawk can create a plan surely we can try in the U.S.
We will never rid the sport of drugs. But the harder we make it on the offenders, the more chance an honest trainer has of making a living.
Gerrit Troisi asks: Is there anything that could bring you out of retirement?
Great question. I retired after cutting back because of some health issues that thankfully are in the rear window. I basically lost my client base because they wanted a young hungry trainer instead of an old hungry trainer.
In 2016-17, I trained some horses for Bob Key and with one exception they were very slow. Jimmy (Takter) asked me one morning at the Meadowlands after qualifying a colt for me, "Why are you training a horse like that?" I knew that day that the writing was on the wall, this is not what I needed to do with my life.
After spending the last three weeks in the mystical world of the Red Mile, my answer would be an emphatic yes. That's the good news, the bad news is that to return I would have some caveats that may eliminate me from going forward.
I could not train for new people in the business. I love training horses, but it's too late in my life to train owners. Basically, if established owners would give me a handful of top colts and fillies, I would return. I really have no desire to attempt creating miracles at this stage of my life.
Billy Owens asks: How is it possible that the race office at the Red Mile let Manchego, Atlanta, and Plunge Blue Chip be entered in the same division of the Filly Kentucky Futurity?
I am sorry Billy but you can't blame it on the race office. Rules to prevent this kind of aberration must be written in the conditions of the stake itself and has nothing to do with policy or rules of the racetrack. Years ago, the Hambletonian society added some new rules to there stake that included dividing top money earners, the Meadowlands followed suit by adding that condition to the Meadowlands Pace.
I am certain that no rule as that exists in the stake conditions of the Kentucky Futurities or the situation of which you speak would not have existed. I am glad you bring this up as I can appeal to the powers that be to create an addenda to the existing conditions of the races to include the provision of splitting highest money earners in the future.
Billy Bigler asks: Why does the standardbred condition sheet offer so much money to claiming horses and the thoroughbred book offer so much more money to maidens?
I really don't know why but I will tell you that to me it's ass backwards. It's seems the thoroughbred tracks support the breeder far more than we do. It makes no sense to me that a runner can race in a maiden race for as much as $130,000 and our top would be $13,000. That divergence is insane. What's wrong with this picture: Owner #1 buys a colt for $100,000 he then pays training bills for eight months and also makes stake payments and can pocket $6,000 when he wins a maiden race. Owner # 2 claims a horse for $12,000 and can pocket $6,000 if he wins the next week, one week's training bills and no stakes payments. On the other hand, a thoroughbred owner can pay $100,000 for a colt and get back half his investment when he wins a maiden. To me this scenario makes no sense. I am fully aware we don't have the money for $100,000 maiden races, but we could race for $25,000 and increase the interest in the yearling market. A transition like this would even improve the numbers at the great sale we all witnessed in Kentucky last week. It would have little impact on the top of the market but it would bolster the prices on the middle and lower end of the market.
Thanks to all my readers for the positive comments that I received in Kentucky. I truly appreciate them. I did get some negative feedback due to my lack of ability as a handicapper. HRU has a plethora of capable writers on the staff therefore I will try my best to eliminate any further attempts at selecting winners for you. Have a wonderful week.
Have a question for The Guru?
Email him at GurfTrot@aol.com.