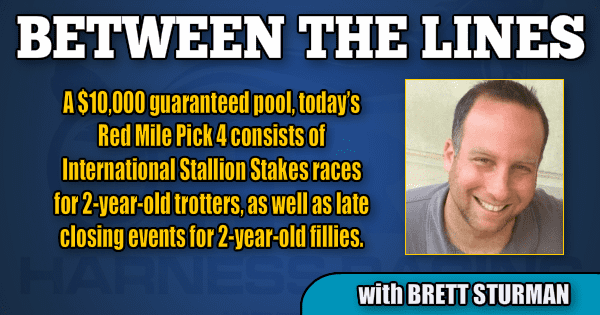 Red Mile Thursday Pick 4 selections and analysis
by Brett Sturman
A $10,000 guaranteed pool, today's Red Mile Pick 4 consists of International Stallion Stakes races for 2-year-old trotters, as well as late closing events for 2-year-old fillies.
Thursday, Oct. 4
$10,000 Guaranteed Pick 4 Races 6-9
$1 Pick 4 Ticket: 3-6 / 4-5-8 / 1-3-5 / 1-9 $36
Race 6, $11,000 2YO Fillies Late Closer N/W 2
STORM SURVIVOR is yet to impress early in her career, but the same can be said for most in this field. Going for trainer Oakes, she gets Sears back for the second time and had to go first-over two back in a 1:52:4 mile; will be better positioned this time around. CASH REWARD is 0 for 9 for Takter and should have been better than she was last out on the drop. Rates as one of the obvious choices on paper, but price will be short. SWEET DIAMOND tired a touch last week in her second lifetime start when she came home in just :28:4 in a 1:55 mile. She was better two back in her debut and is liable candidate to improve for trainer Nancy J; likely to be going to the front early. ODDS ON CLEARWATER resurfaces as an Alagna trainee for the first time since summer races at the Big M; early season Q's showed promise.
Race 7, $92,200 International Stallion Stake 2YO Fillies Trot
REIGN OF HONOR has had a number of untimely miscues scattered throughout recent starts but figures to stand a solid chance with a flat mile. Her try in the KYSS final two back with Dexter Dunn aboard stands out and any repeat of that mile with Dave Miller aboard now ought to be good enough. ALDEBARANWALKABOUT closed well last week as a big longshot to pick up the win when heavily backed Don't Let Em was disqualified for breaking; should still offer another decent price because of the bad post for trotting specialist Czernyson. DEMON HILL lands the role of morning line favorite but wasn't as strong in his Red Mile debut as she was in prior PA starts. BRADY BUNCH was encouraging last week in her Bluegrass division. FINAL CLAIM goes first time Lasix for Burke and was good two back at Delaware.
Race 8, $11,000 2YO Fillies Late Closer N/W 2
IZZY HANOVER made her first last week in a month and made multiple moves in a game effort to just lose to the heavily backed 1/5 favorite, #1 in this race. She's capable of turning the tables on that rival. CAROUSEL will be very short odds once again from the rail after comfortably dispatching of similar foes last week; finding these more to her liking after towing along to some fast times in the She's A Great Lady. CAVIART DARLIN went off at over 30/1 last week despite being out of one of the great race mares of our time, Darlin's Delight. There's no reason to think she can't move forward off that race and compete for the top spot now.
Race 9, $92,200 International Stallion Stake 2YO Colts Trot
This International Stallion Stake is the race of the day as it pits the big horses GREEN MANALISHI S against CANTAB FASHION. GREEN MANALISHI S has been untouchable in recent starts and jogged in his Bluegrass division last week at odds of 1-9. Wellwood champion from two back in 1:53:4 has the misfortune of landing the outside post; will be tested. CANTAB FASHION won his Bluegrass division in almost a full second faster last week than #9 won his, for what that's worth. He's won his last four races by over 25 lengths and has the rail to give him an early advantage; these two seem at least a second or two quicker than the rest. UNION FORCES hasn't been able to replicate his upset from three back when he beat Swandre The Giant. BATTENBERG has the early speed to put him in a good early position.