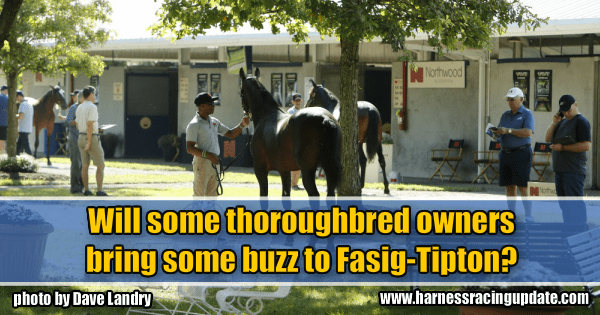 Handicapping the top story out of this year's Lexington sale
Last year, the offspring of four first-crop sires helped lift the Lexington Selected Yearling Sale to record heights. But with a dearth of progeny of first-crop sires on offer this year, will a few buyers from the thoroughbred world be bringing some buzz to Fasig-Tipton?
by Dave Briggs
If last year's Lexington Selected Yearling Sale was driven by demand for the progeny of four top-notch first-crop stallions, then one might call this year's sale Taylor Made for something new. The first of five consecutive sale sessions gets underway tonight beginning at 7 p.m. at the Fasig-Tipton sales pavilion.
"I'll give you a tidbit," said Blue Chip Farms owner Tom Grossman, "in addition to the obvious one, which is that the thoroughbred sales were off the hook, there are for sure two or three different groups of thoroughbred owners that have banded together and are going to buy yearlings at this sale. Two, at least, that I've heard about. Part of that is good marketing from Red Mile about putting a million-dollar 2-year-old race in their backyard. They don't have a lot of million-dollar, 2-year-old races (in thoroughbreds). Then, just the age-old arguments we've been giving them for buying these horses – how often they run, how much they run for. Particularly here in Lexington, that's become very real with the (new) race and Taylor Made's involvement in the business in a big way.
"And this business, the size that it is, to have 5 or 6 new buyers is meaningful."
Lexington's Taylor Made Sales — one of the most successful thoroughbred sales agencies in the world — has returned to its harness racing roots in recent years by purchasing a few top-notch standardbreds, including a piece of stallion What The Hill and New Zealand pacing legend Lazarus (full story here).
"Mr. (Joe) Taylor was in business years ago with Mr. Gaines and it's good to see the next generation come back into the marketplace and into the industry," said Preferred's David Reid. "Absolutely, it makes a difference. Taylor Made is a huge name in the thoroughbred business and they are a professional outfit. Other people see what they do and it absolutely has a positive impact."
"It's a copycat business," said Northwood's Bob Boni. "If they see someone coming in and doing well, why not take a shot?"
Some in the standardbred business have been actively courting thoroughbred owners for years, taking out advertisements in thoroughbred publications such as Thoroughbred Daily News to tout the benefits of standardbred ownership.
Reid said in 2014 or 2015, he "started trying to promote a dual-breed message into the thoroughbred market. We traveled internationally and we raced some thoroughbreds ourselves and made some contacts. With the Kentucky Sires Stakes program (improving) and just the overall intrigue of our business, I think we're seeing some crossover, finally."
Like Grossman, Reid said, "there's a new group based out of Lexington that has raised a fair amount of money and they are going to be participating in the yearling market. And there's a couple small satellite syndicates that are also going to be participating, so I'm really very happy with the response and that we're finally getting some crossover.
"I believe they will be rewarded, like the Taylor Made crew with Lazarus – they understand that the sport is fun and they get action on a regular basis. I think that we're finally making inroads. The proof will be in the pudding, but I know there's going to be an economic impact this year on the yearling sales due to that."
Boni said the reason Taylor Made has had some early success in standardbreds is because, "they bought competitive, quality horses."
Also, standardbred racing can produce more interesting rivalries between horses.
"It's unheard of for thoroughbreds" to develop rivalries like the one brewing between Lazarus and McWicked in the older pacer ranks, Boni said.
"Lazarus will race McWicked hopefully four or five times before it's over," Grossman added. "I bet it's been 20 years since two top thoroughbreds raced each other five times. Ever. People love that – they want to watch Netflix series, well, open pacers, that's a Netflix series."
Overall outlook — optimism abounds
As for the overall outlook for this year's sale, optimism was running high even after last year's record-breaking sale which set new standards for gross ($36,410,000), average ($58,537), median ($42,000) and number of yearlings that sold for $100,000 or more (103).
"I'm very happy with the overall quality of the catalogue. It's a very deep catalogue and we have a lot of diversity. We're probably 54 per cent trotters and 46 per cent pacers and we have a pretty good split between colts and fillies," said Reid, who manages the sale with Randy Manges. "What makes it easier is the success of (last year's) first-crop sires. I've been saying that a few times this year, but Captaintreacherous and Sweet Lou on the pacing side and Father Patrick and Trixton on the trotting side… when you blend them in with Muscle Hill and Somebeach and American Ideal and Cantab Hall, I believe it gives the marketplace good diversity."
Last year, those first-crop sires helped buoy the sale, but this year, with just a handful of top first-crop sires represented — Artspeak and Sebastian K chief among them — the sale will have to depend on more proven sires.
"It's not going to be the same as last year, when you had four pretty good horses," said Diamond Creek's Adam Bowden. "People like first-crop stallions so we'll give them a chance."
Reid said the small number of first-crop sires this year would likely impact the overall sale numbers, "if (last year's) first-crop sires weren't having the success that they are having. We could look like a hero or zero with 55 Father Patricks and 50 Captaintreacherous if they had got off to a bit of slow start, but that's not the case. They came out of the box and they are doing well."
Bowden said he thinks this year's sale, "overall, will be fine… maybe even up from last year, which was good, too. There's nothing to say that it won't be. Keeneland was up and racing is good. There's a lot of money to be made and people seem to be flush, so I expect everything to go well and we're in a good position."
Reid said he is, "expecting a very good international market and participation. There seems to be a lot of optimism coming into the sale, and I always try to reserve that, but overall the quality speaks for itself and the marketplace will take care of that."
Kentuckiana Farms' Bob Brady said he expects a "very, very strong (opening) session. Keeneland was strong. The regional sales were strong. The stock market is on fire and a lot of the expensive yearlings from the last few years have been showing up and winning, which makes a difference… It gives them a lot of confidence that you can do that and win."
Steve Jones of Cameo Hills said he's not sure indicators such as a strong economy and strong thoroughbred sale have a direct bearing on the results of the Lexington Selected Yearling Sale, but he said it likely can't hurt.
"I think that's just people not having enough to talk about, so they ask about things like that. I'm not sure what the correlation is – I'm not sure anybody does until they go out into the ring. I would expect it to be a good sale, but I've been wrong before," Jones said. "I'm happy to be in Lexington and hope everything goes well."
Boni said positive indicators come from what's been happening on the track.
"The racing has been good and it's spread out. To me, that's very significant. You look at the 2-year-olds especially and lots of different people are winning these races and it's very competitive," Boni said.
Winbak yearling manager Jimmy Ladwig said he is "assuming that it will go well because the economy is good, everything is going well in the country, the thoroughbred sale did well."
Reid said economic indicators are important.
"Obviously, the economy is strong here," he said. "The thoroughbred market was strong. It's a different market, but, on the other hand, a lot of the people will tell you that they follow the same trends. I'm expecting the sale to be good. To say we're going to be up, would be a difficult thing to do because I thought the strength of the market last year was quite strong.
"We've added horses to this year's catalogue, probably about 60 more yearlings than last year, but it's a good blend. We have more Midwestern horses in our catalogue, which should strengthen it."
Rise of Kentucky
Not only does the rise of standardbred racing in Kentucky help to attract some interest in the thoroughbred industry, but many think dual eligibility to the Kentucky Sires Stakes program has been a big boost to the Lexington sale, as has the announcement of a million-dollar race for 2-year-old trotters set to debut at Red Mile in 2019 (full story here). Red Mile, the Hambletonian Society and Kentucky Horse Racing Commission announced Sept. 16 it will be a buy-in race, with 10 slots on the starting gate available for $100,000 each.
The race, to be called The Red Mile Million, will be held on Sept. 29, 2019 at the Lexington, KY track as part of a $3 million card that will also feature eight $250,000 Kentucky Sires Stakes championship races. Purses exceeding $11 million will be on offer at Red Mile over seven weeks from August to October.
"Kentucky breeders and other breeders are having a lot of dual-eligible foals," Reid said. "The Kentucky Sires Stakes program has been a huge shot to the Kentucky racing program and it gives your buyers another option. You're seeing it at Red Mile during the Kentucky Sires Stakes races and then roll right into the Grand Circuit or the late closers, so there are a lot of positives."
Kentuckiana's Bob Brady said, "the Kentucky Sires Stakes program is just on fire right now, just getting better and better, and the million-dollar race, that's a lot of excitement.
He said there's no better place to sell horses than in Lexington, "because of The Red Mile and the atmosphere around Lexington. The farms are beautiful and if you catch weather like this, it's just awesome to be here. Go to the races in the afternoon, come to the sales at night and then go to the farms. It's just a unique experience."
Top yearlings
Here's a look at what many of the sale's biggest consignors feel will be their most successful offspring:
Preferred
Preferred Equine is selling 143 yearlings in Lexington this year, a similar number as last year.
"I think we have great depth throughout the week, and, obviously, (we are strong) the first night," said Reid. "People want to focus on their first night horses and we have… I'm very strong in pacing colts and trotting colts. And trotting fillies and we have some really, really nice pacing fillies selling on the first night.
"Preferred represents a lot of the major breeders in the business and it's a credit to them. We're representing them and we're really proud to do that. They've supplied us with a very good product, so I'm excited.
"Our activity has been very good. We started showing Saturday afternoon around one o'clock and we've seen a steady stream of lookers. I'm very happy with our horses and the people coming to visit our consignment.
Brittany
Brittany is selling 23 yearlings in Lexington this year, which Art Zubrod said is the lowest number the farm has sold in probably 30 years. He said what the farm gave up in quantity it likely exceeded in quality.
"Basically, this would be our Top 25 from any year," Zubrod said. "Maybe a couple of them didn't grow as much as we wanted them to, but that's always going to be the way. It's been fun raising this group of yearlings, it's pretty special."
In fact, Zubrod said Hip 58, a Muscle Hill colt out of Ontopofthehill is, "One of the best yearlings I've raised ever."
Ever?
"Ever," Zubrod said.
"He's the right size and he's got everything that you like — great shoulder, great rear end, good thinker, smart eyes. But the thing that pops out to me, he's got a throat latch like Self Possessed had, which is a massive throat latch. So we're not too worried about the breathing part. And a good attitude, this is a horse with a good personality," Zubrod said.
Zubrod also highlighted Hip 46, a Father Patrick colt out of Majestic Style that was, "just awesome in the paddock, just awesome. If it hadn't been for the Muscle Hill colt, then he would have been my favorite yearling. He's that good."
He also likes Hip 24, a Captaintreacherous colt out of Fresh Idea — "Another case of a horse just having a complete package. A really good thinker, very willing, great conformation. The right size, not too big, not too small" — Hip 163, a Captaintreacherous colt out of Aria Hanover and the very first yearling to sell tonight, Hip 1, a Captaintreacherous filly out of Remember When "an old mare that has had lots of foals, but this one is a little on the special side.
"She's the kind of filly that someone will fall in love with and make sure they are here to buy. Now, what I want is for two people to fall in love with her and make sure they are here to buy, instead of just the one."
Winbak
Ladwig said he's "excited about a lot" of Winbak's yearlings.
"I'm excited about #69, Jovial Jerry. Donato Hanover out of Mets Inn, who is a half brother to Mets Hall. And we all know who that is, after his performance yesterday (winning his Bluegrass test at Red Mile in 1:51.2). We're all excited about that.
"Hip #55, Team Best, Somebeachsomewhere out of Sports Chic. Like him, good-looking colt, great mom. Nice work, nice individual.
"Hip #52, Art Major out of Village Madonna … Village Artist, we like that filly. Real nice filly. Full sister to Travellin Playlist, just to name a few.
"Hip #45, Stunning Look. American Ideal out of Shes A Pansation We like her, too. Everything on the first night is real nice. I could go on and on."
Winbak is selling 93 yearlings in Lexington, about 25 more than last year.
"It's a strong sale and (you can get) first money," Ladwig said. "They sell well here. We had some nice individuals, so we just felt we'd bring them here."
Kentuckiana
Brady said Kentuckiana will sell 83 yearlings in Lexington, which is about the same number as 2017, but the number of horses the farm is producing is definitely trending up.
"We have a lot of mares at the farm now and we're foaling 120 for next year, so I'd say we'll be in the 90s or 100 next year," Brady said.
"Kentuckiana is probably at the best place it has been in many, many years. The broodmare band is so strong and we're probably two-thirds trotters now. We have just a powerful group of trotting mares. The clients have supported us with really high-quality mares, so that's what is driving the bus right now."
Brady said he's excited about all of horses Kentuckiana is selling tonight in the opening night session.
"They have a license to be there," Brady said. "Hip 40 is an excellent filly. We love her."
Hip 40 is a Muscle Hill filly out of Lilu Hanover.
"Girl On The Beach, Hip 50, is a very, very nice Somebeachsomewhere (Mattie Terror Girl) filly. Number 80, Trixie Volo is a Trixton filly, sister to Lily Stride, who had made $400,000. But, probably the highlight is going to be Hip 93. Carve The Sky It's a Father Patrick out of Vintage Oaks. He's an outstanding colt," Brady said. "His overall presence, his balance, his athleticism. Top of the line."
Brady said he likes "a lot of attitude" in his yearlings, "but I like the positive type – ears forward, happy to do their work. I like how they hit the ground, nice and light. I like the bigger steps, if they take a big step. The bigger, long gait. Those are things that we like. Horses that can even change gears and accelerate. We like that a lot. Horses that can gallop and then switch right to the trot. Those are the things we look for."
Diamond Creek
"I've got a bunch of nice Father Patricks," Bowden said. "This is his first real full crop of horses, and we've got plenty of good colts and fillies – both. I've got a bunch of nice Muscle Hills on the first day, so I feel like I'm in a good spot. I've got some Sweet Lous later on in the sale, too."
Bowden said buyers have honed in quickly on his best yearlings.
"They are looking at all the ones I'd tell them to look at, so people aren't dumb," he said, laughing.
Cameo Hills
Jones focused on three yearlings from his 23-horse Lexington consignment.
"We're selling a Muscle Hill filly out of Check Me Out. She's outstanding. Hip 59 (Im Really Special). That should be certainly one of our highlights," Jones said. "We're selling Hip 4, a Sweet Lou filly out of One Last Kiss (Nightcap). She's an outstanding individual and I expect her to do well. We've got a Trixton sister to Chapter Seven (She Does Trix), who's very nice and we've got a few Captaintreacherous colts that we like, so I'm very optimistic that we'll have a good sale."
Northwood Bloodstock
Asked if he has another sale topper in his consignment this year to match the $480,000 trotting filly Beautiful Sin (Muscle Hill—Sina) he sold to top the 2017 sale, Boni laughed.
"I didn't know I had one last year so… nobody is that smart," he said.
"It's a good group. I've got a good number. Opening session, I'd be remiss if I didn't mention the sister (to Beautiful Sin), the filly Sinply Sinsational, Hip 229. She's a beautiful filly. I think she'll get along fine. I'm comfortable that she's not going to break $480,000, but she's a good filly.
"We've got seven Chapter Sevens… You want to know that when you buy a quality yearling that you can end up having the very best. Chapter Seven, Muscle Hill. We've got a few Muscle Hills, seven Chapter Sevens, with pedigree, it's that simple. It's not complicated."
Blue Chip
Blue Chip is selling seven yearlings of its own and a couple for clients at Lexington, all through Northwood Bloodstock, including Hip 21, a sister to the fastest 3-year-old trotter ever, Plunge Blue Chip.
Grossman also pointed out a pacing colt selling on the fifth day.
"Hip 640, Ridicule Blue Chip, is a full brother to One More Laugh who won the Meadowlands Pace," Grossman said.
"He's Ohio-eligible and he's a terrific individual. Very correct, very clean. Very good individual."
"Maybe the best yearling video we shot," Grossman added.
For more information about the Lexington Selected Yearling Sale, visit: www.lexingtonselected.com and stay tuned to Harness Racing Update for complete coverage of all five nights of the sale.