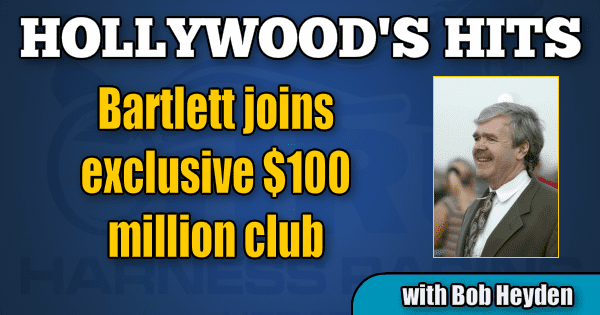 Bartlett joins exclusive $100 million club
by Bob Heyden
Congratulations to driver Jason Bartlett on becoming the newest member of the $100 million club. There are 23 members in all and it looks like Sylvain Filion is up next. He is at $97,594,615 by USTA accounting (Mike Saftic, who just crossed $100 million in Canada, is at some $90 million by USTA record-keeping).
Palone driving on
Dave Palone is about to move into fourth all-time in drives. He totaled 70,880 as he entered Thursday's action, with fellow Hall Of Famer Dave Magee just ahead at 70,919. They are still behind the Big Three of Cat Manzi (95G)-Tony Morgan (85G) and Herve Filion (81G).
Team Burke indeed
Check out the combined numbers for Mickey and Ronny Burke:
Mickey: 15,526 starts – 3167 wins – $35,462,757
Ron: 42,670 starts – 9,142 wins – $205,377,777
Together: 58,196 starts – 12,309 wins – $240,830,534
Girl power in action
The top three female vote-getters in last year's Horse of the Year balloting are all in action in 2018:
Hannelore Hanover
2017: 17 10-5-0 $1,049,129 1:49.2
2018: 11 6-0-3 $317,824 1:50.2
Manchego

2017: 12 12-0-0 $873,948 1:51.2
2018: 11 7-3-0 $650,234 1:50
Ariana G
2017: 15 12-2-1 $1,123,690 1:51.1
2018: 10 4-0-1 $425,052 1:50.2
2017 Combined 44 37-7-1 83%
2018 Combined 32 17-3-4 53%
Jim Campbell's bid for the top slot
With Crystal Fashion at $908,2017 and atop the trotting world as of Sept. 27, trainer Jim Campbell will try and do what would be a first for him — have either the leading money-winning trotter or pacer at year's end. He came close in 1987-88 with Run The Table, and in 1995 with Hambletonian winner Tagliabue.
Tops shy of $1 million
The last two times that a trotter or pacer led the way at year's end without winning a million?
1996: Hot Lead $987,687 for trainer Brian Magie
1995: C R Kay Suzie $910,535 for Rod and Carl Allen
Fifteen and counting
It's now 15 straight years, and counting, without a pacing Triple Crown winner. The last winner was No Pan Intended in 2003. This is the new longest-ever drought, topping the 14 years between Ralph Hanover in 1983 to Western Dreamer in 1997
Tough Jug double
Can you believe no driver has won the Jug back-to-back in the 21st century! Ron Pierce in 1998-1999 was the last to do so consecutively with Shady Character and Blissful Hall.
It was 53 years ago today
Today marks the 53rd anniversary of the retirement of Su Mac Lad (Sept. 30, 1965). He retired a couple of free-for-all wins shy of $900,000 and his stablemate three years later, Cardigan Bay, would become the first $1 million winner. Both horses were from the Stanley Dancer stable.
Crowning the kids
With the Kentucky Futurity still to go, three of the five Triple Crown races held in 2018 were won by a driver in his 20s — two by 28-year-old Doug McNair and one by Scott Zeron, 29.
HOF and the Jug
David Miller's Jug victory put him on this exclusive list (#4) as drivers who went into the Hall Of Fame and then won two more Jugs.
In 1968 Billy Haughton was inducted and then he won the Jug in 1969, 1974 and trained 1985 winner Nihilator.
In 1969 Stanley Dancer was inducted and then he won the Jug in 1970 and 1976.
In 2013, David Miller was inducted and then added Jugs in 2016 and 2018.
In 1995, Mike Lachance was inducted and then won the Jug in 1997 and 2001.